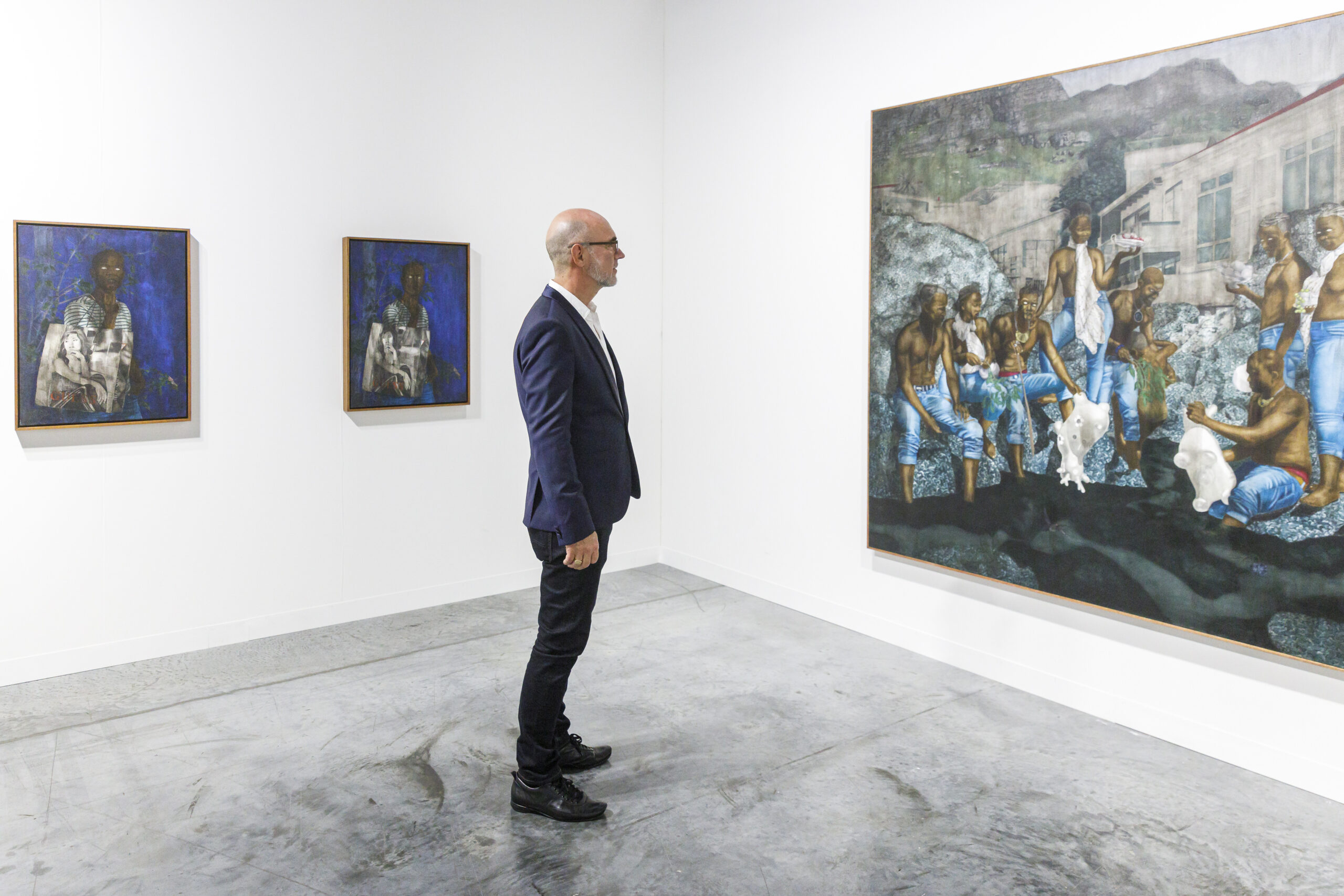 Back in the Picture
Miami Art Week returns with serious buzz—and plenty at stake for a cultural community still reeling from the pandemic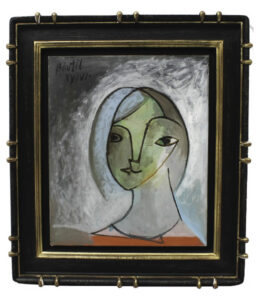 The Picassos are back, and so are the Warhols. This year, there's even art by Bob Dylan coming to Miami.
Art Basel Miami Beach (Dec. 2-4; with VIP days Nov. 30 and Dec. 1) makes its much-anticipated return after the cancellation of last year's event due to COVID-19. Also, back in full swing is Miami Art Week 2021, from Nov. 30 to Dec. 5, with more than a dozen satellite fairs and other exhibits and events throughout the area.
This is the week that has put Miami on the international map as a barometer for what's buzzing in the contemporary art world. But there's an intriguing undercurrent to this edition after an uneven year for well-established and emerging artists, as well as for art sellers. All eyes are on Miami for a glimpse into what the post-pandemic art scene will look like moving forward.
So, while artists and organizers claim excitement is in the air about the December return, the optimism is tinged with a bit of caution.
Art Miami, Miami's oldest art fair returning for its 31st edition, and the second largest fair to Basel during Art Week, was called off last year. Nick Korniloff, the fair's executive vice president and director, says the stakes this year are raised by more than just art sales and attendance.
"These are still challenging times for everyone, but I feel that Art Week in Miami is important to South Florida—to bring jobs back, to get things flowing again, and to create some kind of normalcy," he says.
That said, paintings, sculptures, photography, mixed media and more will remain front and center. Art Miami, known for its noteworthy blue-chip offerings, won't disappoint this year—at least based on what's on tap.
New York's David Benrimon Fine Art Gallery will be bringing a 1936 oil on canvas by Pablo Picasso, Jeune Femme au Large Cou, de Face, valued at $16 million (expect to see works by famed Colombian artist Fernando Botero as well).
Korniloff says the pandemic brought something else to Miami. According to FCP, a real-estate investment company, Miami was one of the top destinations for people making a move to a new city during COVID-19. "South Florida has more empty walls to be filled," Korniloff says. As for the artists whose works can fill those walls, Korniloff notes, "There are so many artists for whom the fair is the ultimate spotlight for them to find a new avenue in the ecosystem of the art world and become recognized."
Usually bursting with celebrity studded after-hours parties, Miami Art Week will be more about seeing art rather than being seen.
Marc Spiegler, Art Basel's global director, told the New York Times when interviewed about the Switzerland fair, that "people who come to an art fair under these conditions are really there for the art."
When asked about the decision to move forward with Art Basel Miami Beach, Spiegler said: "All our conversations within the art world indicated a strong desire to see art in person and engage face-to-face with the global cultural scene."
COVID protocols will be in place at the venues including mandatory masks, and proof of a rapid antigen test or equivalent with a negative result for coronavirus within 24 hours before attending the fair.
"Visitors can voluntarily show proof of vaccination, and voluntarily is the keyword, in place of the negative test," Korniloff says.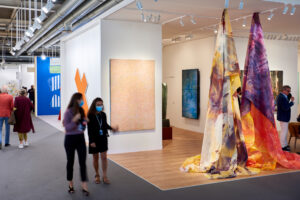 The Hybrid Effect
Across the street from Art Basel at the Miami Beach Convention Center, its sister show Design Miami returns under its enclosed, air-conditioned tent. Design Miami was one of the few fairs that put on a show in 2020, returning to its inaugural location at the Moore building in the Design District with a smaller iteration.
"We will be doing a fair in a tent this year," confirms Grela Orihuela, vice president of fairs for Design Miami. Coming off its showing at Basel in September, Orihuela says organizers of the collectibles fair—where the focus is on 20th and 21st century furniture, lighting and objets d'art—had been planning all along to return in December to Miami Beach. "What we saw in Basel was that everyone had the desire to return and to reconnect."
Meanwhile, Orihuela says the upcoming edition will continue the fair's hybrid physical/digital event format, which it first unveiled during the pandemic. Collectors have the chance to view and shop works displayed at the show directly online as well as engage in digital programming, including virtual tours, talks, and more.
Art Basel Miami Beach also continues its pandemic-posted OVRs, aka online viewing rooms, which organizers say, amplify the onsite presentations in Miami Beach. Introduced during the pandemic, the digital platform provided exhibitors the opportunity to present works that they would have shown at the in-person fair. This year, galleries that are either unable to attend in person or for gallerists at the show who want to have additional works presented, the online viewing rooms allow collectors to browse through works, search by galleries, artists, and type of work, and then contact the gallery directly to inquire about price and purchase.
Satisfying an Appetite
Miami artist Mette Tommerup was one of just a few to stage a performance activation in 2020; most were called off. During Art Week 2020, from the roof of the Design District's Locust Projects, Tommerup's activation allowed guests to interact with a dry ice and honey installation draped over a 40-foot canvas that spilled from above.
Her exhibition, Made by Dusk, also welcomed visitors during the week that would have been at Art Basel, and it continued through the pandemic at the gallery. She says that it was the gallery's director, Lorie Mertes, who made the decision that the activation would be safe for attendees since it was presented outdoors.
"We did our best under the circumstances," Tommerup says.
A maximum of 20 people at a time, for half-hour periods, were allowed to participate in the activation, which was held last Dec. 1. "Most people told me, 'This is the first art show I've seen for months and months and months.' There wasn't a lot going on, so people were starved for a visual art experience," Tommerup says.
She said her impression from not canceling her Miami Art Week performance activation and subsequent show was a bellwether of what this year's Miami Art Week will bring.
"All of the self-consciousness that surrounded the past year, where people had to be so selective as to the art they went to see and the places they visited, I see this as a welcome back. I think people are hungry to see art."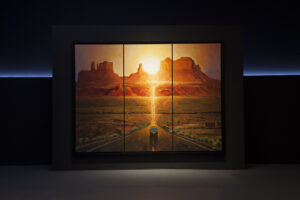 Other Exhibits to See
Philip and Patricia Frost Museum—Bob Dylan: Retrospectrum gets its U.S. debut on the first day of Miami Art Week, Nov. 30, at the museum on the campus of Florida International University. The exhibition spans six decades of the musician's drawings, paintings and sculptures (runs through April 17). Also, Breakfast in the Park returns for its 17th year to coincide with Art Week. Complimentary breakfast and tours of the sculpture park and exhibitions and a lecture by Chilean artist, architect and filmmaker, Alfredo Jaar begin at 11 a.m., Dec. 5. (10975 SW 17th St.; frost.fiu.edu)
Bakehouse Art Complex—Check out Brunch at the Bakehouse on Dec. 2, from 9 a.m. to noon. It's been 30 years since a group of artists turned the art deco-era bakery into an artists' community. Can't afford a work of art from the fair? Check out Bakehouse's new gallery, Fresh Goods, where photographs donated by the Martin Z. Margulies Foundation are on sale, with the proceeds going back into funding artists at the Bakehouse. (561 NW 32nd St., Miami; bacfl.org)
NSU Art Museum Fort Lauderdale—Los Angeles-born, Miami-based painter Jared McGriff exhibited during Miami Art Week 2020 when most in-person shows were on hold. His solo exhibit, Only Touching the Ground, was at Miami's Spinello Projects. This year, the painter of dreamlike narratives gets his first solo museum exhibition, Where We Are. Through spring 2022. (1 E. Las Olas Blvd., Fort Lauderdale; nsuartmuseum.org)
Oolite Arts—As an extension of its group show Common Space at the gallery on Miami Beach, two of the artists venture out into other spaces to be seen by the Art Week crowd. Cuban born, Miami-based Paloma Izquierdo has sculptures that mimic everyday objects, such as pencils and keys, inside the Miami-Dade Public Library (101 W. Flagler St.), and Diego Gutierrez presents installations in the public space of a storefront Walgreens window at 67th Street and Collins Avenue in Miami Beach. Through Jan. 23. See the group exhibition at Oolite Arts (924 Lincoln Road; oolitearts.org)