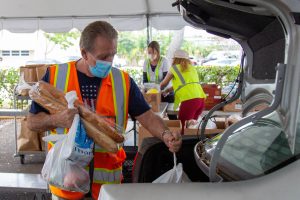 Boca Helping Hands (BHH) is seeking public assistance to help stock its food pantry during September's Hunger Action Month. Community members can get involved by donating nonperishable items, volunteering and contributing needed funds.
Feeding America estimates that over 181,000 Palm Beach County residents suffer from food insecurity, which includes 53,000 children. As inflation makes the cost of living more challenging, hunger relief services like the BHH pantry are distributing twice the number of bags compared to last year.
"Hunger Action Month is a reminder that there are local families and children who do not know where their next meal is coming from, and, as a community, we can help," Greg Hazle says, Executive Director of Boca Helping Hands. "Unfortunately, inflation being the highest it's been in four decades has made it much harder for families to put food on the table."
Boca Helping Hands has planned a calendar of events for Hunger Action Month, with a suggested activity each day in September to get the community involved in combating the current hardships. Initiatives include group volunteer shifts for corporate partners, a Tackle Hunger Cereal Drive event at FAU's home football game on Sept. 10 and donating the cost of a box for their annual Thanksgiving Box Brigade. Visit BocaHelpingHands.org/HungerActionMonth to view the full calendar.
Boca Helping Hands' food programs include the Pantry Bag Program, which distributes nonperishable and fresh groceries to clients from five locations in Boca Raton, Delray Beach, Boynton Beach and Lake Worth. In 2021, Boca Helping Hands distributed more than 70,000 pantry bags. The Hot Meal Program provides hot and nutritious lunches six days a week at their East Boca Raton location and dinner on Fridays in Lake Worth. In 2021, Boca Helping Hands served over 80,000 hot meals.
BHH assists over 27,000 people annually and to meet the growing demand for its services, it opened an additional warehouse facility in 2021 at its main campus in East Boca Raton, with the capacity to potentially double the number of people served over the next five to ten years.