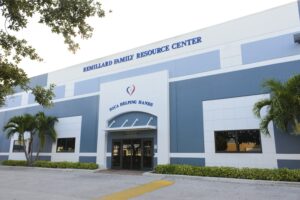 When clients visit the Boca Helping Hands (BHH) center to pick up needed pantry items, they will also receive another valuable resource—books. The Boca Raton Public Library will distribution about 125 books to BHH clients when picking up groceries from 9 a.m. to 12:30 p.m. on Thursday, July 15 at 1500 NW 1st Court in Boca Raton.
"Access to books, and especially books in the home, is so important to developing and maintaining strong reading skills," says Shilo Perlman, Library Assistant at the Boca Raton Public Library. "Some of our community members may not have the means to get to the library right now, so the Boca Raton Public Library and the Friends of the Library decided to bring the library to them!"
The donations were made courtesy of the Friends of the Boca Raton Public Library, a nonprofit volunteer organization providing financial support to the library. The donated book drive is the second effort this summer to increase literature access to the community with the reading material appropriate for children and adults.
"We are so happy that our friends at the library have found a way to truly enrich the lives of families who are just trying to find a way to get by," says Greg Hazle, Executive Director of Boca Helping Hands, a nonprofit organization that provides food, medical, and financial assistance as well as education, job training and guidance to the low-income residents.
For more information, please visit BocaHelpingHands.org.