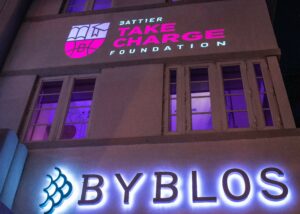 After a brief hiatus due to COVID-19, Cabernet with Battier will return to Byblos Miami on Saturday, Jan. 29. Heidi and Shane Battier established the event to benefit The Battier Take Charge Foundation, a nonprofit organization created by the Battier family to provide college scholarships and educational opportunities for underprivileged youth.
The inaugural event was held in January 2020 and raised over $170,000 for the foundation. It begins with a full wine tasting from eight highly acclaimed Napa Valley vineyards: Lyrix, Garguilo, Rapport, Sidelight, Purlieu, Le Pich and Covert. Additionally, Benchmark Wines will also showcase some rare wines and champagne throughout the evening. The wine tasting will be followed by a decadent dinner for 100, featuring popular eats from Byblos Miami paired with wine selections. Following dinner, guests will join the Battiers in Byblos' private event suite for a karaoke-themed after-party. 
"We couldn't be more thrilled than to be bringing back Cabernet with Battier this year, to marry great people, great food and unbelievable wine all for this important cause," says Shane Battier, a former NBA and Miami Heat player. "Through the Take Charge Foundation, Heidi and I have committed to continue providing resources for the development and education of underserved youth right here in our own backyard–affording them tools to build the lives they dream of."
Past attendees of The Battier Take Charge Foundation's events have included Dwyane Wade, LeBron James, Chris Bosh, Pat Riley, James Jones, Jimmy Buffet, Norris Cole, Udonis Haslem, Jon Secada, Pierre Garcon, Larry Johnson, Gabrielle Union, Jay Williams, Micky Arison and Ken Jeong. 
Tickets are available in many tiers, beginning with limited single-person tickets, available at $1,000. Tables are available, ranging in price from $10,000 to $20,000. Attendees must be 21 or older.
Those who can't make it to the event can still impact the lives of driven young students by clicking here to donate to The Battier Take Charge Foundation.