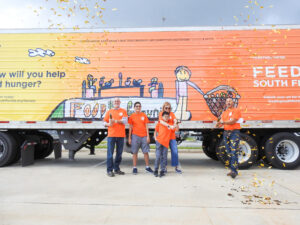 Feeding South Florida, a hunger-relief organization in South Florida, is now accepting submissions for its Fourth Annual "Feed Your Creativity" art competition. Elementary, middle, and high school students throughout Palm Beach, Broward, Miami-Dade, and Monroe counties are invited to participate in displaying their artwork on one of Feeding South Florida's semi-trailer truck wrap—a 36-foot moving billboard that travels throughout South Florida.
The art competition is part of Feeding South Florida's "Summer Hunger Ends Here" initiative, which aims to raise awareness and funds necessary to end summer hunger for kids in South Florida. Its goal entails engaging students, parents, teachers, and schools in a critical issue while also recognizing and spotlighting the talent in the South Florida community.
Summer months are some of the most challenging times for South Florida families because kids don't have access to free or reduced-price school meals when school is not in session. More than 300,000 kids rely on free or reduced meals during the school year in South Florida.
"Participating in the art competition allows students the opportunity to showcase their artistic abilities while raising awareness about the critical issue of hunger in kids throughout South Florida," Paco Vélez says, president and CEO of Feeding South Florida. "When school is out for summer, kids of all ages are impacted as they no longer have access to free or reduced meals, leaving them hungry as their family struggles to find additional resources for food."
Seeking to help fill the void of school meals, Feeding South Florida sponsors the USDA Summer Food Service Program, providing meals to kids at Summer BreakSpots, and pop-up pantries in low-income communities. Feeding South Florida also assists families at its Community Caring Centers, food pantries, and other services at both warehouse locations.
The first-place winner will be awarded the following:
Artwork is displayed as a truck wrap on a 36-foot tractor/trailer that travels throughout Palm Beach, Broward, Miami-Dade, and Monroe Counties.

Artwork prominently displayed at Feeding South Florida's Pembroke Park warehouse.

Announcements on social media platforms, including Facebook, Twitter, and Instagram.
Please visit Feedingsouthflorida.org/events/ for more information, including the competition toolkit, key dates, additional awards, and how to submit final artwork online. All artwork will be displayed during a Gallery Night on Wednesday, May 17, where winners will be announced. The truck reveal celebration will be held at the first-place winner's school.
Sponsorships and in-kind donations are available. For more information, contact Kimberly Heimiller at 954-518-1818 x1856 or [email protected].