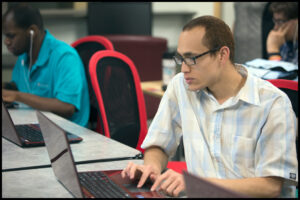 When unemployment reached 14.8% in April 2020, it marked the highest rate in the United States since 1948, when such data collection began. But as startling as that figure seemed amid COVID-19, it pales compared to the employment challenges consistently faced by those on the autism spectrum. Only a fraction of American companies even hires individuals with disabilities, a reality that explains why unemployment for college-educated people with autism often is estimated at 85%.
In South Florida, however, that narrative is being changed one graduating class at a time thanks to the Dan Marino Foundation. Sept. 13 marks the start of fall classes at the Marino Campus in downtown Fort Lauderdale for adults ages 18 to 30 with autism (and other disabilities). For students enrolled in one of the 10-month post-secondary tracks, the prize at the end of programs focusing on hospitality, computer technology, or business office support industries is more than just a promise.
Marino Campus graduates have been hired for positions at the average rate of 70%—four times the national rate of employment for adults with developmental disabilities.
"The ultimate goal is employment for our alumni," says Katherine McCulloch, executive director of organizational compliance for the foundation. "By offering the combination of comprehensive certification programs and wraparound core programs, the Marino Campus provides an avenue for individuals with disabilities to be successful in the workplace.
"In the third semester, the students participate in internships in their field of study. Many times, these internships turn into permanent employment."
As former students like Melissa Pascucci (Class of 2017) can attest, programs at Marino Campus prepare workers for intangibles beyond the day-to-day demands of the job.
"They taught me how to be a team player, how to dress and behave professionally, [about] being responsible and respectful to everyone—whether that's your managers, your co-workers, or guests in general," says Pascucci, who currently works at Bahama Breeze in Broward County. "By the time I graduated, I felt very ready to work in a professional environment."
Those seeking admission must be at least 18, have proof of eligibility to work in the U.S., and have a documented disability. Visit marinocampus.org for details about additional requirements, the areas of concentration, the campus, and the upcoming open house on Aug. 7.