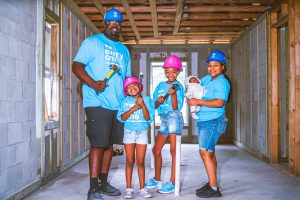 Habitat for Humanity of South Palm Beach County's (HFHSPBC) annual Women Build fundraising event sponsored by Moraca Builders, Inc. returns to Boynton Beach on March 3 and 4 to help construct a home for a local family. This year's Women Build Partner Family is Jerrod and Iesha James, a married couple with three young daughters, ages 10, 6 and a newborn, currently living in temporary housing. The family will work side-by-side with women volunteers to build a new home for the family. 
Jerrod has worked for Comcast for the last five years and Iesha works as a customer service representative. They are currently completing the 600 sweat-equity hours and other Habitat Homeownership Program requirements to purchase their first home. With the help of Women Builders, the James' will become first-time homebuyers with an affordable interest-free mortgage.
"The 2022 Women Build is extra special this year," Tom Moraca says, founder and president of Moraca Builders, who has served on the HFHSPBC Board of Directors since 2018. "Women from our local area will come together and make a life-changing impact on the James family for generations to come. Their three daughters will be uplifted and inspired by our community coming together for good. Moraca Builders is proud to support Women Build once again this year." 
Women Builders of all ages (18 and up) will raise paintbrushes, hammers, roofs and money to help hardworking, low-income families like the James' build strength, stability and self-reliance through access to affordable homeownership. Habitat for Humanity of South Palm Beach County is now seeking participants, donors and sponsors for the upcoming event on March 3 and 4. Volunteers can participate independently, form a team, or join a group. Each participant selects a half-day build shift during the two-day event and commits to fundraising or donating a minimum requirement of $1,000. Funds raised by "The Sisterhood of the Pink Hard Hat" help pay for the construction of Habitat homes. The participants of Women Build volunteer, raise funds and bring attention to the fact that homeownership is a pathway to better financial futures, better education, better health and a more cared-for, connected community. No construction experience is necessary. 
"When women unite to build homes with Habitat for Humanity alongside hardworking, low-income families, they help moms and dads build strength, stability, and independence," Danielle Rosse says, the 2022 Women Build Chair and owner of Ocean 234. "Stronger families make stronger communities, and I hope you will join me in uplifting our community through this transformational and empowering experience." 
The 2022 Women Build will include a second project. Our Women volunteers will be participating in revitalizing the American Legion Post 164 across the street from the James' future home. 
"The Boynton Beach American Legion Post 164 is deeply honored to be included in Habitat for Humanity's most humanitarian effort in building a home for a deserving Boynton Beach family," Paul Reinsburrow says, the Post Commander for the Boynton Beach American Legion Post 164. "Opportunities like this don't come around often and we are so glad that we were considered to partner in this endeavor." 
To learn more, please visit https://www.habitatsouthpalmbeach.org/women-build.html