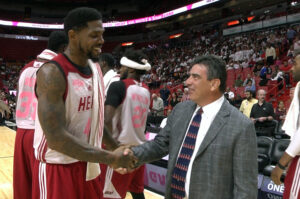 As told to Kevin Kaminski
I always loved sports. I played some basketball, but there wasn't a demand in the NBA for a short, not-very-talented Jewish guard. I did play tennis in high school, and we had a good team. I remember our coach telling the top player on our team to turn pro out of high school. He told the second guy that he should play college tennis.
And he told me to go to medical school.
Growing up, I thought I might go into obstetrics. My father was a gynecologist, and my mother was a sex therapist. They were kind of the Fockers before the Fockers. But when I got to medical school, I still wasn't sure what I wanted to do. And then I read a New York Times article that my mom showed me about this new field.
It included orthopedics, and it was called sports medicine.
I went to medical school at Northwestern University. [Note: Selesnick did a six-year honors program there, completed his residency at Michael Reese Medical Center in Chicago, and then received further sports medicine training for six months at Temple University in Philadelphia under Ray Moyer, then-team physician for the Philadelphia 76ers.] As a freshman, you were allowed to follow an attending physician when you had free time. The Chicago Bulls' team doctor, Dave Bachman, was a Northwestern physician. I called to see if I could tag along.
I liked it.
As a medical student, I'd follow and observe the Bulls' team doctors. But as a resident, I helped conduct team physicals. And when Dr. Bachman or the other doctor, H. Bates Noble, couldn't cover a game, they'd send me. In this day and age, that would never happen.
Today, when a player undergoes the preseason physical, there's a stress test, a cardiology exam, all kinds of blood work, an orthopedic exam, MRIs of the knees. It's a multiday event. In the 1980s, the 18 or 20 players in an NBA training camp would show up all at once, you'd complete team physicals in an hour, and they'd be out on the court.
In 1984, Michael Jordan had his physical and first training camp practice after being drafted by the Bulls. I remember it well.
Kevin Loughery was coach of the Bulls then [he later coached the Miami Heat in the early 1990s]. Loughery threw a ball on the court and told the guys to scrimmage. In those days—and even now—a rookie was supposed to be respectful toward the veteran players.
The first three times Michael got the ball in that practice, he dunked over a backup center named Jawann Oldham, who was 7 feet tall. Three straight times.
Everyone could see in that moment that not only was Michael special, but he wasn't going to back down from anyone.
Michael was the most competitive guy I've ever met. At the old Miami Arena in the 1990s, the Bulls were in town to play the Heat in an important late-season game. Michael called for me before the game. His back was hurting so bad that he couldn't get off the trainer's table.
He says, "Harlan, I need you to give me something so I can play tonight." I told him I couldn't give him anything—and that he needed to rest the back. I figured there's no way he's playing.
Naturally, he's in the starting lineup that night. I think he had 40-some points—in just three quarters. The Bulls blew out the Heat; Michael didn't even play the fourth quarter.
After the game, I go back into the Bulls' locker room—and there's Michael, in the same spot on the trainer's table. Couldn't move. He looks up at me from the table and says, "Harlan, I had to win." He didn't say, "We had to win." He said, "I had to win." He was that competitive.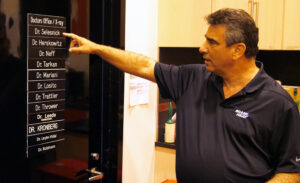 And that good.
When the Heat announced that they were bringing a franchise to town, I'm sure every orthopedist in Dade and Broward applied for the job.
[Then-minority owner] Billy Cunningham was involved in the decision as well as [the late] Ron Culp, the trainer they had hired. They both knew a lot of the people I had worked with during my time with the Bulls. All those people vouched for me, and the Heat gave me a chance to be part of their expansion franchise in 1988.
I've been very lucky. Management has been so supportive, and the ownership has been stable. I think the average longevity for a team physician in the NBA is about four years.
This is my 35th season with the Heat. [Note: Selesnick is the league's longest-tenured team physician.]
In the NBA, the doctor for the home team covers both teams and the officials. You're there about 90 minutes before the game starts and about 90 minutes after the game ends. During the playoffs, there's a bit more paranoia. Teams don't want the opposing team doctor making a medical decision on their player. So, I travel during the playoffs.
When I started out, being team physician was about a six- or seven-month commitment. Now, players train throughout the offseason, players are brought in for evaluation as possible free agents, there's a summer league, the NBA Draft. It's a year-round involvement.
My work at the hospital starts between 6 or 7 in the morning, and it goes until 4 or 5. Most games are in the evening or on weekends, so it doesn't conflict that much with my work at Baptist Health or my regular practice. Some days are longer than others, but I love what I do. And for me, the games are a lot of fun—unless someone gets hurt.
I remember Michael Jordan, before teams had strength and conditioning coaches, went out and hired his own in an effort to improve his condition. LeBron James spends 10 to 12 hours a day on taking care of himself; he has a chef, a trainer who works with him, he receives neuromuscular treatment. A lot of our superstars are naturally gifted, but they also really work to maintain that conditioning.
It's not an accident that guys now in their mid-30s and older are able to play at a high level. You didn't see that as much 20 years ago.
One thing about an NBA locker room: The teasing is constant. You don't walk through those doors if you have thin skin.
Two seconds after I walk into the locker room these days, [longtime Heat player] Udonis Haslem will make a comment about hating my tie. Or, he'll poke fun at my weight—"When is the baby due?"
I've even been chased around the locker room by a naked Shaquille O'Neal. Trust me, there are lots of stories. But as Udonis says, if they didn't like you, they wouldn't talk to you.
Early on in my marriage to [wife] Randy, I was covering emergency room shifts, hustling to build a practice. And that's true of any doctor. It's tough, especially when you have young children. So, when I first became team physician, she wasn't going to many games.
Now, she goes to every home game, she sits on the Heat's foundation and helps with different causes that the team supports. She's become a bigger basketball fan than I am. When I'm trying to go to bed at night, Randy is watching West Coast NBA games on TV.
When I started out, if an athlete had an ACL injury, it was considered career-ending. Today, if someone has ACL surgery and isn't back in eight months, they think that you screwed up the procedure.
The advent of arthroscopy, which really occurred in the mid-1970s and beyond, revolutionized sports medicine. So much of what we do is done arthroscopically—shoulder stabilization procedures, rotator cuff repairs, elbow scopes, meniscus repairs, ACL reconstructions, ankle surgeries. It's gotten so sophisticated, and it's so minimally invasive.
That's part of the excitement. There's not a procedure that I do the same way now as I did two years ago. That's how quickly things change. So, you must be up on all the newest procedures—and then you have to make a decision about what's best for the patient as opposed to what may be a fad, a procedure that may not be as great as it's being marketed.
All the new things we learn benefit not only professional athletes but high school athletes and weekend warriors. Baptist has gone out of its way to be state-of-the-art for our patients. [Note: The four-story Miami Heat Sports Medicine Center at Baptist Health Orthopedic Institute, opened in September 2019, features a host of orthopedics and sports medicine clinics as well as an ambulatory surgery center with four operating rooms.]
I still get nervous before doing a surgery, whether it's a player or patient in my own practice. I try and anticipate everything that can possibly go wrong—and have a backup plan. And then I have a backup plan for the backup plan. I want everything to turn out as well as it possibly can for every patient.
It's a huge, huge responsibility when you're operating on someone. They're placing their trust in you. I take that very seriously.
If I had to pick one moment that stays with me, it's probably that first Heat championship in Dallas [2006]. I was on the court after the game; my wife and one of my daughters were with me. No one expected us to win that year. We were down two games to none in the NBA Finals, and we were down [13 points] in the fourth quarter of Game 3.
I'll never forget [then-coach] Pat Riley, after a time out midway through the fourth quarter, taking out the board the coach uses to design plays. He wrote the word "Season" on the board and held it up. Just that one word. And then Dwyane Wade went out and played incredible—and we won the last four games.
I have three NBA Championship rings with the Heat [and one Olympic ring from the U.S. team's gold medal run at the 2000 Games in Sydney, Australia]. They're in a bank vault, except the 2013 title ring [Note: The Heat, led by LeBron James, Chris Bosh and Wade, defeated San Antonio that year in the NBA Finals.]
I wear that one because it's the most recent one.
And because it's the most gaudy.