For those in the throes of designing their first home, or even for those with experience reimagining their interiors, selecting artwork can be one of the most daunting tasks. Yes, there's an opportunity to make a significant impact and change the ambience of a home. However, it's also easy to get caught up in the endless options with little to no sense of clarity. Throw in the fact that price points of quality pieces run the gamut, and there's plenty to consider.
All of which raises the question: Where do you begin? Ahead of Art Basel in Miami Beach next month, here's a room-by-room guide to get you started on choosing art that can make your home look and feel more complete.
At a minimum, this can help point you in the right direction—because when are our homes ever complete?
The Entryway: Although it's usually just an area for throwing off your shoes and depositing your keys, a home's entryway offers an opportunity. With the right artwork and accompanying decor, it can make a dynamic first impression. For example, if your space allows, hang a substantial piece of artwork above a bench or a trio of smaller pieces above a console table. You can then personalize this hypothetical vignette by topping the console with a modern lamp and a few coffee table books.
To envision the foyer of an oceanfront condominium, Aventura-based interior designer Sarah Zohar of Sarah Z Designs layered a piece of contemporary artwork and Brabbu's Cygnus display table with a constellation of sculptural wall lights from Viso Design Studio, creating the ultimate focal point.
The Living Room: As one of the spaces where homeowners likely spend considerable time, the artwork here should evoke joy. If you're drawn to smaller, meaningful pieces in varying shapes and sizes, consider organizing a gallery wall. But if you prefer larger-scale pieces, select one impressive work that makes a statement, or hang two coordinating pieces to create a diptych.
"Regardless of the direction you take, it's important to avoid trying to match the colors to your furnishings or walls," says J. Steven Manolis, owner of Manolis Projects, a gallery in Miami. "To paraphrase the words of the eminent artist and teacher Hans Hofmann, 'Strong art that speaks to you supersedes all other factors.' "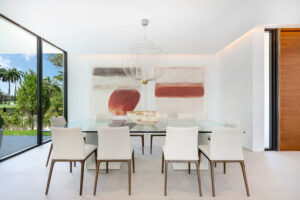 The Dining Room: When choosing art for the dining room, start by thinking about the feeling you'd like to elicit when entertaining guests in your home. For instance, a framed photo of the sea will immediately conjure a sense of calm; on the other hand, a vibrant work of pop art signals an uplifting energy. No matter what style you select, it's important to reflect about how the art will work in harmony with the other pieces that are on display in the other shared areas of the home.
In the featured dining room, which was orchestrated by the team at the Coral Gables-based furnishings company Artefacto, a duo of abstract paintings in calming earth tones ties in perfectly with the neutral table and chairs and flooring.
The Bedroom: When it comes to the bedroom—the place where you begin and end your day—the artwork that you choose should be personal. As guests enter this sanctuary on a very rare basis, you should focus on choosing pieces that make you feel at ease. Therefore, go with a color palette that is soothing. To create a tranquil vibe in one of her projects, Eloise Kubli of Collective Construction & Design in Plantation (whose team also designed the living room on the opposite page) employed soft blues and coppery tones, and commissioned a nature-inspired painting that hangs above the bed.
The Bathroom: You probably haven't put much thought into hanging art in the bathroom. While it's clear that such works will not become centerpieces in the home, there is one very important rule to keep in mind: Don't display anything that's too expensive or meaningful, as heat and moisture can seriously damage your art.
Therefore, either choose art that is affordable, or go for an unframed sculptural design that's able to withstand the elements.
By Mallory Jacobson