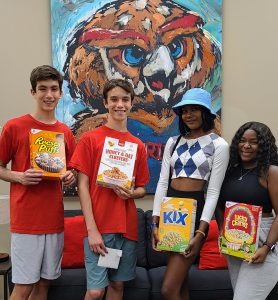 Knowing how important the first meal of the day is, 14-year-old twin brothers Jett and Luke Justin of Boca Raton set out to ensure needy children could wake up to an enjoyable meal. With breakfast food being one of the least donated items to food banks and cereal being one of Jett and Luke's favorite foods, the twins started collecting the item to donate to Boca Helping Hands (BHH), a nonprofit organization that provides food, medical and financial assistance to meet basic human needs.
"We want to live in a world where every kid and family has daily access to breakfast food in their home," Luke Justin says. "We want to be part of the fight against food insecurity."
The twins, who attend Don Estridge Middle School, started Cereal4All, a nonprofit organization that organizes cereal collection drives. In 2022, Boca Helping Hands received more than 7,600 pounds of cereal. The annual campaign launched on National Cereal Day in March and concluded in May. A record number of 18 schools and organizations participated this year, including Calusa Elementary School, J. C. Mitchell Elementary School, Florida Atlantic University's Community Service Club, Morikami Park Elementary School, St. Joan of Arc Catholic School, Plastridge Insurance, West Boca High School and Whispering Pines Elementary School.
Having volunteered at Boca Helping Hands with their parents, Jett and Luke organized their first cereal drive for BHH in 2016 at Calusa Elementary School when they were just eight years old. The brothers have since expanded the program to more schools in the area, including Florida Atlantic University. The entire Justin family continues to volunteer at BHH. 
"It was always important to my wife and me to instill the idea of thinking about others and helping the community," Eric Justin says, the twins' father. "The boys bonded with Boca Helping Hands and their mission because it speaks to their hearts. We realized that Boca Helping Hands is a hidden jewel in the community."
In 2019, the twins received six additional pallets of cereal from General Mills after persistently writing to the company for three years. General Mills still supports Cereal4All and has sent the boys t-shirts to give to students who donate cereal boxes.  
"Cereal is about breakfast, but it's also about happiness," Jett Justin says. "We couldn't stop thinking about the families in our community who couldn't fill their bowls and we wanted to do something about it."
For additional information about ongoing food drives, visit BocaHelpingHands.org/FoodDrives.