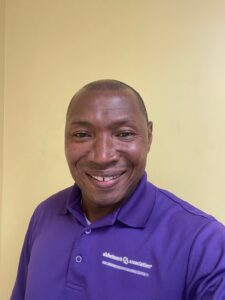 The rush to plant part-time or full-time roots in South Florida shows no signs of abating. But there's an outgrowth to this population increase that few are discussing.
The number of Americans living with Alzheimer's is projected to reach 13 million in less than 30 years—more than double the 6 million currently dealing with the disease. The tri-county region, an ongoing haven for those near or at retirement age, stands to see a dramatic rise in Alzheimer's patients.
Are we ready to deal with the many day-to-day complexities surrounding Alzheimer's and other dementias, conditions that disproportionately impact women, Blacks and Hispanics? Conditions that are expected to cost the nation nearly $1 trillion by 2050?
Michael Norfleet, senior manager of programs in Southeast Florida for the Alzheimer's Association and a certified Alzheimer's trainer, thinks not. But the association is going above and beyond to educate and prepare patients and families of those living with the disease.
Lifestyle, a proud sponsor of the upcoming Walk to End Alzheimer's for Broward County (Dec. 10), spoke to Norfleet about the disease and its challenges.
What do families of Alzheimer's patients most struggle with—and how does the association help in that respect?
In the beginning, part of it is just accepting that it could be Alzheimer's. Many people have the disease up to five years before being diagnosed. And, at times, it's difficult to get an [official] diagnosis—in part because the person with Alzheimer's understands that's something going on, and they'll try to disguise it. They'll steer people away from visiting—"Don't worry, I'm OK. Everything is fine." And, later, you find they're not paying their bills.
But it's important for families or significant others to come to terms with the fact that, if it is Alzheimer's, you need to have a plan—because it's not going to reverse itself.
Can you talk about the unique burdens associated with Alzheimer's?
The unique part is that the adult with Alzheimer's ends up needing so much care. It's like having a child. But caregivers are often working people; we see sons and daughters who go home after an eight-hour day and put in more hours of taking care of their mother or father. I have a neighbor who is 46. He has a family member he's caring for—and he has to drive to their location, an hour away, to care for them every day.
We stress to caregivers that they need to take any resource, any help, that they can get. It's so hard.
It's also hard for groups like the LGBTQ community. Eight out of 10 times, an LGBTQ person exhibiting signs of Alzheimer's is going to age alone and without support. We also see disparities in the Black community. A lot of Black people are not receiving consistent medical care, let alone have a physician tell them they have Alzheimer's.
We want to arm patients and caregivers with basic tools of training, before it reaches the point where assistance is needed. Early diagnosis is key. This allows you to plan. If you're a single person, you can start to get your paperwork together, you can arrange for power of attorney, you can designate where you want to live.
Unfortunately, people wait. They take a turn in "the journey," and now they [can't tend] to all the things that should have been in place.
There's also an emotional burden for caregivers in cases of advanced Alzheimer's because they're dealing with the realities of the situation—while the patient is unaware.
I talk to caregivers about the importance of taking care of yourself. You're giving everything you can, and it's not going to change. It's not your loved one's fault. It's not your fault. The disease doesn't care about what's going on. As a caregiver, you have to hold yourself together.
If the caregiver falls apart, who's going to care for both of you?
Walk to End Alzheimer's
When: Saturday, Dec. 10
Time: Event starts at 8 a.m.; ceremony and walk at 9 a.m.
Where: Nova Southeastern University, 3100 Ray Ferrero Jr. Blvd., Fort Lauderdale
Did you know: All money raised benefit care, support and research efforts of the Alzheimer's Association. Registered participants who raise the minimum $100 will receive an official Walk to End Alzheimer's T-shirt in the mail; meet the minimum by the second week of November to receive the shirt in time for the Walk.
Resources: 24/7 Helpline (800.272.3900); 24/7 online support group, alzconnected.org
Contact: alz.org (click "Register for Your Walk" and locate the Broward event)