The South Beach Seafood Festival, one of South Florida's most anticipated events, is returning for its 11th year from Oct. 18 to Oct. 21. The festival will bring together seafood enthusiasts, top-notch culinary talent and the vibrant spirit of Miami's beachfront community. Taking place at the start of Miami's famous stone crab season, this event offers a memorable experience for foodies and fun seekers alike. The four days of special programming include live musical performances, endless tastings, chef competitions, cooking demonstrations and more. The event is hosted with the support of the Miami-Dade County Department of Cultural Affairs and the Cultural Affairs Council, the Miami-Dade County Mayor, and the Board of County Commissioners. It is a curated culinary showcase that combines South Florida's seafood bounty with the region's most notable chefs and restaurants.
The South Beach Seafood Festival consists of four separate ticketed events. The festival begins on Wednesday, Oct. 18 with "An Evening at Joe's Stone Crab." The five-course meal, hosted by Jack Daniels Single Barrel, showcases Executive Chef Andre Bienvenu's cuisine paired with fine wines curated by master sommeliers. Next up, "Crabs, Slabs & Cabs" occurs the following evening at the historic Kimpton Surfcomber Hotel. This year's event has been reimagined as a formal sit-down, five-course dinner highlighting an international take on traditional 'Surf n' Turf' interpreted by five of the Magic City's leading chefs who join the evening's host, GOYA Foods' Executive Chef Fernando Desa. On Friday evening, the gloves will come off as 20 of Miami's top chefs go head-to-head in ten competitive seafood rounds during the annually sold-out "Chef Showdown," coined the ultimate beach bash on South Beach. On hand competing at the event will be last year's 10 winning chefs, who will return to claim the culinary crown at the festival.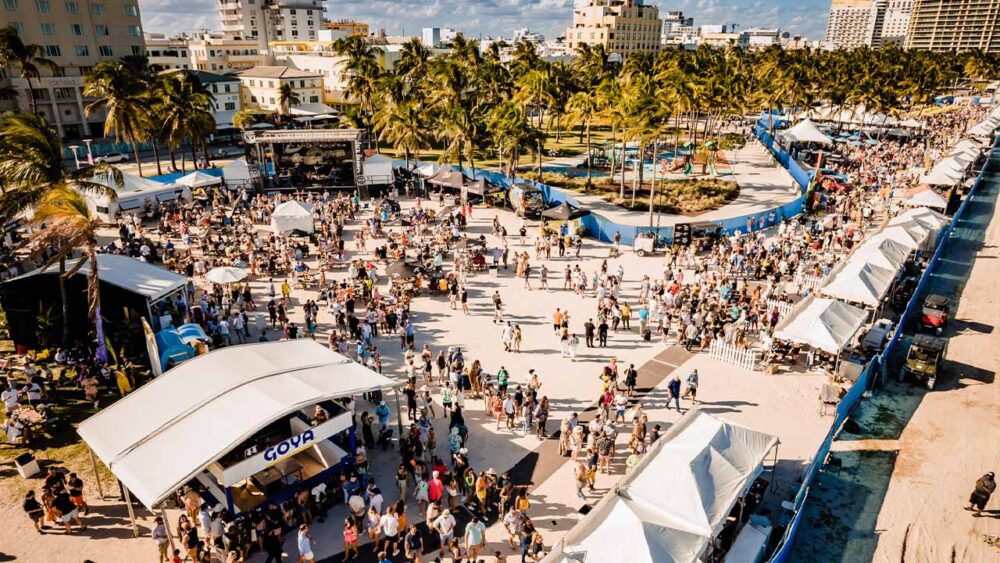 The excitement building up during the nightly events will culminate at the week's main celebration, the "South Beach Seafood Festival." The all-day affair takes place on Saturday, Oct. 21, and showcases a selection of pop-up-cafés by prominent South Florida restaurants. In addition to the exceptional culinary offerings, the festival will feature live music performances, engaging culinary demonstrations and interactive sponsor activations. Attendees can also sip on refreshing beverages at bars stationed throughout the festival grounds.
"The South Beach Seafood Festival has become an integral part of Miami's cultural calendar, drawing locals and visitors from around the world to celebrate the city's unique culinary landscape and laid-back beach culture," Valerie Roy says, Director of Marketing and Client Strategy at CI Management, the team behind the South Beach Seafood Festival. "This year's event promises to be the most memorable edition yet, offering an unparalleled seafood experience that will tantalize taste buds, ignite the senses, and create lasting memories."
Tickets to the 11th Annual South Beach Seafood Festival are now available at sobeseafoodfest.com.