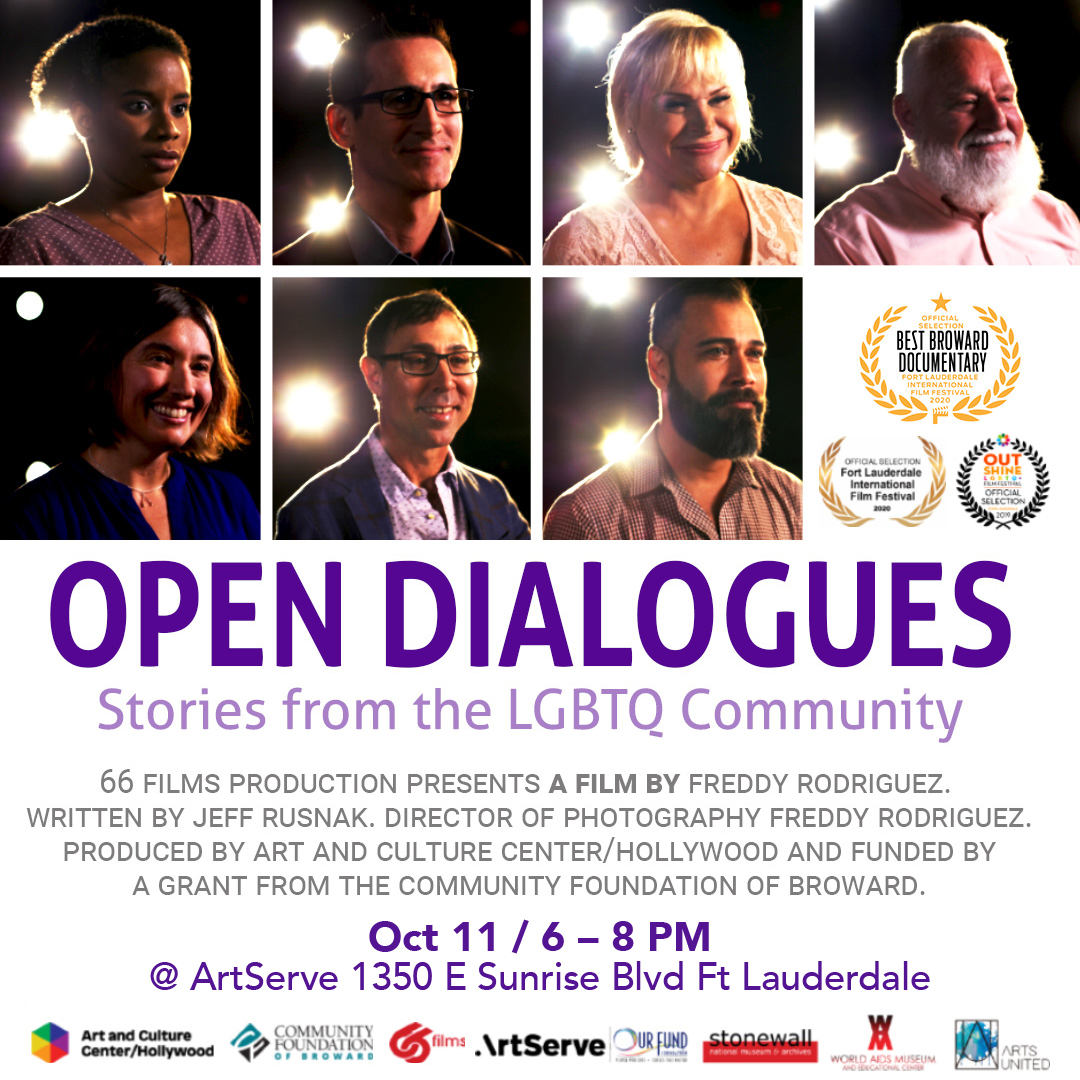 ArtServe Hosts LGBTQ Film Screening of Open Dialogues
The film will be featured during National Coming Out Day on Oct. 11
To honor the 32nd Annual National Coming Out Day on Monday, Oct. 11, ArtServe in Fort Lauderdale will host a film screening and discussion panel for the award-winning documentary, Open Dialogues: Stories From the LGBTQ Community, produced by the Art and Culture Center/Hollywood.
ArtServe presents the film in partnership with Art and Culture Center/Hollywood, ArtsUnited, Stonewall National Museum & Archives and World AIDS Museum and Education Center. Doors open at 6 p.m. with the film's public screening at 6:30 p.m. followed by an interactive panel discussion at 7 p.m. Admission is free, but attendees must register here.
"This is a film that will touch something deep in your soul. It's poignant and very real," says ArtServe Executive Director Jason Hughes, who will moderate the panel. "Amid each individual's thoughts expressed in the documentary, I think you'll find what's most impactful is often what is not said."
Open Dialogues: Stories From the LGBTQ Community was directed by award-winning Miami-based filmmaker Freddy Rodriguez. The production delves into how the LGBTQ community remains marginalized within families, schools, churches and public spaces and how they learned to empower themselves in these spaces. Community leaders interviewed in the film include Julie Marie Wade, Dan Bassett, Christine Walters, Omar Morales, Gary Keating, Franchesca D'Amore and Michael Goodman. It was an official selection in OUTshine LGBTQ+ Film Festival and 35th Annual Fort Lauderdale International Film Festival and received the Best Broward Documentary.
ArtServe's newest exhibition, Stories From Within, made possible by a grant from Our Fund, an LGBTQ Community Foundation, serves as the backdrop for this screening and inspiring panel discussion. ArtServe's Sophie Bonet curated the exhibit in conjunction with ArtsUnited, an LGBTQIA+ arts organization. It includes displays from the Stonewall National Museum & Archives, as well as the World AIDS Museum. The exhibition runs through Saturday, Oct. 23 and admission is free.