Bodega Taqueria Y Tequila Opens Coconut Grove Location
The new site will feature a three-part experience, including a taco shack, speakeasy lounge and high-end mezcaleria room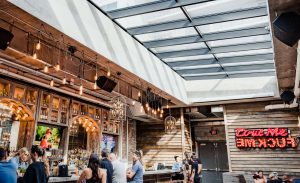 Bodega Taqueria y Tequila, a taco restaurant by day and speakeasy concept by night, recently celebrated the opening of its Coconut Grove restaurant. The new eatery is the brand's fifth location and will feature a robust lineup of daily and nightly programming curated for locals and visitors. The highlight of the Coconut Grove location at 3419 Main Highway will be a three-part experience featuring a fast-casual taco shack, a speakeasy-style lounge, and a high-end mezcaleria designed for exclusive tasting experiences.
"We are looking forward to fully immersing ourselves in The Grove community," Jared Galbut says, Co-Founder and president of Bodega Taqueria y Tequila. "By introducing Bodega's new three-part concept, inclusive of an intimate mezcaleria, we're providing a variety of unique experiences for everyone to enjoy. Our vision is that Bodega Coconut Grove will act as a gathering place where guests can indulge in great food, drinks and entertainment every day of the week."
At the 3,276-square-foot space, guests can experience "Margarita Monday," featuring $5 frozen margaritas, available all day. On Tuesdays, patrons can indulge in Bodega Taqueria y Tequila's "Taco Tuesday" special, showcasing three for $11 Classic Tacos available in the restaurants and on the Bodega app until 5 p.m. The speakeasy lounge features a 30-foot skylight and is open daily from 4 p.m. Guests can enjoy signature cocktails, live music and general entertainment. The brand's "Live Music Wednesdays," presented by 818 Tequila, showcases local musical performances by rotating bands from 7 p.m. to 9 p.m. Thursdays will feature "Thursdays on Tap" with $1 select rotating Draft Beer until the keg is tapped.
On the weekends, guests can indulge in "Liquid Weekend Brunch," featuring large format cocktails, beer buckets and Mexican-inspired mimosas starting at 12 p.m. The intimate mezcaleria was crafted to serve high-end mezcal and tequila and offers exclusive tasting experiences in an authentic Mexican-designed space. The mezcaleria will be open from Wednesday through Saturday from 6 p.m. to close, with select nights featuring live musical performances by rotating one-person bands. To reserve the mezcaleria, guests are encouraged to make reservations online on Bodega Taqueria y Tequila's website.