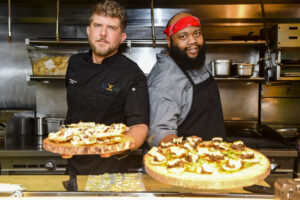 One of Fort Lauderdale's long-established restaurants recently unveiled a new look as Canyon debuted an expanded and revamped menu with larger, contemporary interiors and a focus on service, food and location. SFL Food Group celebrated the reveal of the new look and its latest addition, Rio's Tequila Bar. The ceremony featured a ribbon cutting with the SFL Food Group team and Fort Lauderdale leaders.
"Canyon is more than a restaurant to us," Mike Linder says, Owner of SFL Food Group. "It's a place where people feel at home, sharing meals with their loved ones and close friends. We want the new space to emulate a sense of belonging, a place that people can always count on for its top-notch service, timeless and flavorful food, and premier location. Every day we hear stories from South Florida locals who have experienced some of the most special milestones in their lives, from meeting their significant others to lifelong friends at Canyon. We are so honored to continue this tradition rooted in community and supreme hospitality." 
Canyon has served patrons in Fort Lauderdale for over 27 years and the enhancements pay homage to its original concept but with a new flair. Located in Fort Lauderdale's Rio Vista neighborhood, Canyon focuses on providing unique American artisanal cuisine with Asian, South and Central American flavors in an intimate setting. The 5,000-square-foot redesigned space offers an upscale yet approachable dining experience with an east and west-side dining room with over 100 guests on each side, a 20-person private dining area and a 20-seat tequila bar.
SFL Food Group tapped local artists Orla Ananda and Lori Praticoto to create custom murals that blanket the main dining space and private dining area to provide a curated look that feels welcoming and warm. 
Canyon's happy hour runs Monday through Friday from 5 p.m. to 7 p.m. Additional programming includes Industry Night on Mondays for those in the hospitality, aviation and marine fields with happy hour cocktails and 50% off food all night; Tacos & Tequila Tuesdays featuring 4 for $12 tacos and ½ off margaritas all night; Old-Fashioned Wine Down Wednesdays with $8 Old-Fashioned, $8 Wine by the Glass and 50% off bottles under $100 with the purchase of an entree; and live music happy hours on Thursdays and Fridays. 
For more information about Canyon and to make a reservation, please visit www.canyonfl.com or call 754-779-7199.
Images courtesy of World Red Eye