It takes more than 160 steps to reach the tallest permanent high-dive platform in the Western Hemisphere. But the view from the top won't be the only sight to behold by the time renovations plans for an iconic Fort Lauderdale destination are fully realized in 2025.
In late January, dignitaries including Dara Torres celebrated phase one of the project—the $40 million-plus revamp of the city's famed Aquatic Center, the site of Florida's first Olympic-sized pool in 1928. In addition to the nearly 90-foot diving platform (one of multiple platforms and springboards in the new dive well), the center boasts state-of-the-art training and Olympic-sized swimming pools—available for competitions and for the public.
"The renovation of the Aquatic Center [501 Seabreeze Blvd.] restores Fort Lauderdale as a premier destination for global competitive swimming and diving at a venue that is also available to the community," says Dean Trantalis, mayor of Fort Lauderdale. "Your morning swim can be a lane away from a world champion training for their next title."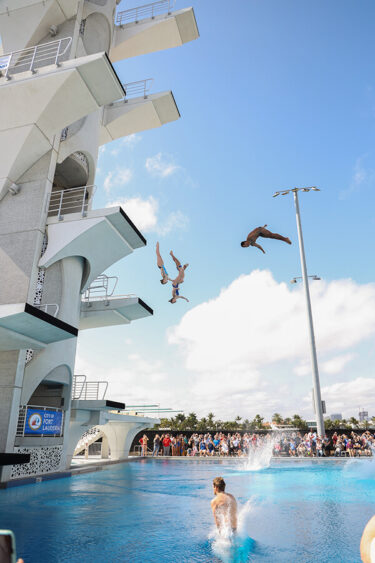 Phase two promises a $190 million reimagining of the International Swimming Hall of Fame (ISHOF), which debuted in 1967. Expect buildings with dazzling modern architecture to house the history of aquatic sports, event spaces overlooking the Intracoastal Waterway and Atlantic Ocean, a restaurant featuring a Michelin-star chef and much more.
"Swimming is so popular every four years," says Torres, who recently joined the board of the ISHOF. "We want to bring it to the forefront beyond the Olympics. We want [the Aquatic Center] to be a go-to place for international swim and diving meets. We want people to visit the Hall of Fame and learn about the incredible athletes and coaches who've meant so much to aquatic sports."