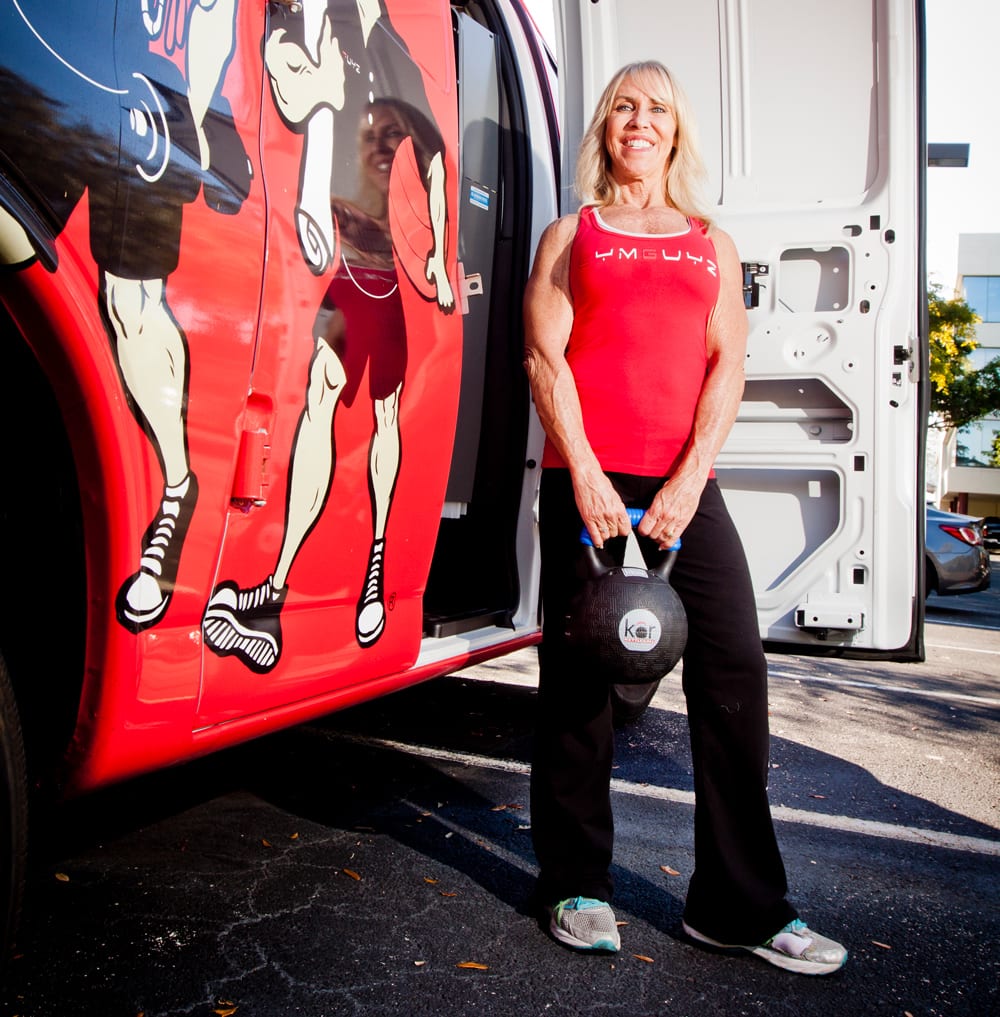 Driven to Challenge
Keeping fit is a creative endeavor for Kathy Schottke. For the Lauderdale-by-the-Sea resident, part of that creativity comes from a challenge.
Although she graduated with a criminal justice degree from Western Illinois University—"I wanted to go to law school," she says—Schottke found the rewards of working out suited her better. "I like to motivate people. Fitness can have a big impact and can change a person's life."
Soon after college graduation, she moved to South Florida, where the ability to run outdoors year-round instead of trudging through the Illinois snow was liberating. Running gave her a boost in energy, but it also satisfied a psychological motivation—the need to challenge herself that initially had her contemplating a career as a lawyer.
Fitness became her life's mission. She took classes to become a certified personal trainer and she kept running. "I had three kids, and I'd get up early in the morning before my husband went to work," she says. "I would feel like I had already accomplished something before the sun even came up." Now, at 53, she still starts her day at 5 a.m. with a 2- to 3-mile run.
She also found that as the stages of her life changed, so did her desire to learn more about fitness. "When I got pregnant, I wanted to be certified in pre-and post-natal fitness training," she says. "When my kids were young, I became certified in kids' fitness. Now I'm working with seniors, so I'm certified as a Silver Sneakers instructor." She's also begun training to become specialized in working with older adults with memory care issues.
Schottke decided a few years ago to add another challenge to her routine—lifting weights. "Heavy weights," she says. With her competitive spirit intact, she signed up for bodybuilding competitions. "I was only in two competitions, and I didn't do it to win," she says. "It was a competition for myself. I needed something to reach for."
A business of her own: Now, Schottke has entered another challenging phase—her own business, a concierge-style personal fitness franchise, GymGuyz Fort Lauderdale. She and her trainers travel from Fort Lauderdale to Weston and points between in the company's red-and-black van loaded with 365 pieces of equipment. "There are so many people who, for one reason or another, don't want to go to the gym," Schottke says. "This is personalized. We'll meet you anywhere—if you want to work out on the beach, let's do it." She says what convinced her to become part of GymGuyz, which Josh York dreamed up in his parents' dining room in New York in 2008, was the founder's philosophy. "There are the three C's of GymGuyz: convenient, customized and creative." And what about Schottke's own C—challenge? "No two workouts will ever be the same," she says.
Get in touch: gymguyz.com/vans/fort-lauderdale or call 954.471.7899.