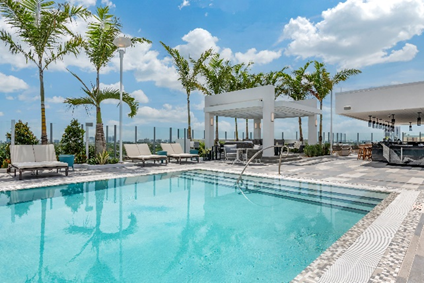 Easton Rooftop Pool and Lounge in Fort Lauderdale Ushers in New Management Team
Warren Zinn and Mubashir Qureshi will join the hospitality group
The Easton Rooftop Pool & Lounge recently hired Warren Zinn as Food and Beverage Asset Director of Prime Group, the owner of the Fort Lauderdale venue and Mubashir "Mo" Qureshi as General Manager of The Easton Rooftop.
"We had a national executive search to find these two highly qualified gentlemen for our ever-growing customer base at The Easton Rooftop Pool and Lounge," Heather Strauss says, Director of Hotel Asset Management at Prime Group. "We are thrilled to welcome them just in time for all our summer events and promotions."
Zinn has over 25 years of experience in the food and beverage industry. He previously served as Area Director of Food and Beverage at Shamin Hotels, a group of five oceanfront hotels in Virginia Beach. Zinn was also the Corporate Director of Food and Beverage at GoldKey PHR, a hospitality management group and served as the Director of Food and Beverage at Waldorf Astoria Casa Marina and Reach Resorts in Key West. He also owned and managed Daryl Wine Bar & Restaurant in New Brunswick, New Jersey.
Qureshi previously worked as Manager of CVI.CHE 105 Kendall and Downtown Miami and Hiro Japanese Restaurant in North Miami Beach. He has also served as Assistant General Manager at Sal's Italian Ristorante in Pembroke Pines and as a bartender and General Manager at Bennigan's in Miami.
"I have worked in the service industry for most of my professional career in every position from dishwasher to management," Qureshi says. "I have accumulated ample customer service experience, vendor relationships, and staff management. I believe in teamwork and sustained growth."
The Easton Rooftop Pool & Lounge at 721 North Federal Highway is located in Quantum Village atop the Marriott Courtyard in downtown Fort Lauderdale. The ninth-floor rooftop indoor-outdoor bar, lounge, day club and nightclub features guest DJs, performers, live events and entertainment. The Easton's rooftop offers views throughout Fort Lauderdale, including the beach, for ideal daytime and evening vistas.