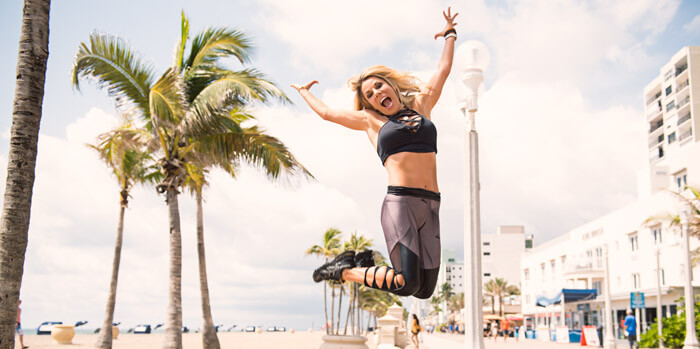 Healthy Recipe Substitutes!
Linzi Martinez
Personal Trainer/Nutritional Therapist
Host/Executive Producer of the award-winning HHS Makeover TV Series
FB: Happy Healthy Stronger
IG: Linzimartinezofficial
Linzi's Spinach and Artichoke Squares! This is an incredible breakfast and anytime treat! If you like the taste of a spinach and artichoke dip, you're going to LOVE this quiche-like concoction! Not only is it outrageously delicious. but this recipe is outstandingly nutritious!
Artichokes are rich in fiber, low in fat and loaded with vitamins and key nutrients like folate, vitamin C, and K. They also supply important minerals like magnesium, phosphorus, potassium and iron! Spinach is a superfood with so many health benefits and disease preventing vitamins and minerals like iron, manganese, magnesium, copper, Vitamin B2, B6, E, calcium, potassium, and so much more! This amazing dish will leave you satiated longer, keep your glucose stable, aid in weight management. and PS…it's my favorite EVER!
Linzi's Spinach and Artichoke Squares! What you will need: • Two glass jars of marinated artichokes (rinsed and drained) 12oz • Two bags of frozen chopped spinach (thawed and drained) 12oz • 6 large organic eggs • 1 bag of low-fat part skim mozzarella cheese 8oz (or 12oz if you like)
Preparation: Heat oven to 400 degrees. Grease 9×13 rectangular cake pan with coconut oil spray. Place artichokes and eggs in the blender and puree. Place spinach in a large bowl. Add artichoke and egg mixture to spinach. Stir in cheese. Pour in pan and heat for 60 minutes or until brown on top. Cool and cut into squares! They can be frozen as well! Don't diet, find your alternatives to all your favorite foods like chocolate, pancakes, French toast, ice cream and more in my new book, Recipes for Instant Weight Loss – e-book – Linzimartinez.com or paperback on Amazon – Search Linzi Martinez!
You deserve to feel ridiculously alive! Love always, Linzi Martinez BA, CPT, INHC