Not many singers can boast of the release of a greatest hits compilation at only 21 years old.
But for anyone who knew LeAnn Rimes story, her 2003 compilation album Greatest Hits shouldn't have come as a surprise. When the Mississippi native burst onto the country music scene in 1996 with the single "Blue," then 13-year-old Rimes already sang with the maturity and confidence of a seasoned performer. The debut album of the same name made her a household name overnight, reaching No. 3 on the Billboard 200 chart and No. 1 on the country albums chart and going multiplatinum. At 14, she became the youngest Grammy winner, earning awards for both best new artist and best female country vocal performance.
While her singing style garnered comparisons to country legend Patsy Cline—especially since "Blue" was originally written for her—Rimes soon proved her own uniqueness in the music industry, venturing into the pop world with her follow-up albums. "How Do I Live," reached No. 2 on Billboard's Hot 100 chart and stayed on the chart for an astonishing 69 weeks from 1997 to 1998, and in 2002, the catchy "Can't Fight the Moonlight" became a No. 1 hit in 11 countries.
Reinventing herself over the course of 16 studio albums has led to more than 44 million album sales for Rimes and hits on several charts, including two No. 1 singles on Billboard's dance club songs chart in 2017. But one thing has remained consistent: her love of Christmas.
Besides her Christmas EP and her two Christmas albums, Rimes wrote and performed songs for the original soundtrack of the 2018 Hallmark Channel original film It's Christmas, Eve, which she also produced and starred in. It was a welcome Christmas present for fans who look forward to her annual holiday tour.
This month, she continues the tradition with a stop at Seminole Casino Coconut Creek on her "You and Me and Christmas" tour. Ahead of her performance, Lifestyle asked Rimes, 37, about her career and how her music has changed through the years.
You're now on your seventh annual Christmas tour. What was the impetus behind your first tour, and how did it become an annual tradition?
It wasn't enough to record Christmas records. I wanted to share my love for the Christmas holiday live, face-to-face with my audience. The holiday tour is always my most favorite part of the touring year for me.
One of the messages of your Hallmark movie, It's Christmas, Eve, had to do with the importance of music education. Does it bother you that the arts are often the first thing to go when budget cuts are made at schools?
Absolutely. That is why I wanted to highlight the importance of music in schools in the movie. Music helps communicate, it helps heal, it inspires, it breaks through barriers, and it's such a shame that it is the first thing to go when there are budget cuts in the education system.
What was the importance of music to you as a child growing up? What impact did it make on you?
It was my childhood. I've been singing since I was 2, and it was and always has been such a huge part of my life. Music has helped shape me, it's helped me grow, heal, motivate, inspire—the list goes on and on about how it has and continues to impact my life.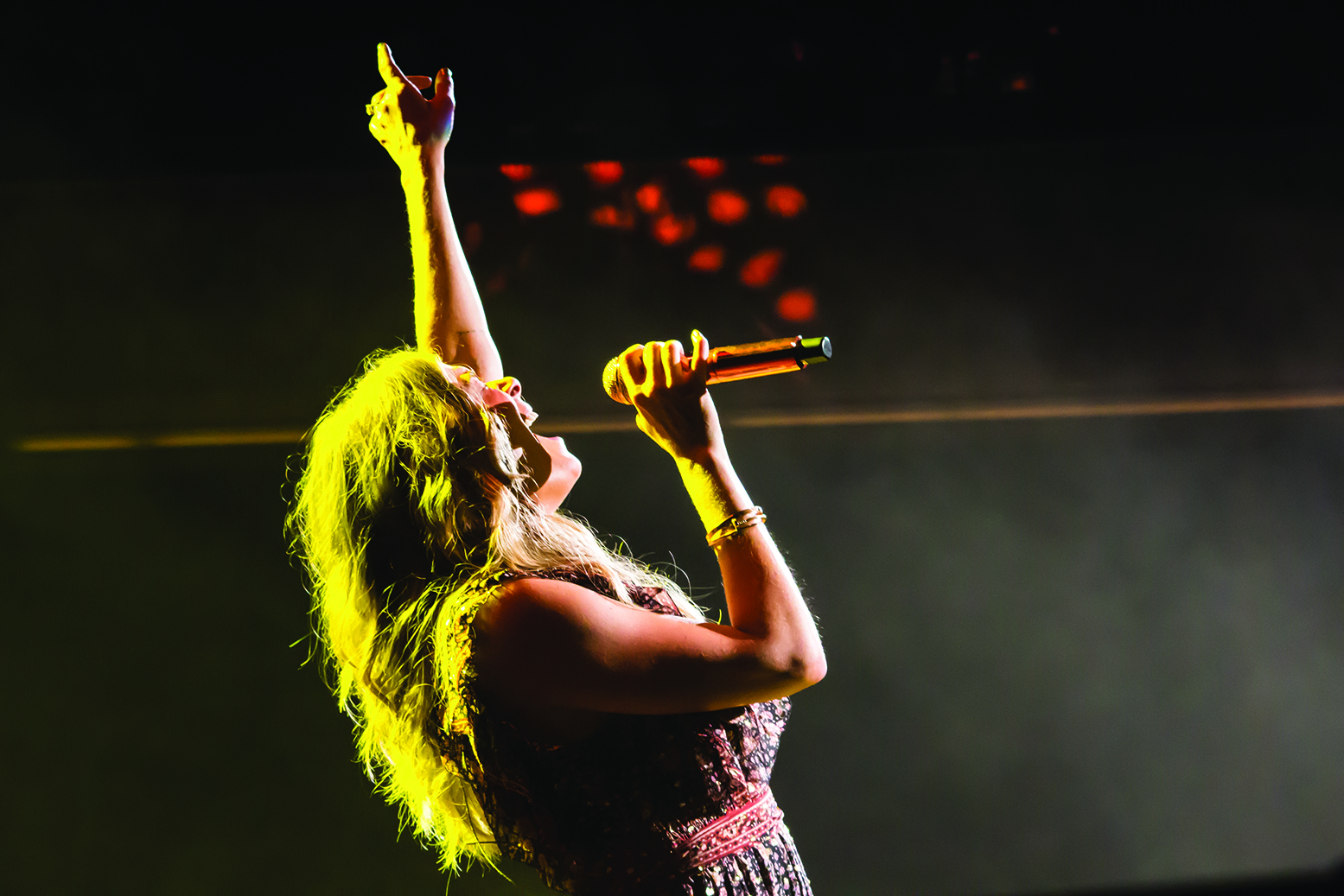 In 2018, you released Re-Imagined, an EP of re-recordings of some of your hits. Where were you as an artist that made you want to go back and revisit those songs?
Well, for most of these songs like "Blue," and "One Way Ticket," I was so young I didn't really understand the words I was singing. Then as I got older and experienced more life, the lyrics took on a whole new meaning. So, during shows, my band and I would switch up the melodies a bit and see how people would respond, and the response was so positive. We kept performing them at shows, and then fans started asking me on social media where they could listen to these new re-imagined versions at home, so we made the Re-Imagined EP.
How would you compare the music you've made in the last six years to the music you were making in the late 1990s and early 2000s?
Gosh, so different, but all the music has been wonderful and represents different chapters in my life. Today, I have more freedom in my music. I am making whatever inspires me and am not confined in any way. I always say if I want to do a polka album, I'll make one. Back in the day, the music industry was different in that we had to make music in our specific genres, but, thankfully, things have changed. I have been fortunate to be able to make country, pop, soul and everything in between. But today, when I write, it comes from a different place within me that, honestly, I didn't know I had for a long time. Now, it's the only way I know how to write.
You told ABC News in 2018 that the 1990s were "a very, very special moment for women in music." Do you feel women's points of view are being represented in country music the way they were when you started in the 1990s?
Men are still being played more on the radio than women. However, women, in not just country music but in our society, have found our voice. We are raising it louder and more proud. We are joining together and supporting each other and that in itself is making a statement.
Can you share a Christmas memory that has stayed with you through the years?
My godparents always made Christmas into a major celebration. I would sleep over on Christmas Eve and we would leave out cookies and milk for Santa, but when I caught on that my godfather was sneaking out to eat the cookies before Santa, I began leaving out sugar-free cookies for him because he was a diabetic. My godfather didn't like that so much.
LeAnn Rimes
When: Dec. 14, 8 p.m.
Where: The Pavilion at Seminole Casino Coconut Creek, 5550 NW 40th St., Coconut Creek
What: Expect new and classic holiday hits and favorites from the Grammy winner on her "You and Me and Christmas" tour.
Tickets: Starting at $40; ticketmaster.com
Info: casinococo.com