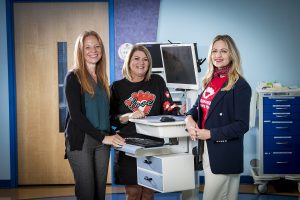 Marvin Avila remembers how excited he and his wife, Jessica, were to meet their baby boy. They already had a girl, but their daughter was about to have a brother, Marvin Jr.
Avila also recalls something about Jessica's otherwise event-free pregnancy. As doctors monitored the baby's development in the womb, the scans continued to reveal something a bit "different." The consensus was that Jessica simply was retaining water.
Only that wasn't the case.
When baby Marvin was born on Dec. 17, 2012, the Avilas discovered that their newborn had a rare congenital disorder—Klippel-Trenaunay Syndrome, which causes blood and lymph vessel abnormalities. In their son's case, it was a vascular deformation of his left leg that caused it to be bigger than the right leg. Children with KTS sometimes have legs so large that they end up being wheelchair bound.
By the time he was 1, Marvin Jr. had been in and out of the hospital three times—for months at a time—with infections.
The family worked for several years with a team of doctors at Joe DiMaggio Children's Hospital in Hollywood who cared for Marvin Jr.; the hospital wasn't far from where the family lived.
"His case was one of our most profound," says Caitlin Stella, chief executive officer at the hospital. "There were different attempts made to address the issue. At one point, he was having such bad circulatory issues that there was a possibility the surgeons [would have] to amputate his leg." Stella says the team at the hospital "checked every box" that they knew of to avoid the extreme surgery.
But then, an announcement by Joe DiMaggio changed the narrative for Marvin Jr. and his parents. In April, the hospital launched a Center for Complex Care that gives South Florida families enhanced access to specialized pediatric care. It's part of an alliance with Boston Children's Hospital—which happens to have a Vascular Anomalies Center, a top-rated facility for treating children with KTS.
"It turned out that there was an expert in Boston who has seen the most number of children with this disorder in the world," Stella says.
She recalls a group of the specialists working with Marvin Jr. going into a conference room and speaking with the Boston KTS experts. "This is what you do, this is how we treat it," she remembers the conversation going. Some of the best news was that the Avilas never had to leave South Florida to receive advanced care.
"Children like Marvin Jr. who require a team of specialists and a coordinated approach need special resources," Stella says of the hospital's Center for Complex Care. "What the alliance does, like in Marvin's case, is allow us to tap into [physicians] with highly specialized expertise."
Stella says the alliance with Boston Children's Hospital, ranked by U.S. News World Report as the country's No. 1 pediatric hospital for the ninth year in a row in 2022, also gives South Florida families access that would be difficult without the Center for Complex Care able to act as the clearinghouse.
"We are the only hospital that has this relationship with Boston Children's Hospital," Stella says.
Before the official alliance in April, Joe DiMaggio had been working with BCH for a number of years. "If we wouldn't have had this relationship—and our teams [hadn't already been] collaborating as colleagues—it would have been challenging for us to get a consultation this expeditiously on a case such as Marvin's," she says. To "cold call" a hospital like BCH, Stella adds, "you're in line with a lot of people around the world who want to consult with the same experts. Because we have this coordination and partnership, the system worked, and Marvin Jr. and his family benefited. They have been part of our Joe D. family for many years; giving them our best is what we're all about."
Connecting the two organizations also speaks to the bigger picture, creating a deeper holistic approach to health care.
"When a child has complex health care needs, it disrupts the entire family dynamic," Stella says. "The parent is trying to piece together what the child needs. Maybe they find a doctor here and therapist there, and they are struggling to keep things close to home. [Note: Often, families wait for months and months to secure an appointment with a specialist]. They get on a plane, and when they get their child to the treatment, it isn't what they thought it was going to be."
Conversely, the Center for Complex Care can be a home base for children with challenging medical conditions. "The more convenient we can make it, the better it is for everyone, especially the child," Stella says. "[The alliance] is a perfect combination of us being the base and us accessing the Boston team if we feel that the child needs more [specialized treatment]—with the goal of keeping everything centralized and close to home."
For the Avila family, having the kind of world-class care for KTS that Marvin Jr. is receiving close to home is nothing short of a miracle.
What prompted the need for the experts at BCH was a scare last year when the family took a trip to Universal's Volcano Bay water park in Orlando. "[Marvin Jr.] loves the water, and he wanted to experience the lazy river," Avila says.
However, because of his weakened condition, he picked up a bacterium from the water. Though there was talk of amputation as a possible course of action, Marvin's team of doctors at Joe DiMaggio wanted to avoid that measure at all costs. Avila remembers him saying that because of the deep connectivity of the veins, an amputation could kill his son.
The boy's multidisciplinary care team at Joe DiMaggio urgently consulted with the specialists at BCH. They worked with surgeons at Joe DiMaggio and recommended a skin-graft procedure to avoid amputation.
"They had to do something no matter what—and it worked," Avila says. "I never gave up hope. I said there was a light at the end of the tunnel."
Avila is additionally proud that his son's case can be used as a model for other children suffering from KTS. "It was a test for everyone, and maybe it can help someone else," he says.
Meanwhile, Marvin Jr., who's 9 years old, is on the mend. There is no cure for KTS, but with his latest surgery, he's moved closer to a more normal childhood—like playing basketball, which is a sport he loves.
"He's a LeBron James [of the Los Angeles Lakers] and Tyler Herro [Miami Heat] fanatic," Avila says.
But it's the strength and resiliency his son displays for which his father has the most admiration.
"He's a tough kid," Avila shares. "I don't think I would have been able to put up with what he's gone through."
Staff photo by Eduardo Schneider