Experience Tryst: The 3,000-square-foot theater inside Faena Hotel Miami Beach provides the intimate setting for Alan Faena's new original production—Tryst: A Lovers' Rendezvous. Emcee and headlining performer Kat Cunning leads the ensemble cast through a riveting evening of sensory stimulation that includes burlesque, cirque nouveau, show-stopping musical numbers, and "stories of explicit escapades from a bewitching mistress's past, present and future loves." At press time, the show had dates (Thursdays to Saturdays) scheduled through July.
Tickets: Visit faena.com and click on the Entertainment link for details.
Ride an Airboat: The chances of having your selfie photo-bombed by an alligator increase dramatically at Everglades Holiday Park, where locals and tourists explore the River of Grass during exhilarating airboat rides. Observe gators in their natural element during a 60-minute narrated tour; the airboats make plenty of stops, but they also reach speeds of 60 mph. After the ride, take turns holding a baby gator or check out one of the live alligator shows.
Info: evergladesholidaypark.com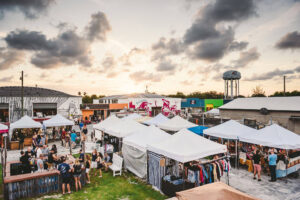 Take a Walk on the Artistic Side: From 6 to 10 p.m. on the last Saturday of each month (except December), FATVillage in Fort Lauderdale celebrates the local creative community through its renowned ArtWalk evenings. This summer, expect to see new art exhibits, a host of creative vendors selling their goods, live music, and other cultural treats. There's free parking in the Sears lot, and paid parking at the lot on Northwest First Avenue.
Info: fatvillage.com/artwalk
Swim in a Century-Old Pool: Constructed in 1923 out of a coral rock quarry, the Venetian Pool in Coral Gables—all 820,000 gallons of it—remains an iconic South Florida attraction. Through Aug. 15, the pool will be open from 11 a.m. to 6:30 p.m. during the week, and 10 a.m. to 4:30 p.m. on Saturdays and Sundays. At press time, reservations were required because of pandemic guidelines.