Join the Museum of Contemporary Art, North Miami (MOCA) for their latest exhibitions, "Lonnie Holley: If You Really Knew" and "South Florida Cultural Consortium" (SFCC), at their opening reception on Wednesday, May 10. The revealings will accompany live music, cocktails and canapés in MOCA's Paradise Courtyard. Guests can also meet MOCA's Executive Director Chana Sheldon, Curator Adeze Wilford, artist Lonnie Holley (pictured) and the 12 talented South Florida Cultural Consortium artists in attendance. The first significant exhibition of prolific artist Lonnie Holley and the "South Florida Cultural Consortium (SFCC)" exhibition featuring the work of 12 intergenerational South Florida artists will be displayed from May 10 to Oct. 1.
The "If You Really Knew" exhibition is curated by MOCA's Adeze Wilford. This intimate exhibit showcases 70 works, including Holley's signature "sandstone" sculptures, new works on paper and large-scale quilt paintings featuring faces. Holley's unique style draws inspiration from his life experiences and incorporates everyday objects into thought-provoking art. The exhibit also highlights Holley's influence on Southern art, with a curated section featuring works from Purvis Young, Thornton Dial, Mary T. Smith and Hawkins Bowling.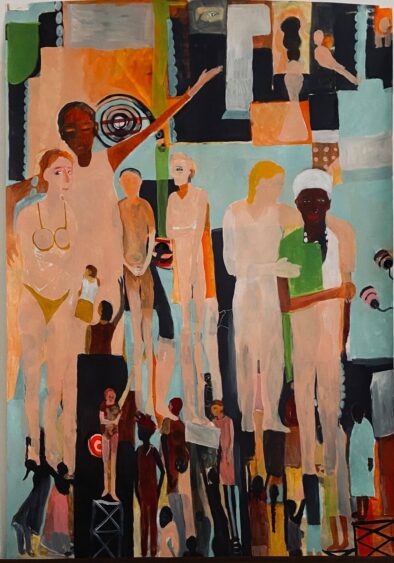 The SFCC exhibition is set to showcase the artistic talents of 12 talented individuals, each working in diverse mediums such as sculpture, film, and site-specific installations. This year's exhibition will glimpse the vast and dynamic South Florida art scene. A catalog will also be published to complement the exhibition, providing an in-depth look at the works on display.
The SFCC 2021-2022 Visual and Media Artists Program has chosen 12 talented artists to receive a grant and showcase their work at a visual arts institution in one of the five counties: Broward, Martin, Miami-Dade, Monroe, or Palm Beach. Farley Aguilar, Gabino A. Castelán, Nereida Garcia-Ferraz, Moira Holohan, Francesco Lo Castro, Tory Mata, Beatriz Monteavaro, Ema Ri, Asser Saint-Val, Carin Wagner, Carrington Ware and Addison Wolff were among the deserving artists selected for this opportunity.
The public reception lasts from 7 p.m. to 9 p.m. on Wednesday, May 10.
Admission is $10 and $5 for youth (ages 12 to 17), students and seniors
Complimentary access is available for MOCA Members and North Miami residents with proof of membership at the door.? To RSVP, please visit here.