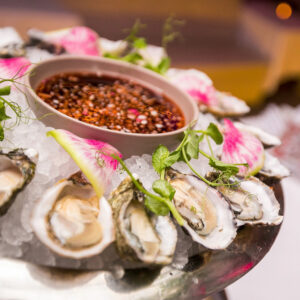 1. Taste of Europe: South Florida wasn't exactly clamoring for destination dining reminiscent of the south of France when Jean-Philippe Bernard, Paul Breuza, and Michael Martin launched Villa Azur in spring 2012. But the hospitality veterans and natives of France recognized that the epicurean experiences they knew so well—unforgettable evenings that combined world-class cuisine with a sophisticated backdrop, buzzy entertainment, and a see-and-be-seen vibe—had the potential to play well on Miami Beach. They were right.
2. The ambience: Nearly a decade into its successful run, Villa Azur (villaazurmiamibeach.com) remains an evening to savor—in more ways than one. The brand now spans the globe, but the Miami location is the original, featuring an elegant yet unassuming interior and a chic, Euro-inspired courtyard that combine to recall a luxury estate in the French Riviera. It's a beautifully lit space (at night) that feels special and romantic without being pretentious.
3. The menu: As one might expect, a strong Mediterranean thread runs through the preparation and offerings at Villa Azur. The pan-seared sea bass (a favorite fish in France) with fresh orange reduction—and served with charred eggplant—melts in your mouth. The heavenly Raviole de Romans, bite-sized pillows of pasta filled with Comté cheese, are bathed in truffle cream and topped with shaved truffle. Shared plates have become the norm, especially when it comes to go-big-or-go-home highlights such as the 42-ounce tomahawk steak, the chateaubriand (2 pounds of prime filet mignon) and a seafood tower that includes a pound of Maine lobster, 12 oysters, king crab legs and six jumbo shrimp.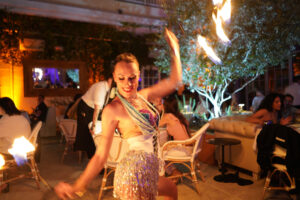 4. Showtime! Thursday through Saturday has become the stuff of legend at Villa Azur as dinner evolves into a party that never seems to end. With the midweek arrival of Peligrosa, customers now can have a taste of the weekend on Wednesday—and still make it up in time for the work the next day. Along with specials to accompany the main menu, expect an evening filled with eclectic performers (like "fire" girls), art, live saxophone music, grooves by DJ Yez and inevitable surprises. Peligrosa is more chill (and less crowded) compared to the Thursday Dinner Party and wild weekends—but fun and memorable all the same.
5. Bonus bites: Appetizer highlights include the buttery and artistically plated tuna tartare with a lemon emulsion that heightens the flavors; baked French goat cheese with butternut, and hazelnut honey on Italian filone toast; and a salad of olive oil-poached artichoke hearts enhanced by a pitch-perfect mustard vinaigrette. On the entrée side, two whole fish offerings (Dover sole meuniere and branzino) prepared tableside are among the shared plate favorites. When it comes to dessert, don't miss the divine creme brulee cheesecake—served with a gold medallion that bears the Villa Azur logo.