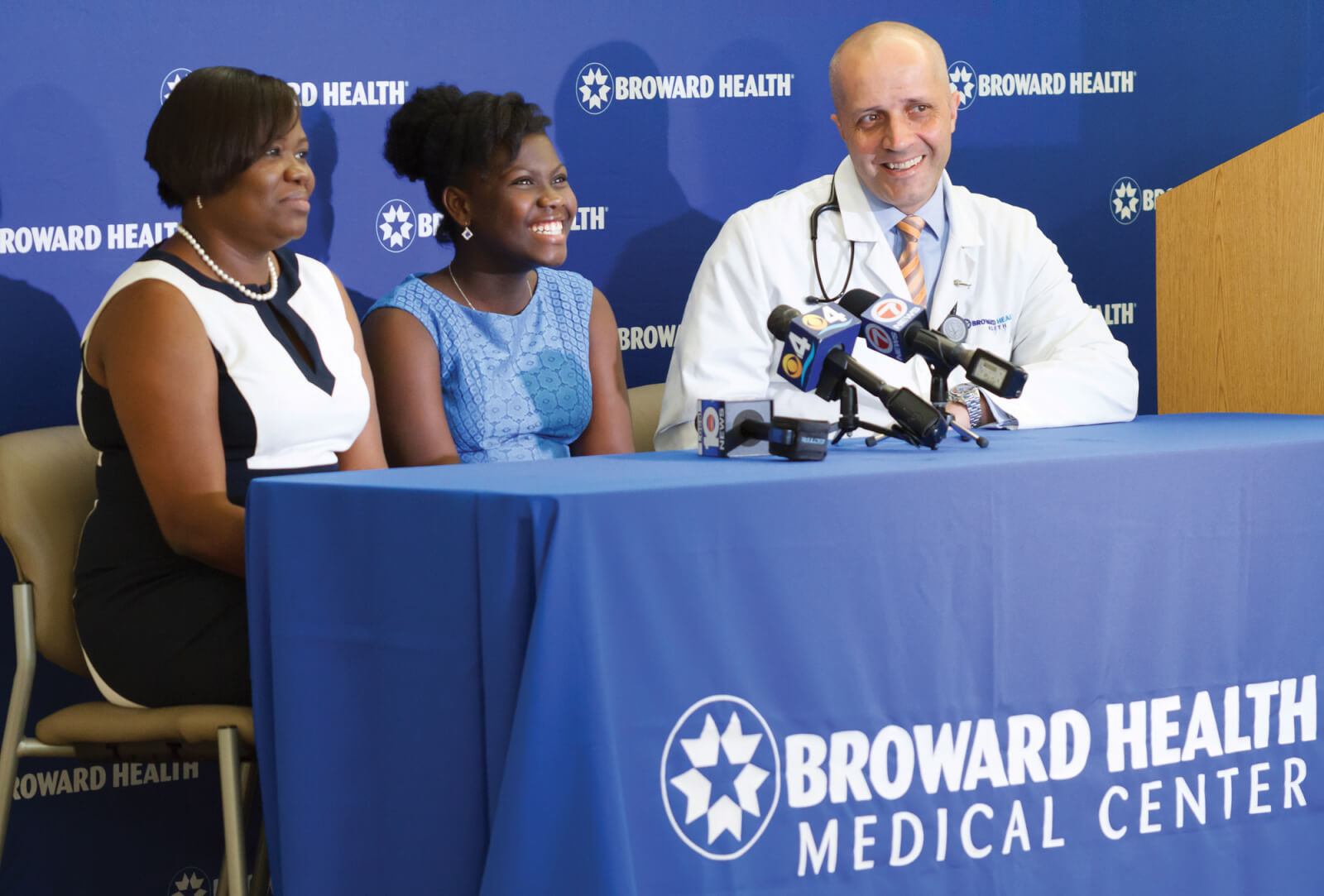 Pediatric Stroke
For Lynn-sah Joseph of Coral Springs, the Monday before last Thanksgiving reads like a climax in one of her favorite thrillers.
"You know when you're watching a movie," says the 11-year-old, "and the person is in an ambulance and they're going to pass out? My eyes kept closing and opening. I wasn't aware of what was going on until I saw the nurse at the hospital."
Lynn-sah had awakened in the morning and thrown up. Given her recurring digestive problems, neither she nor her parents thought much of it. She headed off to Forest Glen Middle School.
Her condition worsened throughout the day. The school nurse called her mother, Edgire Joseph, to say Lynn-sah complained of dizziness and a headache. They agreed she should stay with the nurse, who gave her an ice pack. But the pain worsened, and, by the afternoon, she was at home vomiting again. She almost fell on the way to the bathroom.
After returning home from work, Joseph called 911. A four-person Coral Springs emergency medical services team arrived within 10 minutes. Their diagnosis?
Lynn-sah had suffered a stroke. By the time they reached Fort Lauderdale's Broward Health Medical Center for specialized care, she was paralyzed on her left side, her mouth drooping.
Interventional neurologist Celso Agner was not on call, but when the hospital did call, he left home immediately. The first step was a series of tests to determine the stroke's size. Agner also looked for brain trauma and whiplash, which were negative. The cause of the stroke—a large, finger-shaped clot that had been forming over time—is still being assessed.
Like all ischemic strokes, which account for about 85 percent of strokes in the United States, it had formed in her heart and traveled. During the emergency surgery, Agner guided a stent retriever through a major artery toward the clot in the right-center of her brain. With the device's mesh-like end, he trapped and pulled out the clot in one pass. The intervention is not FDA-approved for children; in fact, there are no protocols for stroke in young people because there are not enough test subjects for clinical trials.
"If you only use what the trials allow, she'd be in a completely different spot, but I'm a get-to-the-root-of-the-problem [person]," Agner says. "I thought, 'If this were my daughter, I'd try to take the clot out.' We adapted the technology by using the smallest possible stent."
Six days after her surgery, Lynn-sah's neurological test was normal. After another six weeks of physical and occupational therapy to correct the residual weakness in her left arm, Lynn-sah was ready to go back to school. While 50 percent to 80 percent of child stroke survivors have some type of permanent disabilities, according to the American Stroke Association, she is getting better grades on weekly reading tests. "It's like the surgery triggered a part of my brain that made me smarter," she says.
About 3,000 children a year have strokes, one of the top 10 causes of death for children and adults alike, according to the ASA. Agner says it is vital to raise awareness, noting that one-third of children suffer from obesity, a major factor in clots.
Lynn-sah is happy, healthy and eager to start seventh grade in the fall—and looking even further ahead to high school where she plans to study marine biology.
The Insider
News, notes and events connected to South Florida's health, wellness and medical worlds.
Creativity Exploration: NSU Art Museum Fort Lauderdale is offering a monthly series for nonartists to think and do something new. The July edition—"Peaceful Patterning," inspired by Japanese artist Yayoi Kusama—begins with meditation to prepare adults to express themselves. "Studies show that being creative generates brain plasticity, provides a sense of accomplishment and reduces anxiety," says Sebastian Perez, education director. (July 14, 12-1.30 p.m. nsuartmuseum.org. 954.262.0258)
Summer Self Discovery: "Summer's relatively slow pace grants us time to develop strategies for living life with more purpose," says Susan James, who trains people on how to discover their purest, best selves. Like the runner's high, the feel of an ocean swim, the Zen of meditation? The Self Discovery Center in Fort Lauderdale is offering three July programs: Great People Skills to improve relationships and Life Mastery Intro and Advanced to foster everyday enlightenment—even on Interstate 95. (sdlifemastery.com)
Drink to Your Health: Unleash Life, a producer of cold-pressed juices using raw fruit, vegetables and herbs, has won the Greater Fort Lauderdale Chamber of Commerce's Small Business Award for Health and Wellness. Unleash Life delivers weekly supplies to doorsteps throughout Broward, Palm Beach and Miami-Dade, and then collects the glass bottles, coolers and ice packs for sanitation, recycling and reuse. Customer Danielle Sayers says she's hooked and her skin is glowing, while physician Ashwin Mehta says drinking the juices can "help achieve better health." (unleashlifetoday.com)
A Check for Cancer's Cure: The nonprofit Pap Corps raised $3.6 million for cancer research in its last fiscal year for the Sylvester Comprehensive Cancer Center at University of Miami's Miller School of Medicine. Pap is one of the largest all-volunteer fundraising organizations in South Florida. The Pap Corps derives its name from George Papanicolaou, a pioneer in cytopathology, who created the test—now known as the "Pap smear"—to detect cervical precancer. (thepapcorps.org)