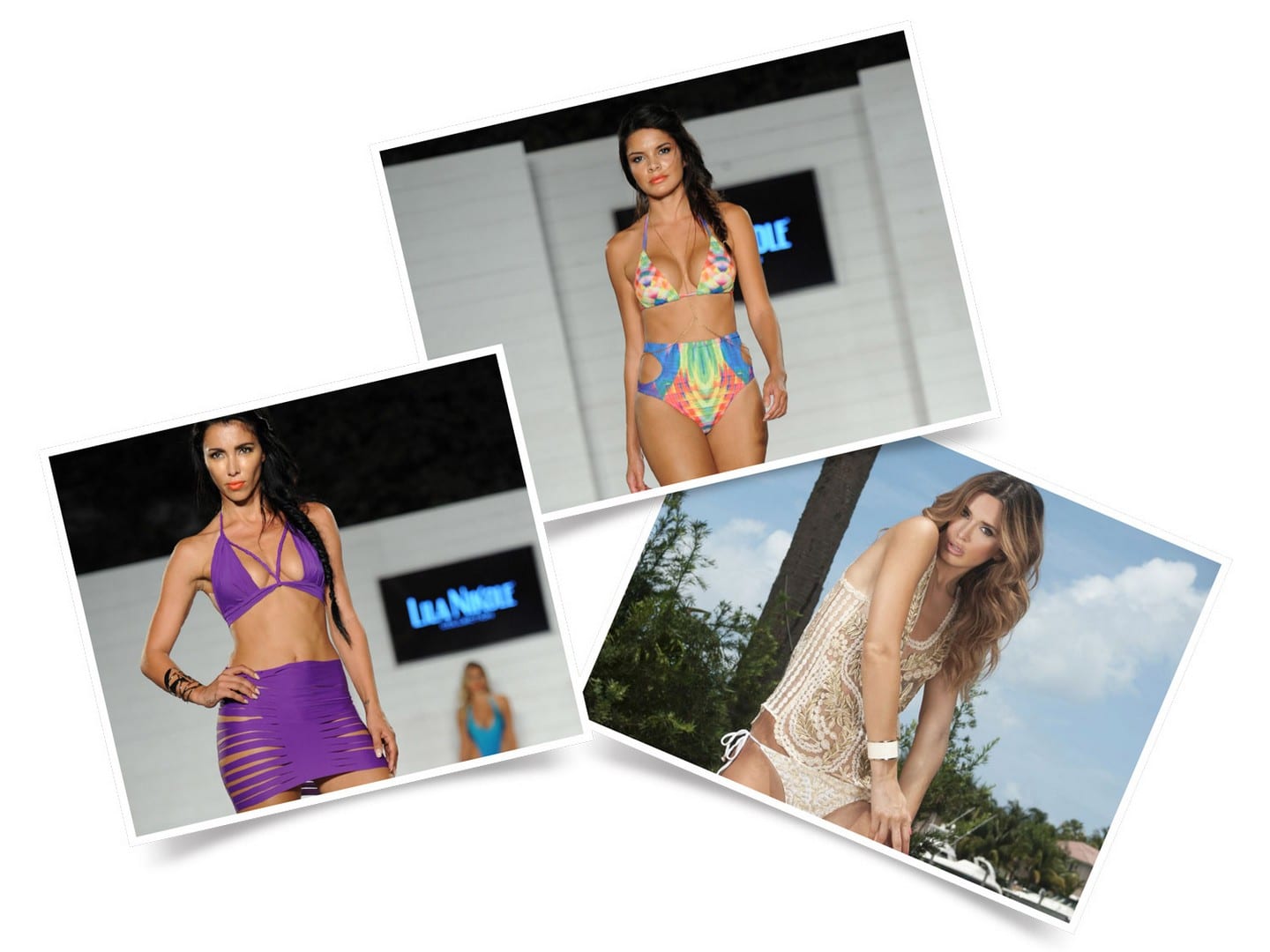 Swim Week
Each summer, South Florida becomes the epicenter of the fashion world when Mercedes-Benz Fashion Week descends upon us. More commonly known as "Swim Week." The event fills our sunny locale with fashion designers, magazine editors, celebs, models and buyers from around the world – all previewing the upcoming swim trends. We caught up with two Broward-based designers who showed during swim week this year; each with their own unique aesthetic and story.
LILA NIKOLE
Designed by Lila Nikole Rivera
Lila Nikole Rivera has been in the fashion industry for years, steadily creating a portfolio of gorgeous designs and a long list of dedicated clients. In 2009, Lila Nikole launched her name brand line, which immediately exploded. After her 2013 appearance on BET's "Rip the Runway," Lila Nikole was soon featured in fashion coverage around the world. Her fashions have also been seen on the bodies of some of Hollywood's top stars, including Kim Kardashian, Jenny McCarthy and Padma Lakshmi.
Based in Miramar, Lila Nikole says living in South Florida provides constant stimulation. "It is a melting pot of cultures. Lots of color and life and easy to find inspiration from," she says. Her home gives her a distinct advantage in the world of swimwear, she says. "The beach is in my backyard so I can always see what trends are popular amongst the ladies."
One of her favorite collaborations has been working in professional sports. She has designed outfits for 10 major sports cheerleading teams across the NFL and NBA. A self-proclaimed "die-hard football fan," Lila Nikole was most excited to work with the Miami Dolphins when they filmed the HBO Show "Hard Knocks."
"The Dolphins are an amazing organization to work with. … Always a good time," she says.
Though her designs have graced the bodies of cheerleaders and celebrities alike, there is one famous woman she is still dying to get her swimwear on, she says. "J Lo! She is an icon to me and I would love to see her incredible body in one of my creations."
Lila Nikole has some important tips for South Florida women who wear their bathing suits year-round and need a larger swim wardrobe than others. "Find patterns and colors that can play off each other," she says. "It's always ok to throw some off patterns, too. Just have fun, but always make sure to choose silhouettes that flatter your body."
Her number one style rule though is fit. "The fit is everything! A bad fit in any beautiful suit just won't work. Make sure you find that perfect cut that shows all of your beautiful curves," she says.
www.lilanikole.com
HOLT
Designed by Elisea Holt
After only three years in the business, Elisea Holt of HOLT is on the fast track to success. HOLT recently opened a 7,000-square-foot boutique in Dania (1917 Tigertail Blvd.) that carries up to 5,000 one-of-a kind dresses, swimwear, jeans and tops. Her new ad campaign features supermodel and star of the "Real Housewives of Miami," Joanna Krupa, who Holt calls "an inspiration." The line's celebrity clientele includes Melissa Gorga, pop sensation Ali Lee, and "The Shahs of Sunset" star Lilly Ghalichi.
HOLT's full clothing line includes dresses and gowns, baby and kids wear, jeans and swimwear. It is set apart by two truly unique elements: Each piece is made locally and incorporates silicone paint. Holt feels this individuality is exactly why she's stood out amidst the large stable of up-and-coming designers. "If you do something different and something special in the fashion industry, you will be successful because every woman loves to be sexy," she says.
Originally from France, Holt says living in South Florida has completely inspired her aesthetic. "South Florida is really the capital of bombshells, everywhere you look, women are glamorous, fit and sexy," she says.
The year-round warm weather also created her first personal design challenge. "I used to always struggle with what to wear at a pool party," she says. "Cover-ups used to be so boring and simple, so I came up with a line that would really make women stand apart from the crowd with a sexy cut, shiny embellishments and colorful prints."
Holt says her perfect beach outfit would be a colorful maxi dress with a low cut back accessorized with a simple gold tassel necklace, an oversized beach bag and flat sandals. She stresses, "Heels at the beach are a big NO NO!"
Her advice for those seeking a more conservative look is to always do a long cover-up, like their bestselling Kim cover-up – glam but it covers your stomach, hips and arms. After all, she says, "I believe in over dressing, so if you feel the need to add a sexy cover-up do it!"
HOLT's first Swim Week show was a big success, in large part due to the line's distinctive paint element. "The reaction was overwhelming, especially since we are the only hand-painted swimwear brand in the world. So, buyers were really excited to finally have something truly different to show their customers," Holt explains.
As for the future of HOLT, nothing is slowing this fashionista down. She plans to open boutiques in Las Vegas and New York in the next few months and is beginning to develop jewelry and footwear divisions as well.
www.holtcollections.com