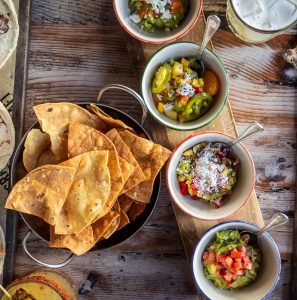 Tacocraft Taqueria & Tequila Bar will establish another South Florida location this week when its doors officially open Friday at Plantation Walk, a luxury dining and shopping complex at 321 North University Drive in West Broward. The opening will mark the fourth location of Tacocraft in South Florida by Handcrafted Hospitality, the restaurant group that founded the Mexican establishment.
"Plantation will be the largest of the four Tacocrafts and we anticipate it will become the place to go in the area. Whether it's for a weeknight dinner with the kids, a business lunch with colleagues, or a fun-filled girls' night out, Tacocraft offers something for everyone and we can't wait to open our doors," Marc Falsetto says, founder of Handcrafted Hospitality.
Designed by P2 Design, the 4,000-square-foot space in Plantation will feature an expansive outdoor bar and a traditional bar inside with two patios that offer abundant seating for 125 indoors and 50 outdoors. Other Tacocraft establishments managed by Handcrafted Hospitality include downtown Fort Lauderdale, Lauderdale-by-the-Sea and South Miami. Along with Falsetto, partners invested in Handcrafted Hospitality include Anthony Bruno, Pat Marzano, Miami Dolphins legend Dan Marino and radio personality Paul Castronova, who founded Anthony's Coal Fired Pizza. The hospitality group's portfolio also consists of Pizza Craft, Henry's Sandwich Station and The Apothecary 330.
The menu at Tacocraft features made-from-scratch dishes with fresh ingredients, including an array of guacamoles and handcrafted margaritas. Its eclectic mix of tacos includes Chicken Al Pastor, Carne Asada, Korean Short Rib, Key Lime Grouper and Exotic Shroom. Featured entrées include Red Mole Brick Chicken, Fajitas and Skirt Steak. Desserts feature a Churro Ice Cream Sandwich, Tequila Caramel Flan and Tres Leches Bread Pudding.