It's no secret that matcha has moved quickly to the forefront of the health and wellness scene. Whether it's in the form of a latte, a smoothie, or even a baked good, this powerful powder is everyone's new favorite healthy treat.
Baahtcha has recently introduced a new line of matcha powders that not only tastes good, but makes you feel good too. This high quality matcha is sourced from a family-owned farm deep within the mountains of China where matcha first originated. Baahtcha uses tealeaves from the first harvest, so it has a smoother flavor that makes dissolving the powder in water more enjoyable.
It can either be dissolved in water or added to smoothies, lattes, and baked goods for a burst of energy and a boost to your immune system. The powder has high antioxidant levels, provides sustained energy with no crash, and improves memory and concentration.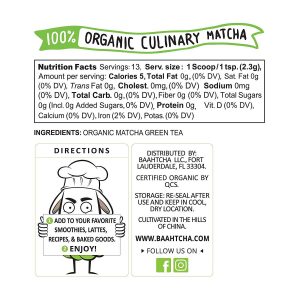 Check out Baahtcha's website for more information on thisrevolutionary matcha product or to purchase some for yourself.