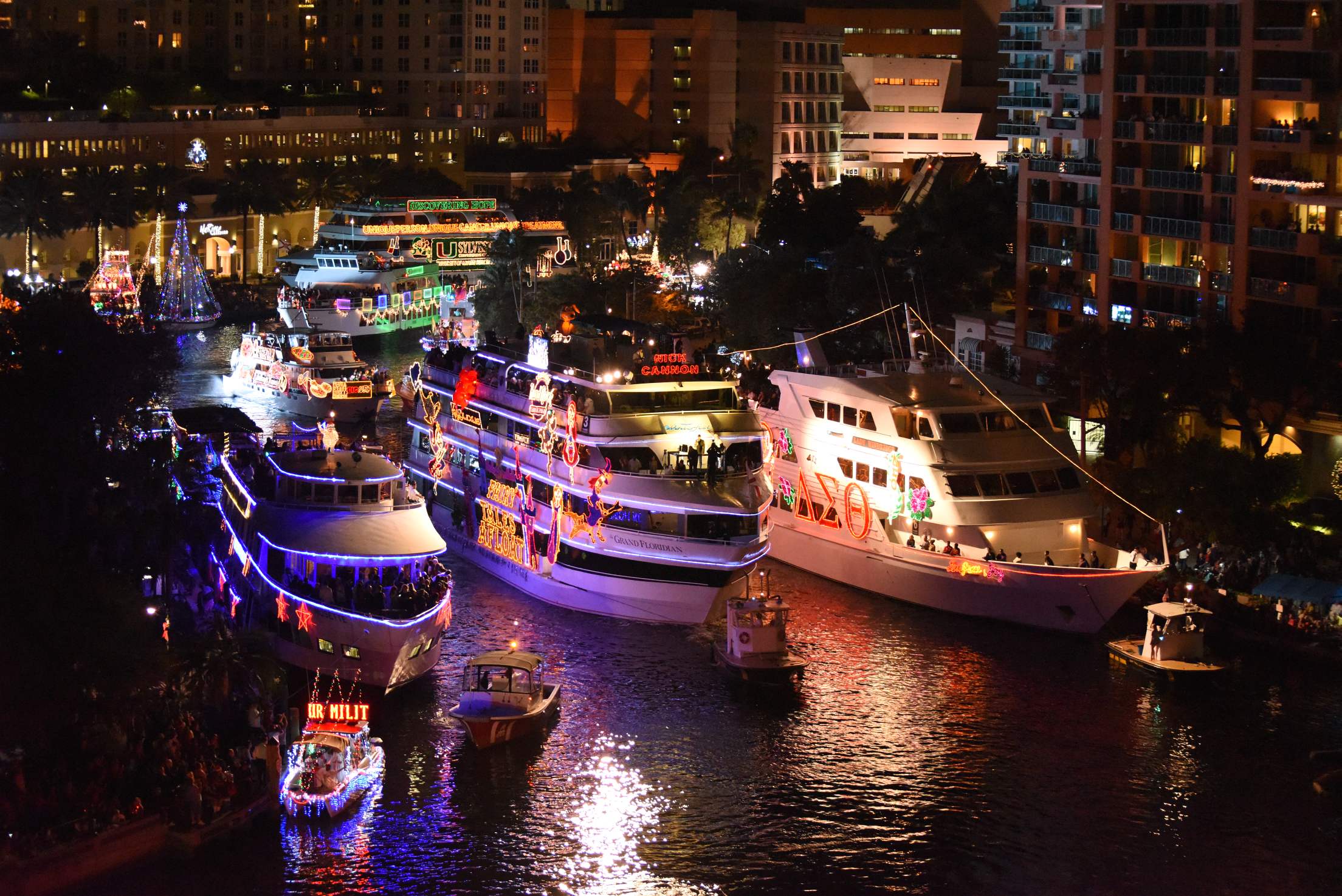 Winterfest Turns 50
The beloved boat parade in Fort Lauderdale embarks on a golden anniversary season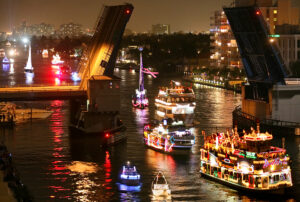 It's been more than 26 years since Lisa Scott-Founds (pictured, below) stepped into her first board meeting as president and CEO of Winterfest. Though the boat parade and its surrounding festivities had become a staple of the holiday season in and around Broward County, the event didn't seem to be making the kinds of waves that the Fort Lauderdale native felt it could and should.
True, there had been noteworthy associations over the years. Weatherman Willard Scott, the first official grand marshal in 1984, chatted up Winterfest on NBC's Today show. Bob Hope hosted a Christmas special from Winterfest in 1987, with guest stars Tony Randall and Brooke Shields, that drew an estimated TV audience of 42 million. And in 1990 (and for a few years to come), the event aligned itself with a postseason college football game—the Blockbuster Bowl, later the Carquest Bowl. It even changed its name to the Sunshine Festival around that time for a blink-and-you'll-miss-it period.
Along the way, celebrities including Joan Rivers, Regis Philbin, George Hamilton, and Mickey and Minnie Mouse all served as grand marshals. But even with star sightings and bowl buzz in the air, something was missing on the ground."I remember walking into that first board meeting, and only 23 people showed up out of 50 board members," Scott-Founds says. "I thought that was pretty sad. That year, we had like 43 boats [the parade accommodates more than twice as many]. It all felt small.
"We decided then to go back and focus on the parade, our signature event. We also started focusing on those who cared to make a difference, who had real passion for this event that brings together so many people."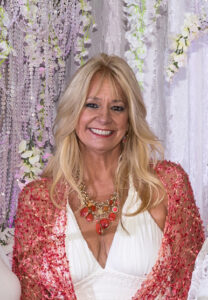 A quarter-century later, that groundwork continues to pay dividends. Despite the choppy waters created by the COVID-19 pandemic, Winterfest is sailing into its 50th anniversary year with the full embrace of the community and its institutions—not to mention some 100 wildly decorated showboats and yachts along the parade route.
It's estimated that the parade and the series of events that precede it (which started in late October) contribute more than $50 million to the area economy. A local newspaper story once noted that certain Publix stores around the viewing areas enjoy their biggest deli sales of the year on parade night, even more than on Thanksgiving or Christmas.
In addition to the longtime contributions of fellow full-timers Dawn Read Diehl (event director) and Kathleen Keleher (marketing and parade director)—who have been with Winterfest for 30 years and 20 years, respectively—Scott-Founds relies on more than 350 volunteers to bring the various festivities to life. Not to mention a decade-long association with board member Lee Rosbach, the official captain of Winterfest and star of Bravo's Below Deck.
"And, we still have our 50 board members," Scott-Founds says, "but all 50 are so involved. Plus, we have another 40 advisory board members that provide input and [serve as] ambassadors."
Asked about when and how Winterfest reached the next-level status it occupies now, Scott-Founds points to the chairman of Hard Rock International, Jim Allen, and the decision of Seminole Hard Rock Hotel & Casino to become title sponsor.
"He's such a visionary," Scott-Founds says of Allen and the Hard Rock's nearly two-decade association with Winterfest. "From the beginning, Hard Rock has put their heart and soul into Winterfest."
Scott-Founds credits Allen with helping Winterfest navigate the logistics of moving the boat parade's route in 2007; after starting for decades in Port Everglades, the "Best Show on H2O" began launching that year at Stranahan House, traveling east along the New River for 12 miles. More recently, the launch of the Guitar Hotel at Seminole Hard Rock in Hollywood, and all the excitement surrounding the brand, has been a perfect complement to Winterfest's own glitz, glam, and emphasis on entertainment.
"To be able to survive 50 years, and continue to grow, it's incredible," Scott-Founds says. "We've had a chance the past two years to learn more about the history by talking to people who were sponsors and participants in the beginning. You realize that Winterfest has a life of its own. I always say we're like the Macy's [Thanksgiving] Day Parade—on water.
"We're so fortunate to be able to bring this event to South Florida."
The Main Events
Black-Tie Ball (Dec. 4): Elsa and Anna aren't the only ones who will appreciate the winter extravaganza being staged inside Seminole Hard Rock Hotel & Casino (1 Seminole Way, Hollywood). The glam-filled event, presented by Broward Health, is working with Broadway Across America and Disney Theatrical Productions as part of its Frozen theme. Three of the leads from the touring production of the musical will perform during an evening that also will feature the 12-piece band Private Stock. (6 p.m. to midnight)

Grand Marshal Reception (Dec. 10): Two-time Emmy-winning TV host Mario Lopez (pictured, left) has the honor of serving as Grand Marshal for the 50th Parade. In addition to sailing on the Fifth Third Bank Grand Marshal Showboat the following evening, the renowned iHeartMedia radio host, author and Saved by the Bell alum will appear on this night at a private reception presented by University of Miami Sylvester Comprehensive Cancer Center. The event—which also includes a special performance by violinist Steve Avi, and celebrity appearances by Captain Lee (from Below Deck), Dara Torres (Olympic swimming champion) and Joey Fatone (of NSYNC fame)—will honor the dignitaries involved with the parade. (starting at 6:30 p.m.)
50th Anniversary Seminole Hard Rock Winterfest Boat Parade (Dec. 11): Upward of 100 brightly decorated yachts will sail along a 12-mile route that starts in downtown Fort Lauderdale and winds its way through the Intracoastal Waterway. Expect celebrities, beauty queens, floating entertainment stages—and sights and sounds that play into the theme, "50 Years of Hard Rockin' Fun." Spoiler alert: Rumors are that one boat will be engulfed by a mega, LED-lit octopus. (starting at 6:30 p.m.)
Special Viewing Areas: The parade is a free event, but Winterfest has designated a couple of ticketed viewing areas with bonus festivities. Tickets for the Laura Ward Park location between the Riverside Hotel and the Stranahan House (presented by Holy Cross Health, Nova Southeastern University, and Hotwire Communications) are included with the purchase of a sponsorship; this is a private event for community leaders and Winterfest sponsors. Baptist Health is hosting a separate parade viewing location at Las Olas Intracoastal Promenade Park (80 Las Olas Circle), with food and beverage vendors, photos with Santa, and live entertainment; tickets are $25 for adults, $15 for children.
Visit winterfestparade.com and seminolehardrockhollywood.com for more details.