In the last two decades, the tri-county region has blossomed into a serious foodie destination, one that features celebrity chefs, James Beard Award winners, iconic waterfront spots and buzzworthy resort restaurants. These popular eateries don't tell the entire South Florida culinary story—but they're compelling places to start.
Beachfront and Intracoastal Dining
Enjoying a meal on the water—whether by the ocean or near one of the many scenic intracoastal waterways—is quintessential South Florida. Some might argue a trip to the tri-county area wouldn't be complete without at least one reservation by the sea.
Steak 954 featured image
Steak 954 serves far more than award-winning meat. The restaurant's backdrop is against the ocean, a rarity among top-rated steakhouses in the area. Reserve a table alfresco and enjoy sunset dining at the expansive outdoor terrace facing the water. 401 N. Fort Lauderdale Beach Blvd., Fort Lauderdale; steak954.com.
Shooters Waterfront
Though long renowned for its dramatic Intracoastal views, Shooters Waterfront has enhanced its position as one of Fort Lauderdale's most iconic waterfront restaurants thanks to chef-driven South Florida fare—including some of the best paella in the region. Along with every seafood incarnation imaginable, offerings include sushi rolls and raw bar treats, flatbreads and a host of decadent desserts. 3033 NE 32nd Ave., Fort Lauderdale; shooterswaterfront.com.
Amara at Paraiso
Every seat at James Beard Award-winning Michael Schwartz's Amara at Paraiso features sweeping views of Biscayne Bay and Miami Beach. Sit outside and share a platter of grilled meats with the Tomás Collins cocktail, made with a blend of Latin gin with cucumber and maté. 3101 NE Seventh Ave., Miami; amaraatparaiso.com.
Rusty Pelican
Located in Key Biscayne, the Rusty Pelican is the place to come for savory seafood and stunning views. Similar to Amara at Paraiso, every table offers an ample view. You'll want to order wine here, as the restaurant offers a glass cube cellar that has been recognized with a Wine Spectator Restaurant Award. 3201 Rickenbacker Causeway, Key Biscayne; therustypelican.com.
Celebrity Chef-Driven Spots
Similar to cities around the country, celebrity-chef stardom has made its way to South Florida. TV chef personalities, including Janine Booth and Jeremy Ford, and award-winning kitchen stars such as Clay Conley have found a home amid the sun and sand.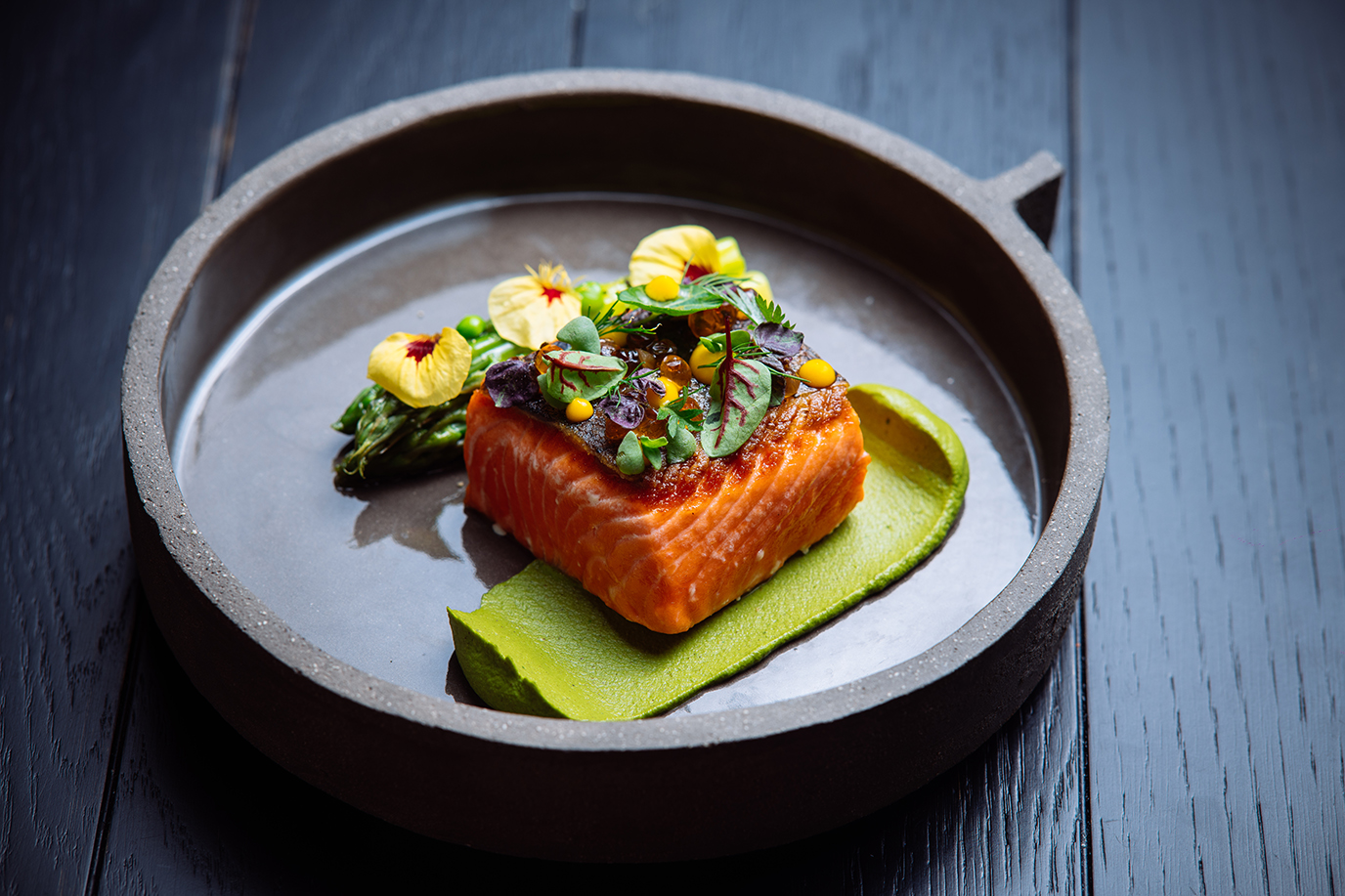 Stubborn Seed
Top Chef winner Jeremy Ford chose South Beach as the location for his first solo restaurant. There, he has built a reputation for serving a class of dishes many diners have never seen before, including umami short rib, and warm celery root braised in olive oil. To savor the best, elect for the chef's tasting menu, which features a handpicked selection of Ford's most popular items. 101 Washington Ave., Miami Beach; stubbornseed.com.
Florie's
Argentine-born, French-based chef Mauro Colagreco debuted his first U.S. restaurant in Palm Beach last year. Now, fans of Colagreco's world-renowned restaurant, Mirazur in Menton, France, which earned the No. 1 spot on the 2019 World's 50 Best Restaurants list, can sample his daring Mediterranean cuisine 5,000 miles away at the Four Seasons Resort. 2800 S. Ocean Blvd., Palm Beach; floriespb.com.
Mi'talia, Stiltsville Fish Bar, and Root & Bone
Top Chef alums Jeff McInnis and Janine Booth are South Florida restaurant royalty. Partners both in life and in restaurants, McInnis and Booth have opened numerous eateries in South Florida, including the Italian restaurant, Mi'talia (5958 S. Dixie Highway, Miami); the upscale fish shack, Stiltsville (1787 Purdy Ave., Miami); and the fried chicken empire, Root & Bone (1801 Collins Ave., Miami Beach), which also has locations in New York and Puerto Rico.
Imoto at Buccan
Inspired by Clay Conley's next-door restaurant (Buccan), Imoto (which translates to "little sister" in Japanese) is where the five-time James Beard Award nominee for "Best Chef in America: South" flexes his Asian culinary know-how through his own renditions of sushi, sashimi, dumplings and tempura. Best-selling plates include the kimchee fried rice, tuna foie sliders, and spicy seared yellowtail roll. 350 S. County Road, Palm Beach; imotopalmbeach.com.
Noteworthy Resort and Hotel Restaurants
Thriving off of decades of tourism, resort and hotel eateries stand as some of the best-known restaurants in South Florida.
Wild Thyme at the Atlantic Hotel
Wild Thyme, named after restaurant's dedication to fresh, locally grown ingredients, is a step up from the traditional Fort Lauderdale beachside spot. Sit along the water and feast on hummus topped with minted tahini sauce and the butcher's board. 601 N. Fort Lauderdale Beach Blvd., Fort Lauderdale; wildthymeoceanside.com.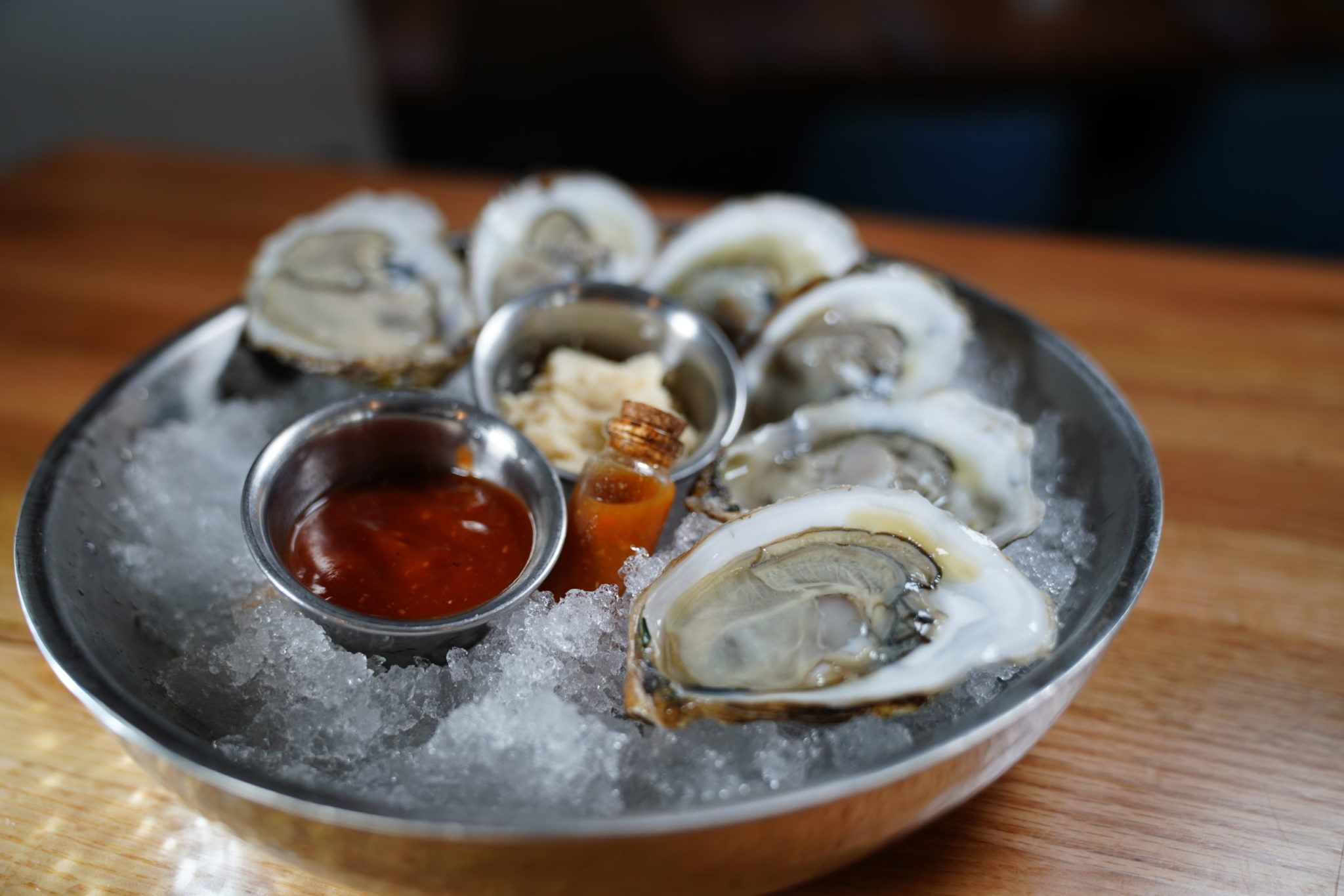 And Fish Kitchen & Bar at the Fort Lauderdale Marriott
This fresh-catch restaurant pays homage to Pompano Beach's casual coastal charm, world-class fishing and abundant diving. Try the ceviche of the day, pecan-crusted corvina and the oyster roast. 1200 N. Ocean Blvd., Pompano Beach; marriott.com.
Café Boulud at the Brazilian Court Hotel
One of Palm Beach's most coveted dining destinations, Michelin-starred Daniel Boulud serves his award-winning French cuisine with a South Florida twist. The result is Dover sole meuniere filleted tableside, octopus a la plancha drizzled with citrus, and Key West pink shrimp with French cocktail sauce. 301 Australian Ave., Palm Beach; cafeboulud.com.
The Icons
A handful of restaurants have stood the test of time in South Florida. Yet the select few still standing prove fresh seafood, warm hospitality and stunning backdrops will forever reign strong.
Joe's Stone Crab
For the past 100 years, Joe's Stone Crab has been considered South Florida's definitive spot to tie on a bib and dig into a fresh platter of steamed claws. If you want to beat the crowds, dine in the afternoon or during early-bird dinner. 11 Washington Ave., Miami Beach; joesstonecrab.com.
Nauti Dawg
This hidden gem dockside eatery brings a Key West vibe to Lighthouse Point. If you fancy an afternoon of fishing, consider the "Hook & Cook," so you can go right from the docks to having the restaurant prepare your catch. 2841 Marina Circle, Lighthouse Point; nautidawg.com.
15th Street Fisheries
Set up within one of Fort Lauderdale's most famous nautical landmarks, the two-story 15th Street Fisheries caters to all diners. Enjoy a fine-dining seafood experience upstairs or make your way downstairs to order a fresh mahi mahi sandwich on the restaurant's dock. Don't forget to feed giant tarpon from the deck after a meal. 1900 SE 15th St., Fort Lauderdale; 15streetfisheries.com.
Canyon
Celebrating 25 years, Canyon is a Fort Lauderdale favorite known for American cuisine with hints of Latin, Asian and Central American undertones. Sample the notorious Pickly Pear margarita with crispy pork tacos and smoked salmon tostadas. 1818 E. Sunrise Blvd., Fort Lauderdale; canyonfl.com.
Taste of Cuba
South Florida has emerged as one of the country's most accurate representations of a cultural melting pot, blending flavors from every corner of the world. But Cuban cuisine remains one of the region's calling cards.
Versailles
A Little Havana icon, Versailles is responsible for some of South Florida's most authentic Cuban cuisine. Opened in 1971, the restaurant serves as a gathering place and unofficial town square for Miami's Cuban exiles, as well as a must-visit destination for tourists in search of Cuban culture. 3555 SW Eighth St., Miami; versaillesrestaurant.com.
Padrino's
A family success story that started in South Florida nearly 45 years ago continues to flourish under the stewardship of a third generation of Padrinos. The menu mix of modern interpretations and recipes created by one of the family matriarchs, Candida Rosa, continues to draw diners to locations in Palm Beach, Broward (including Fort Lauderdale) and Miami-Dade counties. 1135 N. Federal Highway, Fort Lauderdale; padrinos.com.
Café La Trova
James Beard Award-winning chef Michelle Bernstein and Cuban cantinero legend Julio Cabrera come together at Café La Trova, a Little Havana restaurant offering a modern interpretation on classic Cuban cuisine. Pair that with live music almost every night of the week and you're sure to feel like you've transported yourself to the island. 971 SW Eighth St., Miami; cafelatrova.com.