Ed and Crissi Boland had been, as they put it, "up to their eyeballs in superheroes." Their children—Charlie, 8, and Jamie, 6—like most boys their age, had lived and breathed the comic book characters who could leap tall buildings in a single bound. But the Bolands, especially Crissi, didn't feel good about the supposed good guys. The characters were too violent, dark and sinister for them.
"These characters have been rehashed from 50 years ago and repackaged by billion-dollar corporations to crank out merchandise," says Ed, adding that some heroes are featured in video games that he believes aren't suitable for boys under 10.
Crissi had an idea about three years ago: What if there were toys that were more thoughtful and age-appropriate? Around the same time, the couple's eight nieces were caught up in the phenomenon of American Girl dolls.
Ed became fascinated by Pleasant Rowland, the former elementary school teacher, textbook author and TV reporter who started her wildly successful line of dolls with money from her savings after a trip to Colonial Williamsburg in Virginia. Realizing the doll market was dominated by Barbie, she started her own doll and book company in 1986. Twelve years later, she sold American Girl to Mattel for $700 million, according to Forbes.
"American Girl has a wholesomeness and thoughtfulness that resonated with girls and their parents, which is fantastic, except we have boys," Ed says. "My wife said, 'Why isn't there anything equivalent to American Girl for boys?' "
The couple didn't think the historical aspect would be appealing to boys, but what excited Charlie and Jamie? Superheroes. "A child could never be Superman, because he's an alien from another planet. Yet, any boy could be a HeroBoy," Ed says.
The HeroBoys were officially born in October 2015. Logistically, creating the toys was the first challenge. "What was out there for boys were essentially girl dolls that had short hair and wore T-shirts, so we decided to build our doll from scratch," Ed says.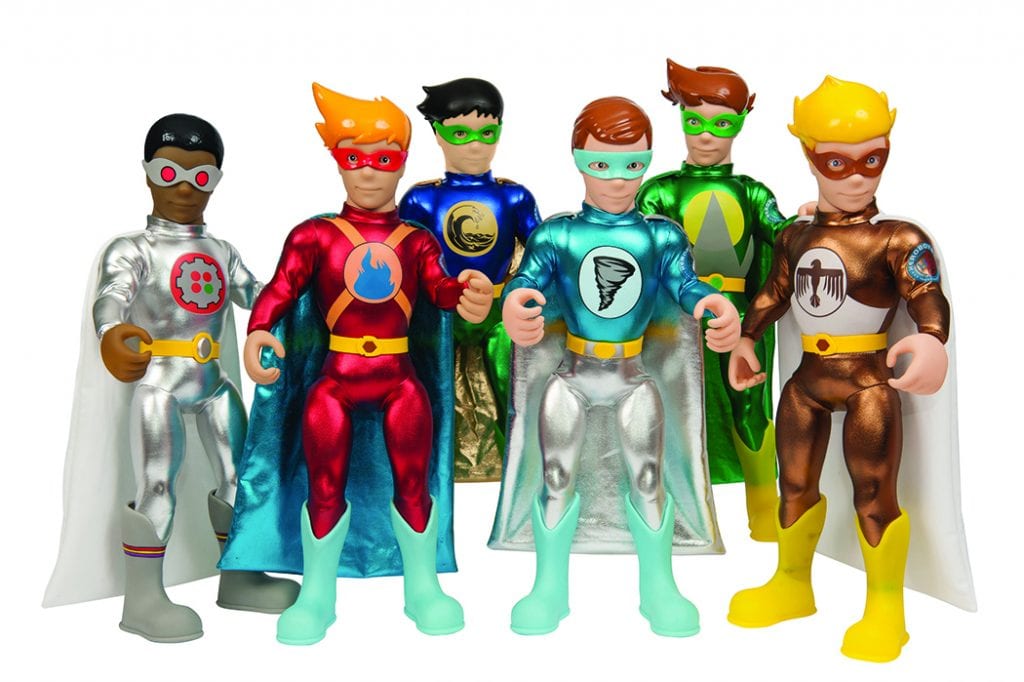 BUILDING THE DOLL
They wanted a doll that was a hybrid between a doll and an action figure—something that wasn't small like an action figure but was plush and bigger, a doll with arms, legs and neck that could move. They came up with an 18-inch plush-plastic hero. They made three prototypes until they were finally satisfied, Ed says.
There are six HeroBoy characters, each with a specific personality. In fact, one of the dolls, Gusto, the good-natured leader of the HeroBoys, is modeled after the Bolands' oldest son, Charlie. "He's just a sweet, well-natured kid, and those types of children tend not to stand out in other areas such as physical talent, but they have a really special personality that should be appreciated and encouraged," Ed says.
In addition to Gusto, there's Rocko, a shy introvert, drawn out of his shell by his team members, who shows others it's OK to be quiet. There's also Techno, whose physical challenges made him feel alone and different but, as the HeroBoys' builder and engineer, he "discovers that his mind is the most powerful muscle you can use." ThunderHawk is the animal lover and, Ed says, "the resident joker"; StormSurge is the nature lover, and Blazer is the "hothead," but the team helps him redirect his anger into doing good and helping others.
"What we hope to do with the whole HeroBoys line is to encourage children to be the best versions of themselves," Ed says. "We don't want them to think that they have to be the best speller in class or the best in math or the best athlete. If you want to be the best Lego builder, be that instead of the star soccer player."
Crissi, who returned to South Florida from New York in 2000 to join mother Margarita Courtney's design firm, Margaux Interiors, wants the HeroBoys to have a lasting effect on children's moral character. "If you want good men, we need good boys, and that's what we're trying to do. It's about teaching values to our boys," Crissi says.
The dolls retail for about $65. For an additional $84, a HeroBoys comic book is delivered each month to the child. The comic books also are sold separately for $7.99.
"The comic books we saw before that featured superheroes were full of toilet humor and lacked a positive message or lesson," says Crissi, who also believes that comic books are underused as a tool to encourage literacy.
"Our comic books are stories that have teachable moments: honesty, loyalty, compassion and humility," Ed says. "Those values might seem old-fashioned in a world that celebrates narcissism, and a win-at-all-cost approach, and the constant messaging in media that seeps through to our children. We weren't seeing enough to counterbalance that."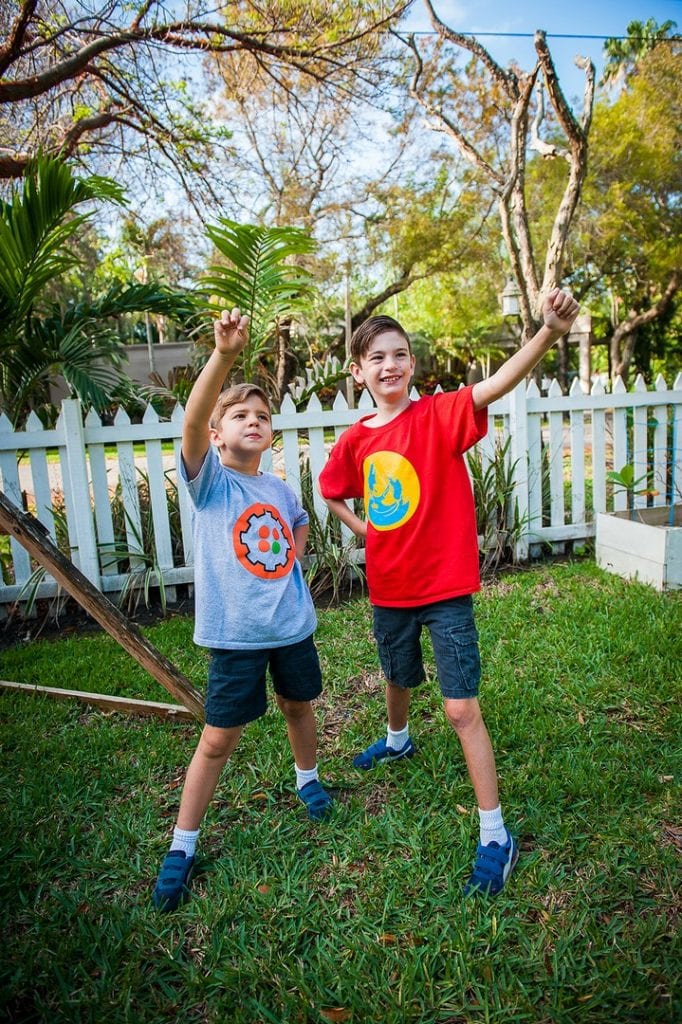 DEVELOPING THE CONCEPT
The comic books, the creators say, help develop the characteristics and personalities of the HeroBoys. "They are meant to be relatable to readers," Ed says. The characters are supposed to be about 11 years old, and already the Bolands are looking ahead. "We'll be adding new characters; some will graduate, some will stay. That way we're able to highlight other children as well." Also in the line are HeroBoys T-shirts, as well as a mask and cape.
The couple is focusing its sales online at heroboys.com and amazon.com, and at Mitch Kaplan's Books & Books store in Coral Gables, where they held their launch party in September. "As we grow, we always want to be a part of the community," says Ed, who also mentions a partnership they've pursued with Nicklaus Children's Hospital in Miami. "We want to be a positive force in the community, too."
Ed gave up his day job in the financial investment sector to devote time to HeroBoys and their parent company, Whimzy Entertainment, of which HeroBoys is the first product. "We're also an intellectual property company with these characters and storylines, which are all trademarked and copyrighted, so there could be potential interest from any number of strategic partners," Ed says. Noting that Miami Dade College recently opened its Animation and Game Design Studio, he says "there are a lot of exciting things happening in Miami right now, so we're really in a good place."
HeroBoys initially got their financial jump-start after a crowdfunding campaign on Kickstarter that raised $58,000. Last February, Whimzy was one of 10 startup companies selected through an application process into Miami's Venture Hive, an education company and business incubator. Whimzy Entertainment was awarded free office space for six months, an intensive 13-week accelerator program, mentoring and a $25,000 grant. The Bolands also auditioned during a casting call in Miami for ABC's reality show "Shark Tank" and were called back by producers to formally apply.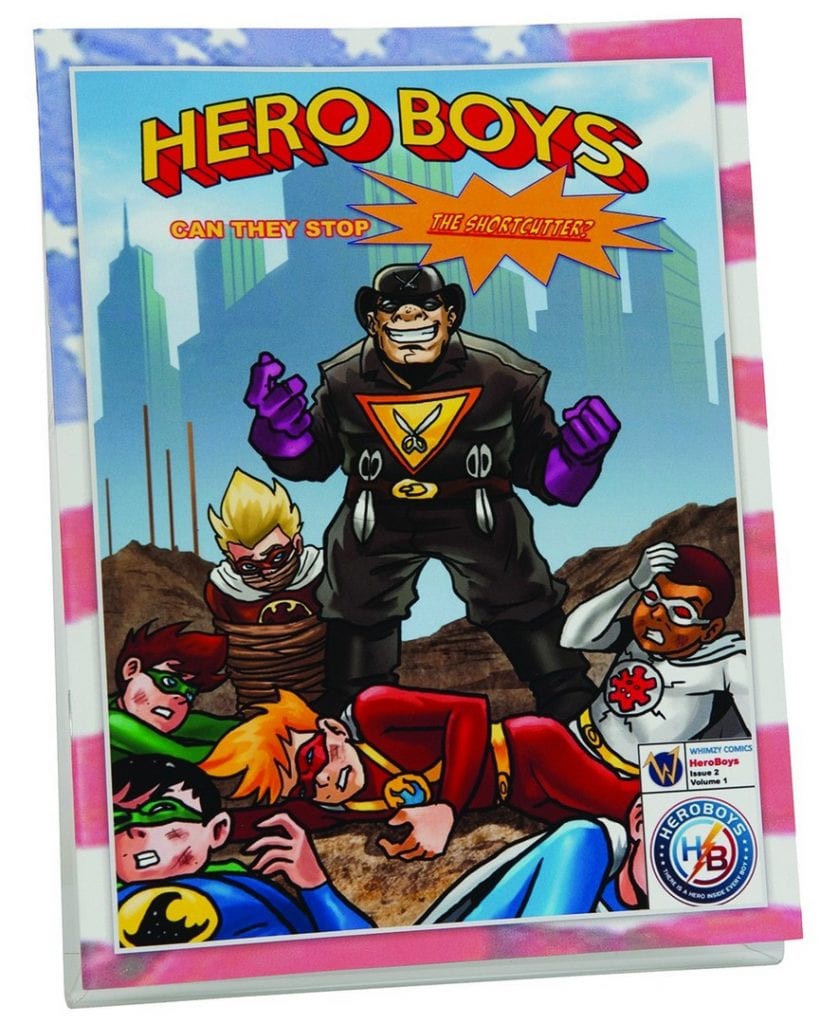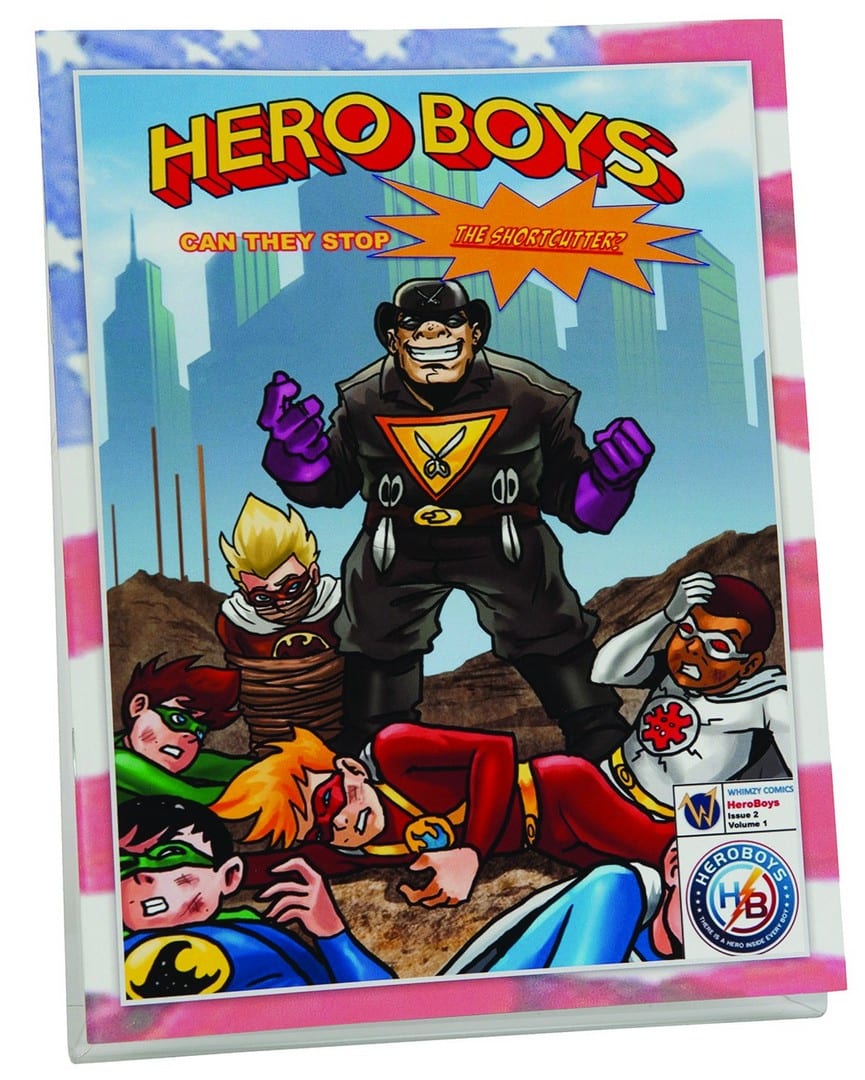 "We would like to eventually apply our intellectual property to games, apps and cartoons," Ed says. The company also is planning to introduce a line of HeroGirls in 2017. But first, the HeroBoys franchise has to get on the radar of young boys.
Ed says he and Crissi have a dream for HeroBoys' success: "Our goal is that someday, 15 years from now, a young man will make a good decision because he remembers a lesson he learned when he was reading a HeroBoys comic book."