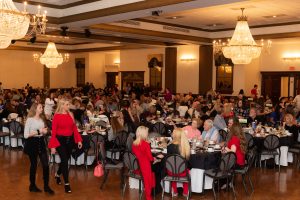 Ultimately, the concept had to involve pasta.
After all, Andy Cagnetta grew up in a New Jersey household where Italian food was plentiful and where the word mangia! ("Eat up!") was as common as saying "hello." Then there was the move to Hartford, Connecticut, where he worked at a pasta shop with his cousins.
"I liked cooking," Cagnetta says. "And I learned how to [do it] for volumes of people."
Little did he know at the time that this would be the recipe for what has become one of the most recognized events in South Florida philanthropy circles. Since its inception in 2003, Andy's Family Pasta Dinner has raised close to $2 million for LifeNet4Families, the Lauderhill-based nonprofit organization that each year serves some 6,000 individuals and families facing food insecurity, homelessness and financial hardships. The 20th incarnation of the dinner, slated for Feb. 20, promises silent and live auctions, activities for the kids, and, of course, plenty of pasta.
Almost as if you're sitting down with "Cousin Andy" at the Sunday dinner table, Cagnetta shares the story of how his beloved event evolved into an annual highlight on the charity circuit. It began when Cagnetta, CEO of Transworld Business Advisors, a business brokerage firm in Fort Lauderdale, was at a chamber of commerce networking event more than two decades ago.
"One of the employees [from what, before LifeNet4Families, was called the Cooperative Feeding Program] was at the luncheon," he says. "We were going around the table telling everyone about our businesses, and when we got to her she started to cry. She said, 'Our air conditioner is out, and people are passing out, and the chef wants to quit.' "
Cagnetta remembers thinking that he worked with so many different businesses. "I was sure I knew someone that could get these people an air conditioner."
Sure enough, he got it done. Seeing his ability to make things happen, Marti Forman, the nonprofit organization's executive director at the time, asked if Cagnetta would like to serve on the group's board. "I really didn't have any idea what a charitable board was back then, but that was the start of my affiliation with LifeNet4Families."
He quickly rolled up his sleeves. By 2000, LifeNet4Families had moved to its own building—and Cagnetta was serving as chairman of the board. After two years, he recognized the need for funding to operate the building. So, he called on his board.
"I told them, 'Everyone needs to do something. I don't care what you do, but do something.' "
One of the board members, he recalls, spoke up and said they were going to host a wine-tasting party in their home. Cagnetta liked the idea. He decided to cook a Sunday dinner for his family and invite some friends. It wouldn't be in his home, however. He wanted the dinner to be at LifeNet4Families so people would see where those in need came to be fed.
About 40 people attended the event in 2003, donating money to the cause and for the pasta dinner. "My mom, my grandmother and my aunts were there cooking the pasta," he says. "We raised about $300."
It caught on. And each year, it grew. By the fourth year, Cagnetta says, they had to have two different times for seatings. "We couldn't fit everyone in at the same time."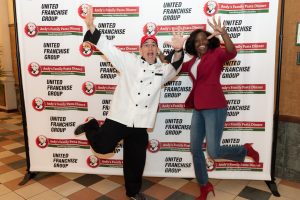 Michael Berry, general manager of Signature Grand, the popular event venue in Davie, was in attendance that year. He told Cagnetta that he should move the dinner to a larger space. But since all the money was meant to go to the charity, spending dollars on renting a venue seemed out of the question.
"I told him that, and he said, 'Don't worry about it. ' He basically made me an offer I couldn't refuse," Cagnetta says.
Since 2008, the pasta dinner has been at Signature Grand every year except 2021. In fact, February 2020 was the biggest Andy's Family Pasta Dinner ever with more than 1,000 people in attendance and $268,000 raised.
But even the COVID-19 pandemic couldn't keep Cagnetta from breaking bread for LifeNet4Families. Instead, he hosted the pasta dinner a different way. "I cooked virtually and showed everyone how to make the sauce," he says. "We raised $180,000. But we are looking forward to getting back in person this year."
The in-person events—beyond the cameraderie, the networking, and the rich meal—have produced countless memorable moments, he says. He recalls that one year, a server at Signature Grand asked if she could say a few words to the people in attendance.
"She wanted to thank everyone. She told them that she had been a client of LifeNet4Families when she was homeless. 'It helped me get through that time and be able to feed myself, and I was finally able to get a job. And now I'm working here,' " Cagnetta recalls her saying.
There are times, however, where he does miss having the event inside the organization's building. "We did love being able to bring our kids there—for them to see and get a sense of what it's like on the front line of poverty," he says.
He then shares another story about the early days of the dinner.
"Before the dinner, we'd give a tour and show everyone where the clients came to get their meals, where they could get fresh clothing," he says. "We'd tell them that we had so many mouths to feed we would run out of food every three days."
A friend who was at the dinner with his children called Cagnetta the next day to tell him that after they left, one of his kids was crying.
"I said, 'I am so sorry.' And he told me, 'I'm not. [Many kids] don't understand what it's like out there. I appreciate what you did.' "
Sitting on the board of LifeNet4Families opened the flood gates for Cagnetta when it comes to charitable efforts, including serving two years as chairman of the board for United Way of Broward County.
The success of Andy's Family Pasta Dinner is something to be proud of, but Cagnetta says it goes deeper than that.
"Growing up in an Italian family, food was always central to so much more that went beyond just actually eating. There's nothing political about giving someone a meal. I think that as a society we have a choice whether we're going to help feed people. That's really a basic, human need."
20th Annual Andy's Family Pasta Dinner
When: Feb. 20.
Where: Signature Grand, 6900 W. State Road 84, Davie.
What: The popular event launched by Andy Cagnetta, CEO of Transworld Business Advisors, celebrates two decades of benefiting LifeNet4Families. What started as a quaint gathering with friends and colleagues has grown into a family-style pasta dinner that draws some 1,000 attendees. Over the years, the dinner has raised more than $1.9 million for the nonprofit organization dedicated to providing food, ancillary services and referrals for the hungry and homeless in Broward County.
Tickets: $50 per adult; children 12 and under are free; sponsorships starting at $250.
Contact: andyspastadinner.com
Photography by Evelyn Suarez