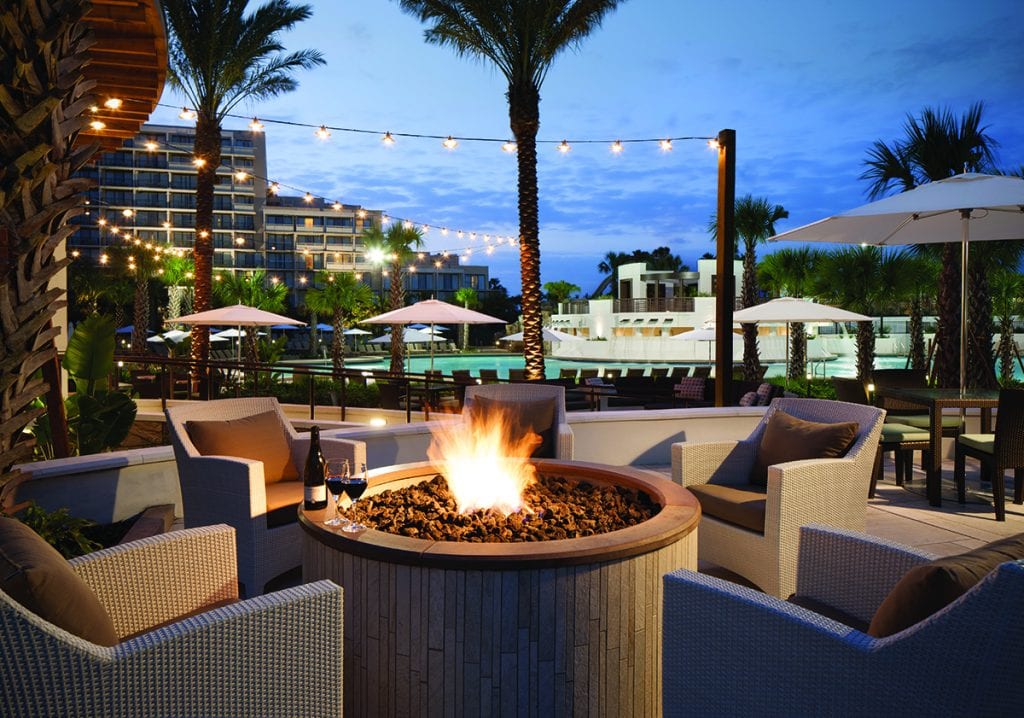 The Orlando World Center Marriott is just three miles south of Walt Disney World—but it feels as far from the House of Mouse as you can get.
The hotel, a cluster of four towering buildings, wastes no time making an impression. The vibe—chic, clean-lined and absent of extravagant artwork and overdone production—speaks to the more sophisticated audiences to which it caters (couples, singles and corporate travelers).
After checking in, I skimmed the enormous lobby—it was free of theme-park paraphernalia, another tipoff that we were in for more of an adult getaway. There were signs pointing in every direction toward the resort's many amenities.
We stayed in the one-bedroom suite, spacious with a separate living room and kitchen area and double patio. To kick it up a notch (especially with larger parties), spring for the 4,000-square-foot International Suite. Located on the 28th floor, the room boasts a rooftop terrace, wet bar, an executive-style conference table, multiple bedrooms and luxury furnishings.
The Amenities
From my balcony, I could see a tower with two 200-foot winding waterslides and a 90-foot speed slide. Enticed—I'm a kid at heart—I quickly changed into my swimsuit for a brief adrenaline boost before lazing in the inconspicuous grotto area. For those interested in some exercise, a scenic 1.5-mile running trail wraps around the property—but I was on vacation and relaxation was my top priority.
To that end, a visit to the west tower and the full-service spa—offering everything from scrubs and facials to manicures, pedicures and massages—is a must. For full-body healing, try the signature Aromatherapy Escape & Wrap. With herbal tea in hand, I enjoyed the deluxe treatment, which begins with an exfoliating footbath followed by an aromatherapy massage and a light wrap that boosts the body's absorption of essential oils. (I chose citrus, with the fresh scent of lemon and orange.) A chill-inducing scalp massage puts the finishing touch on 80 minutes of pure bliss.
World Center further distinguishes itself with Hawk's Landing Golf Club, featuring a lush, 6,600-yard, par-71 layout, a golf academy run by teaching pro Bill Madonna, and the Hawk's Landing Steakhouse & Grille (open for dinner).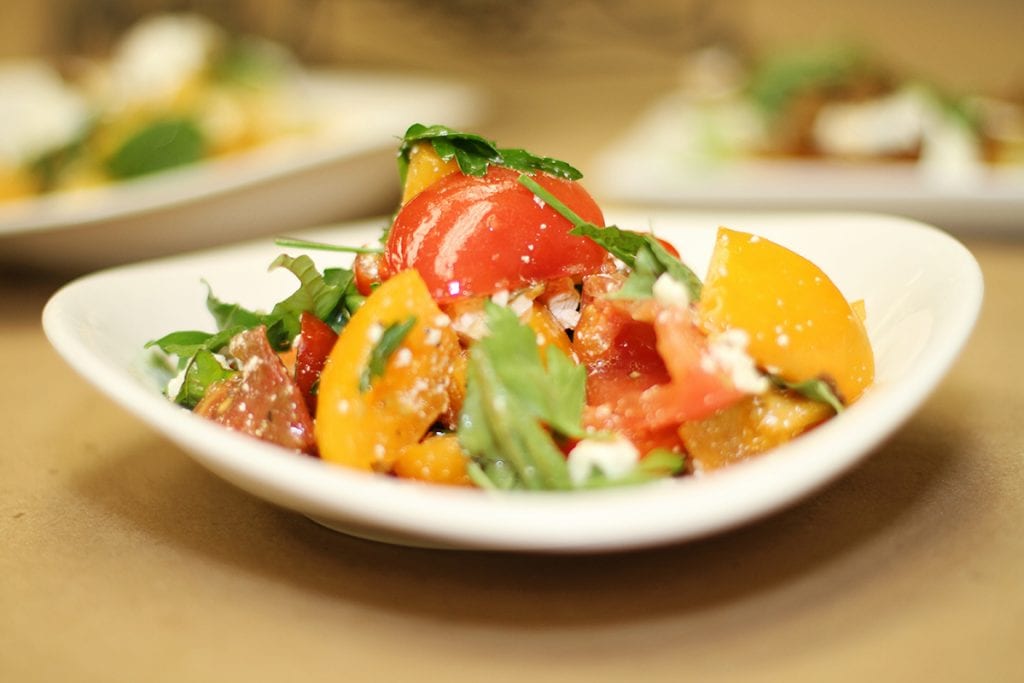 The Food
Speaking of dining, World Center offers six primary restaurants and a food court covering a variety of culinary options—including Japanese cuisine at Mikado, bar fare at High Velocity and a noteworthy continental breakfast buffet at Solaris.
The main foodie attraction is Siro Urban Italian Kitchen. Even with an inventive menu including items such as lamb belly and broiled squab, the staff wasn't afraid to take on new challenges. Since I tend to eat mostly plants, the first dish for me was a plate of ice-cold cantaloupe layered with basil from the restaurant's herb garden—simple, but genius. Do not leave Siro without trying the tomato tartare (I raved about this for hours into the night).
Farm-to-glass cocktails can be paired with specific dishes; an olive oil aperitif, for example, was served with the pre-meal salumi board and Italian bread. If you order dessert at any of the restaurants, know that each pastry, tart, cookie, freshly churned gelato and sorbet is made on-site—nothing is imported.
The Cocktail Scene
Throughout the resort, you're never more than a few steps from a bar or restaurant. No matter how crowded it gets at the Falls Pool Bar & Grill, bartenders keep customers happy with a menu of frozen drinks topped with fresh fruit. Indoors, High Velocity's beaming red and blue lights mimic that of a sports arena. The bar's extensive craft beer list is worth checking out if you're interested in a casual setting or looking to catch the big game (the bar is loaded with flat-screen televisions).
One of my favorite beverages was from the lobby bar. At the bartender's suggestion, I tasted a signature cocktail made with cucumber and lavender-infused vodka garnished with edible flower petals. Perfect for a pre-dinner drink or a late-night libation, the open-yet-intimate bar area drew a crowd each night.
Don't Miss
Treat yourself to the poolside Light Up the Night laser show. Vivid multicolor lights, synchronized with contemporary music, sweep the pool area each night. I watched from my balcony on a rainy evening, but the best place to catch the action is from one of the fire pit areas near the Falls Pool.
This regal Marriott undeniably has plenty to offer for multiple-day stays. Even if you are traveling with family to visit the theme parks in Orlando, this is a World definitely worth exploring. ?