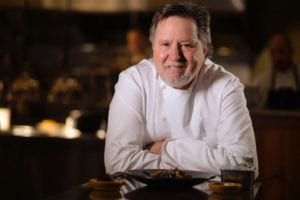 James Beard Award-winning chef Norman Van Aken has made his long-awaited return to Coral Gables. As a chef and partner of Ad Lib, Van Aken brings his Florida cuisine back to the city where it all started.
"Returning to Coral Gables is poetic," Van Aken says. "While it was a little unexpected, it feels right. It's where I belong."
Van Aken, who is the only chef in Florida to win the James Beard Foundation's "Who's Who in American Food and Beverage" award, opened Norman's in Coral Gables more than 15 years ago, which, though now shuttered, remains the only restaurant in the state to be a finalist for the James Beard award for "Best Restaurant in America."   
"With Ad Lib, I'm trying to do what I've always done in the fine dining forum," he says. "I'm focused on representing Florida and the incredible mix of cultures we have here. It's astonishing and inspirational to create a menu that utilizes and touches on a vast mix of humanity."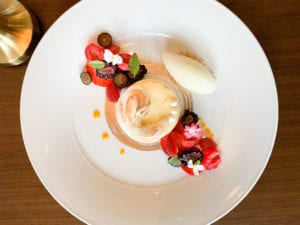 Open since early February, Ad Lib features an all-star lineup in the kitchen. Together with restaurateur John Kunkel of 50 Eggs Inc., Van Aken leads a team that includes two-time James Beard finalist for "Outstanding Pastry Chef" Hedy Goldsmith; director of cocktails and spirits Sam Ross, who is best known for his work at New York City's acclaimed Attaboy; award-winning sommelier Daniel Toral; and director of service Cristiano Azevedo of Michelin star contender Indian Accent in New York City. Van Aken calls it a recipe for success.
"It goes beyond just the food," Van Aken says. "Of course, I want all of our customers to have an incredible meal, but the experience itself is a production."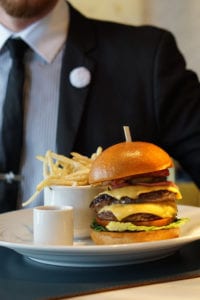 Inside the 106-seat restaurant, Van Aken serves his interpretation of Florida cuisine through dishes such as Brazilian conch chowder, zucchini blossoms and ancho-guava barbecued duck breast. The chef also offers a five-course tasting menu, which includes the chowder, duck and Goldsmith's chocolate caramel fudge brownie.
"I consider the menu as my script, or songbook, as to how I am going to make Florida proud," Van Aken says. "I want to showcase the state's natural gifts, which means showcasing local ingredients and fish."
One of Van Aken's mainstays, which has been served at many of his other restaurants, is the Brazilian conch chowder, made with a blend of coconut milk, saffron, citrus and cilantro leaves.
"I've been making it for a long time," he says. "I bring in a tropical [flavor] with the coconut milk, saffron and cilantro. It's quite a ride. When people eat it for the first time, you can see their eyes widen as they continue to discover new flavors with each bite."
Van Aken's pork tenderloin is another Ad Lib favorite, served with Mexican collard greens, manchego cheese grits and escabeche-spiced onion jam. "It always makes me smile when someone says my collard greens are the best they've ever had," Van Aken says, laughing. "The cheese grits and spiced jam are added bonuses. It's one of our best sellers."
As Van Aken settles into his new role, he looks forward to bringing back his classics while also creating new dishes and flavor combinations. "Returning to Coral Gables, many people who regularly dined at Norman's want me to bring back that menu," Van Aken says.
"Naturally, they have their favorites. What I want to do is give them that but also continue to create. That's the beauty of being a chef."
Pictured above: Strawberry Pavlova
Ad Lib
Location: 2415 Ponce De Leon Blvd., Coral Gables
Social: @AdLibGables on Facebook and Instagram
Info: adlibgables.com