On December 12, 2019, internationally acclaimed Nikkei restaurant Osaka opened the doors of its first North American location in Brickell.
The opening evening celebration featured an authentic Peruvian Daiko drumming blessing ceremony, a Peruvian Cajonero, a traditional Asian ceremonial Sake Keg tapping and a lively house set by DJs Hernan Nunzi and Antonio Briceno.
Since its inception in 2001 by friends Diego Herrera and Diego de la Puente in Lima, Peru, the concept has become the leading Nikkei reference in the South American region and the only Peruvian restaurant to top the rankings in most countries. The Miami location marks Osaka's tenth restaurant, with an eleventh slated to open in London in 2020.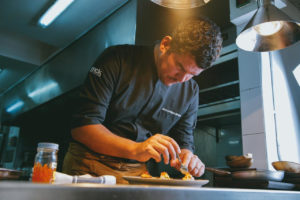 Osaka is a multi-sensory experience, merging millenary Japanese techniques with traditional Peruvian flavors and ingredients. Chefs Rogger Quispe and Juan Urrutia curated a menu specifically for the Miami location that features signature highlights of the Nikkei menu as well as new creations to suit the dynamic venue.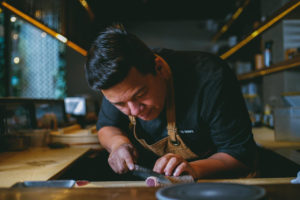 This extensive menu offers a wide array of flavorful dishes including nigiri sushis made with Peruvian ingredients packed with umami flavors, an assortment of ceviches, like their famous Wasabi Ceviche, and more. Guests can choose favorites from menus like Hiyashi Zensai (cold appetizer), Yaki Zensai (hot appetizer), Al Carbón (charcoal grill), Tokusen (Osk specials) and Seika (dessert).
Featured menu items include the Niku Tartar made with prime beef, miso curd foie, panca-yakiniku sauce and quinoa crackers, Tako Anticucho with chargrilled octopus, chimichurri Nippon and lime and Pato Mochero with crispy moulard duck leg, wok rice, shiitake, smoked pork and curaba honey.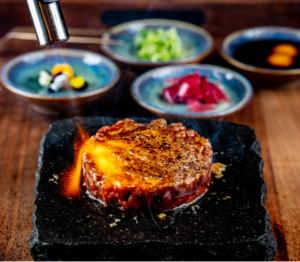 Other signature dishes include fresh vegetables, seafood and fish, Kobe, duck and chicken.
Osaka's mixology program highlights traditional Japanese ingredients like sake and green tea and features a full liquor bar for guests to enjoy. All drinks are made in-house at the restaurant's full-service bar by expert bartenders.
Osaka is located at 1300 Brickell Bay Drive, Miami, FL 33131. For reservations, call 786-627-4800.