The way Area Stage Company founders John Rodaz and Maria Banda-Rodaz met could be a script for a theater love story—a play about a couple whose chance meeting was orchestrated by destiny.
It's 1989. A woman is riding on a tram down Lincoln Road. It's her first day in the United States after moving from Ecuador to continue her dream of producing theater. She's glancing at the shops, when one storefront catches her eye. She tells the driver to stop. She must get off. Fate tells her to go in, but the door is closed, so she knocks. When a gentleman answers, the woman asks, "Is this an art gallery?"
"No, this is a theater," he says. "Tonight is the first time a play will be performed here." It is his theater. She tells him that she is also involved in theater. He invites her to attend that evening's preview.
On the two-year anniversary of that opening night, Sept. 7, the couple weds.
The storybook romance continues today as the couple celebrates 30 years of marriage and mark the founding of Area Stage Company.
Their theater company in Coral Gables has grown from presenting professional musicals and plays to opening a disciplined conservatory where young actors, singers and dancers train. Many have gone on to be professionals in the arts in New York and other cities. ASC's Inclusion Theatre Project, a theater program for those with special needs and developmental disabilities, now is in its fifth year.
Banda-Rodaz was born in Ecuador to a mother who was a professional opera singer and a multi-instrumentalist father. She had come to the United States when she was 18 to study dance in New York. While taking classes at Kean University, Columbia University and Juilliard School of the Arts, she was invited to join the William Chason Dance Company as a professional dancer, but as her interest evolved, her attention shifted to musical theater. When she returned to Ecuador, she developed original theater and produced commercials. That September of 1989, when she decided to move to Miami Beach, she had just been featured in a story in Vanity Fair España. "The article was about how I was pioneering the musical theater scene in South America."
Rodaz remembers the night that Maria saw his show on Lincoln Road. He had just moved back to Miami, where he and his parents had moved from Cuba when he was 2. He graduated from South Miami Senior High School and moved to New York, where he trained at New York University's Tisch School of the Arts Professional Theater and established himself as an actor and director. Miami was an easier town than New York to begin his own theater.
Rodaz says he instantly was taken with Maria's candidness. "I asked her that first night what she thought of the production, and she said things such as, 'Well, the first act was slow, and that one guy you have, he really isn't good in this one scene.' I liked that she didn't just placate me and say, 'great show.' "
The conversation continued over drinks at the Strand. He asked her if she would like to work for his theater company.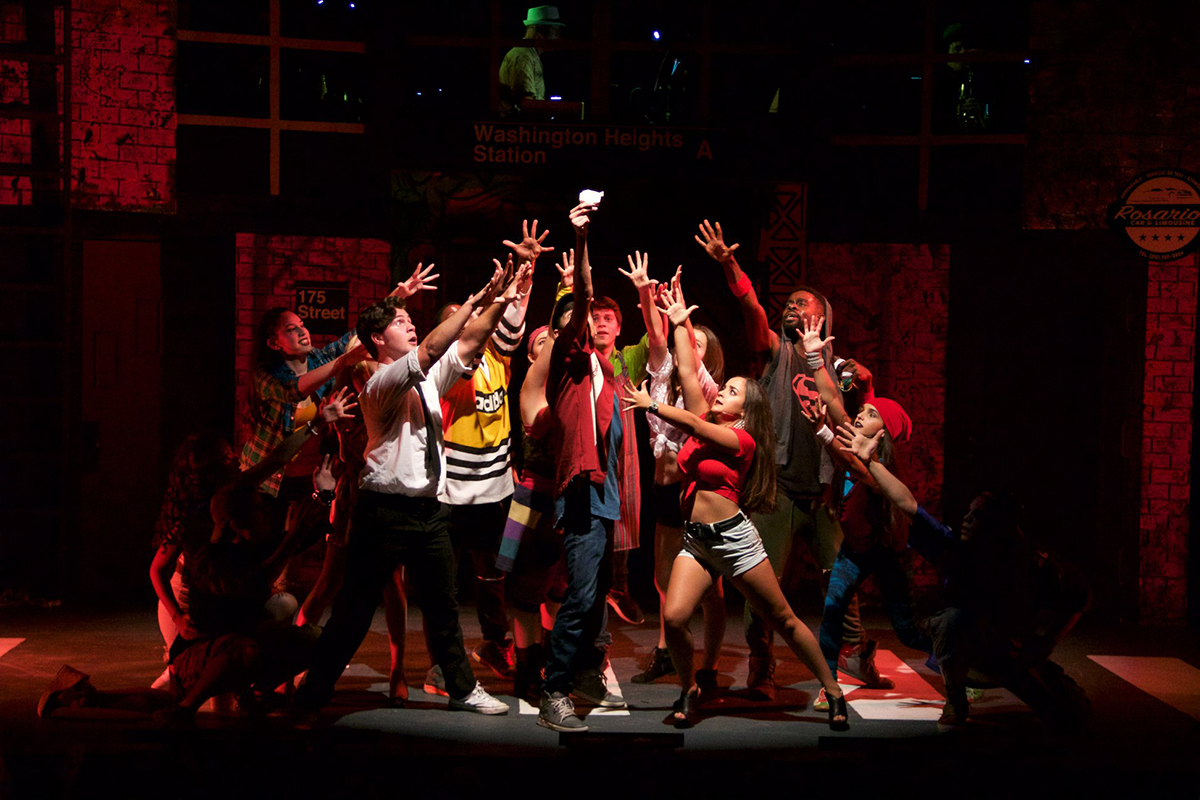 After 10 years of running Area Stage Company on Miami Beach, the atmosphere of busy Lincoln Road began to change. The theater had support from the city, which helped supplement their rent. But music from a restaurant that moved next door was so loud it became difficult for audiences to hear their shows. Patrons were having a hard time finding parking.
"It was time for us to leave," he said. In 1999, they did. For almost eight years, they produced shows in different spaces such as the Miami Light Project and theaters in Ecuador.  They worked in the film industry as consultants, location scouts and managers. Actor Jeff Goldblum contacted them while he was in Miami in 1997 to sign them on to help him develop his character for the movie "Holy Man." Rock band U2 tapped them for a video project.
While working with a Venezuelan soap opera actor, Rodaz was introduced to the Riviera Theater in Coral Gables, a former movie house that opened in 1956. It lasted more than three decades until it closed and went through several incarnations. When Hale's Piano and Organ took it over in the 1990s, it featured a recital hall, practice rooms and a sales floor. Later, it was used as a space for a Spanish television studio.
Area Stage Company leased the space in Riviera Plaza in 2008, and that's when they began branching out, adding ASC's conservatory.
"It's a daring enterprise to survive the environment in Miami," Banda-Rodaz says.
Her husband agrees. "There is no secret to surviving for 30 years," he says. "It's just due diligence and you must love what you do. I think it's also the fact that we're married, and we complement each other in ways that have helped."
Rodaz is founder and artistic director, while Banda-Rodaz is the executive director. She manages the theater's financials, contracts and grants and is behind the growth of the Inclusion Theater Project. ASC also has a board of directors and a team of about 30 people. Their son, Giancarlo Rodaz, 23, is continuing the legacy as associate artistic director/designer; he also produces, directs and writes plays. ("We don't butt into his work," Rodaz says. "We come and see his shows on opening night like everyone else.")
Now, it's time for another move for ASC. The Riviera Plaza on South Dixie Highway is set to be torn down and a Publix and high-rise built on the site. ASC was notified four years ago, but there is no definite date of when they will have to move. They won't venture too far since they live in Coral Gables and have built a base there.
"We are using this time to raise money and are identifying spaces," Banda-Rodaz says. "It's the chance for us to create the space the way we want it, and put more emphasis on the conservatory, and to be able to provide naming rights for anyone who'd like to be part of the theater." That's something they can't do in their leased space.
For 2020, they are working on a partnership with South Miami-Dade Cultural Center to present their conservatory and mainstage productions and will travel to London to produce the play, "La Noche/The Night" by Jose Luis Acosta at the Cervantes Theater. Banda-Rodaz's goal is to produce Giancarlo's, "The Ballad of Janis Matthews and the Dodo Scouts" in New York. The original musical is a folk-rock, coming-of-age story that follows a young girl living in Colorado during the 1960s' cultural revolution.
"What works now and what worked then [for the couple] is that we have the same aesthetic, yet we're very different," says Rodaz, who adds that the two are together every day, often inches apart in their shared office space at the theater. "We're always in extremes, and we don't think alike at all, but we find our way to the middle."
Visit areastagecompany.com.