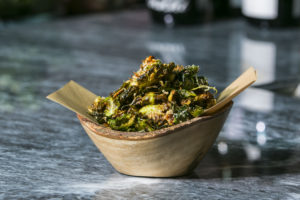 Crispy Brussels
Katsuya Brickell
Ingredients:
74 Grams of Brussels sprouts
255 Grams of Mirin
200 Grams of Sake
250 Grams of Soy Sauce
100 Grams of Sugar
125 Grams of Balsamic Vinegar
Shaved Almonds
Scallions
Preparation: Cut out the core on the brussels and deep fry till a dark golden brown. Create a balsamic reduction by heating Mirin, Sake, Soy Sauce, balsamic vinegar and Sugar until the sugar is dissolved (yields 1.5 liters, which can be stored up to one month). Once the Brussels are fried, place in a mixing bowl and toss with 20 grams of the balsamic vinegar reduction. Add almonds, chopped scallions, and additional balsamic vinegar reduction to taste.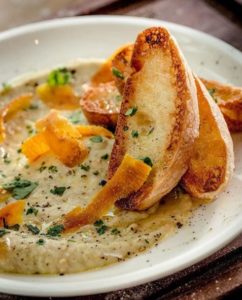 Charred Eggplant Spread
Fi'lia Brickell
Ingredients:
Eggplant – 1500 grams
Roasted Garlic Cloves – 16 grams
Garlic – 6 grams
Lemon Juice – 50 grams
Extra Virgin Olive Oil – 100 grams
Kosher salt – 14 grams
Black pepper – 6 grams
Eggplant Juice – to taste
Preparation: Char a whole eggplant over open fire until the skin has charred and the inside is soft. Keep in a container covered with plastic wrap. Once at room temperature, remove the charred skins and place the meat inside a food processor. Reserve the liquid from the container that held the eggplants after charring. Add all of the ingredients in the food processor and puree until a smooth paste is achieved.
Rustic Bread Spinach Dip 
La Fontana Steakhouse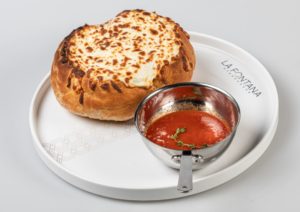 Ingredients:
2 cups Yellow Onion
1 tbsp Chopped Garlic
1 tbs Unsalted Butte
6 cups Heavy Cream
2 cups Grated Parmesan Cheese
4 cups Chopped Baby Spinach
3 units Rustic Bread
2 cups Mozzarella Cheese
Preparation: In a medium heated pot, add the unsalted butter until melted. Add chopped garlic and yellow onion and sweat for 2 minutes. Add the heavy cream and let it simmer for 10 minutes. Add the Parmesan cheese and turn off the stove.  In a blender, add the chopped baby spinach and the mix from the pot. Let it blend for 2 minutes. Preheat the oven to 375 degrees. Cut the top of the bread. Take out the inside dough of the bread. Fill it out with the creamy spinach. On top, add the bread crumb and mozzarella cheese. Put the bread bowl in the oven for 8 minutes until the cheese is melted and brown.