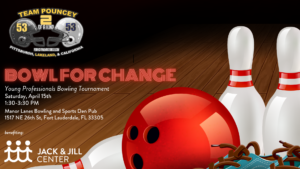 Jack & Jill Center's Young Professionals Network will host its annual charity bowling tournament from 1:30 p.m. to 3:30 p.m. on Saturday, April 15, at Manor Lanes in Fort Lauderdale. The Team Pouncey Bowl for Change community event will feature a day of bowling, a live DJ, arcade games, a raffle, a full bar and more to raise funds for the nonprofit organization.
The Young Professionals Network (YPN) at Jack & Jill Center is a networking group of individuals ages 21 to 40 who are dedicated to serving their community. YPN provides community awareness, volunteer services, program assistance and financial support for Jack & Jill's children and families.
Jack & Jill Center supports children of high-need working families through quality early childhood education, elementary education and family strengthening programs to ensure every child and family has the tools they need to be successful. It has served 26,000 children and families in South Florida since 1942.
Sponsorship opportunities are available and range from $300 to $1,000. Individual tickets are available for $30 and registration for a team of six is $150. Registration includes two bowling games, shoe rental and one pitcher of beer per team.
To attend the event, tickets may be purchased at Jackandjillcenter.org/event/bowl2023/. To become a sponsor, please visit Jackandjillcenter.org/event/bowl2023/ or contact Taqwann "TQ" Fulton, business development manager, at [email protected] or 954.463.8772 ext. 217.