Three nonprofit organizations in Delray Beach recently formed a partnership to present Authors Speak Series 2022 to help celebrate and promote the journey of Black cultural awareness. The free series will provide enlightening conversations with writers sharing their perspectives on Black cultural awareness through their research and personal experiences. The main topic of the series is "The Impact of Race on American Society." 
"We are excited to provide additional opportunities to explore the experiences of Black people in America," says Charlene Farrington, Executive Director of Spady Cultural Heritage Museum.  
The series will be held at Art Garage at 94 NE 2nd Ave. in 
Delray Beach. Scheduled speakers include:
Leslie Gray Streeter–February 10

Dr. Ralina L. Joseph, Ph.D. & Dr. Allison Briscoe-Smith, Ph.D.–April 21
Simone Browne–June 16
"We can always learn something new and hopefully see things from a different perspective," says Renee Jadusingh, Executive Director of the Community Redevelopment Agency of Delray Beach. "This series offers a space to explore the realities that others experience day-to-day. Supporting educational initiatives such as this shines a light on causes of conditions that can contribute to slum and blight in communities. Hopefully, people will gain compassion for one another from the information shared through these informative talks."
Leslie Gray Streeter: February 10 at 6:30 p.m.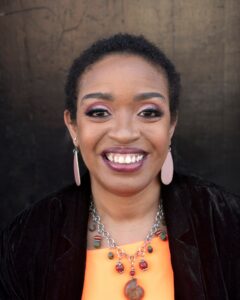 Leslie Gray Streeter, the author of Black Widow, was the longtime pop culture columnist for The Palm Beach Post. Streeter's book delves into widowhood through the prism of race, mixed marriage and aging. 
Dr. Ralina L. Joseph, Ph.D. and Dr. Allison Briscoe-Smith, Ph.D.: April 21 at 7 p.m.
Dr. Ralina L. Joseph and Dr. Allison Briscoe-Smith, Ph.D. co-authored Generation Mixed Goes to School: Radically Listening to Multiracial Kids, a series of stories about mixed-race children and youth, teachers and caregivers and investigates how implicit bias affects multiracial kids in unforeseen ways.
Dr. Joseph is a scholar, teacher and facilitator of race and communication. She is the Presidential Term Professor of Communication, founding and acting Director of the Center for Communication, Difference, and Equity, and Associate Dean of Equity and Justice in Graduate Programs at the University of Washington, Seattle.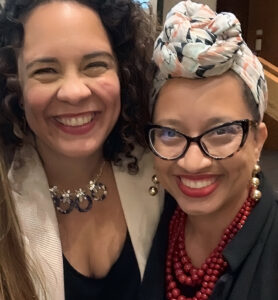 Dr. Briscoe-Smith is currently the Director of Diversity, Equity and Inclusion at the Wright Institute in Berkeley, California, where she is a professor.
Simone Browne: June 16 at 7 p.m.
Simone Browne (pictured, above) is an Associate Professor in the Department of African and African Diaspora Studies at the University of Texas at Austin. She also served as Research Director of Critical Surveillance Inquiry at a local research collaborative that works with scholars, organizations and communities to curate conversations, exhibitions and research that examine the social and ethical implications of surveillance technologies, both AI-enabled and not. Her award-winning book Dark Matters: On the Surveillance of Blackness explores how contemporary surveillance technologies and practices are informed by the long history of racial formation and by the methods of policing black life under slavery, such as branding, runaway slave notices, and lantern laws while continuing to be a social and political norm.
Please visit here to RSVP for any or all of these three free Authors Speak events.