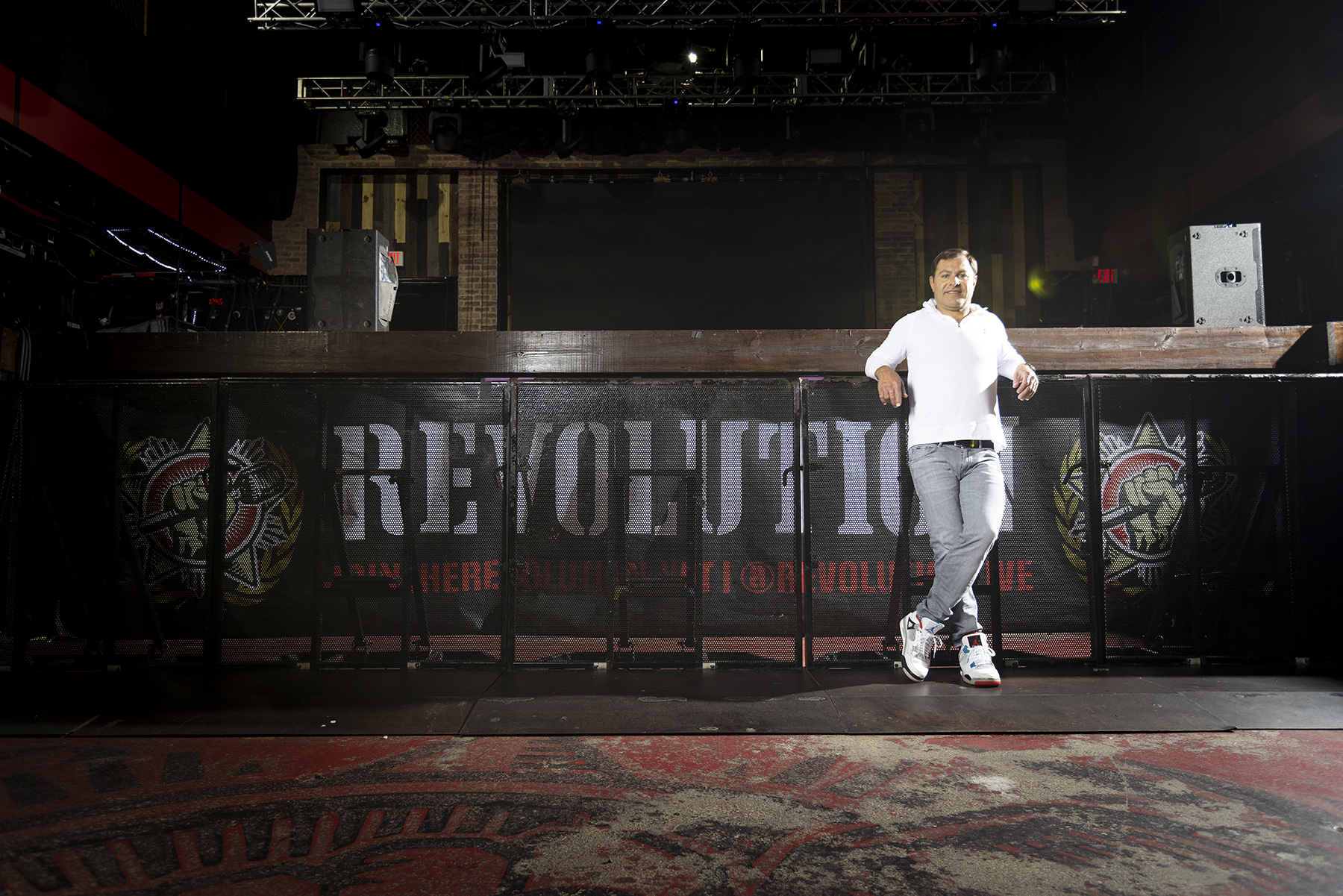 Band of Brothers, Part 1
Jeff John and kid brother Jarred lead the group behind Revolution Live with Midwest charm, a sense of adventure and a never-ending thirst for something different in the hospitality space
It's a Damn Good story that incorporates the Windy City and the Sunshine State. Old-school values and modern-day deception. Fire and ice (or, at least, snow). Savage storms and uncomfortable calm. A Revolution and a whiskey rebellion. Speakeasy style and beer-pong comfort. And, of course, Michael Jordan and Lady Gaga.
It's also a tale about one brother rolling the dice and a younger brother, years later, doubling down.
But, more than anything, it's a success story—one that shows no signs of slowing down.
What started two decades ago with the purchase of one of South Florida's most beloved concert venues has evolved into a business platform under an umbrella—Damn Good Hospitality—that says plenty about the intent of the company's CEO, Jeff John, and his brother (and chief operating officer), Jarred John.
"Why do you go out? You're going for an experience—and to be taken care of—whether it's to your local bar, an entertainment establishment or your favorite restaurant," Jeff says. "Our goal is to put a twist on that, whether it's the artwork displayed, the edgy programming, the craft cocktail menu, the music we play. It's all about enhancing a 'regular' concept."
"Coming from Chicago, the hospitality scene was always top-notch. But you didn't always get that experience in South Florida; we wanted to bring that environment to our properties," Jarred says of a stable under the Damn Good banner that includes Revolution Live, Backyard, and Stache Drinking Den in downtown Fort Lauderdale; and Warren, the red-hot restaurant in Delray Beach with the largest whiskey library in the region. "You get the full hospitality experience from the time you walk into one of our rooms to the minute you leave."
As with many good stories that have Midwest roots, this one starts with a patriarch who continues to live by a set of golden rules.
Family First: The John brothers were born and raised in Barrington, a northwest suburb of Chicago only minutes from the city. Jeff is the oldest (he's now 45); Jarred is the youngest (he's 36). There are two sisters in between. Their father, Edward, was an orthodontist by trade, but he also had a real estate and development business (still around today) that he started with a partner in 1980. He sold the dental practice, but he teaches at the University of Illinois Chicago in the orthodontics department.
"Dad set the example for us of hard work, honesty and treating people right," Jeff says.
"Sports was everything for us growing up," Jarred says. "Our whole family played soccer; Jeff was an amazing player. My sister won a state title in gymnastics. But Dad is very work-oriented. If you weren't playing sports, he expected you to have a job."
He also established a tradition that Jeff and Jarred carry on to this day.
"Every winter break, or any long holiday weekend, my father took the family skiing in Colorado, Utah or Canada," Jarred says. "That was our biggest family bonding every year."
"Yes, we didn't do Disney World," Jeff quips. "It's my favorite thing in the world to do. To this day, skiing is my motivation to work."
Jordan Rules: Chicago also left an impression on the brothers, especially Jeff who often joined his dad on trips into the city for his real estate and development dealings.
"I knew the buildings downtown and grew up with an understanding of Chicago," Jeff says. "Wrigley Field became a second home to me. And then there was Michael Jordan. Being in Chicago when the Bulls were so hot in [the late 1980s and 1990s]? The city was on fire. The amount of business that came into Chicago because of Michael and the Bulls—people will never understand the value of what that did for our area.
"We got to see a world-class city develop in front of our eyes, including the transformation of its food and beverage scenes. That became part of our motivation here—to bring some of the education and culture that we grew up with to South Florida in the hopes that it would enrich this area and bring people together."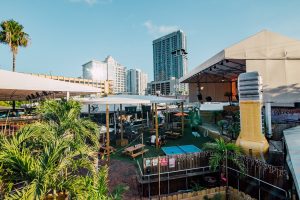 Florida Beckons: In an alternate universe, both brothers would have spent their college years closer to the slopes. Jeff saw a potential career in skiing that his father couldn't envision; Jarred wanted to attend school in Colorado. They both ended up at Lynn University in Boca Raton—but for different reasons.
"I was not a great student; schools had a love-hate relationship with me," Jeff says. "They either loved me, or I was not in the classroom. Because I was a soccer player, and Lynn had an excellent program, it seemed like a fit. The soccer career didn't pan out. But I started to excel in school.
"The great thing about Lynn was the small size of the school and the more structured setting. Plus, my business professors all seemed like former CEOs. So, it wasn't just a teacher saying 'Go home and read these chapters.' It was, 'Let me tell you how I handled the situation in 1975 when I was running a Wall Street company.' That, to me, was incredible."
Jeff graduated from Lynn in 2002 with a master's degree in international business. That same year, he sealed the deal that would change his life.
Pass the Pepper: Jeff was working on his graduate degree when a friend of his secured the lease for what was then Chili Pepper, an intimate, well-known venue on Southwest Third Avenue that had been part of the live music scene in Fort Lauderdale for decades. When the building first opened a century ago next to the railroad tracks, it was a slaughterhouse. It later became an armory during World War II. In one of its music incarnations, the space hosted a pop singer named Madonna in the late 1970s.
Jeff's friend had put together a group of investors with the intent of redeveloping a property that had slid into disrepair. Jeff made a small investment, as well, figuring he'd be in South Florida for a few years. As it turned out, he never left.
"The big-money guys that were supposed to invest? That never happened," Jeff says. "These other guys came in—and they were criminals. I remember asking for information on the accounting side, like balance sheets and profit/loss statements. They had nothing. They were flying by the seat of their pants.
"When I finished grad school, they needed more money to stay afloat. So, I told them I'd buy them out for pennies on the dollar. They could get out of the business, and I would move it forward. That's what happened. I bought the business in 2002—and then I shut the place down."
Starting Over: As Jeff describes Chili Pepper at that point, "you couldn't put another Band-Aid on that place." With investment help from his father and his uncle, Warren—whose spirit, two decades later, inspired the Damn Good restaurant by the same name in west Delray—Jeff set about renovating the room.
A blown breaker earlier in 2002 had caused a fire that prompted the city to shut down the property. For six months the following year, there was no power as workers completely redid the electrical system; the plumbing also received a reboot, and the interior was transformed and refortified.
Jeff finally opened the doors to a building now called Revolution on Sept. 28, 2004, with the Wailers providing the opening-night entertainment.
"We could get 1,000 people inside and 2,000 on the patio. After the first year, we were already 32nd in the world in venues with 3,000 seats and under, based on our ticket sales," Jeff says. "Where in the world are you going to find a 35,000-square-foot property, with half of it outside, where you can play music until 4 in the morning and be open seven days a week? The entertainment district of Fort Lauderdale was a huge driving point for me."
Just as things started rolling at Revolution, Mother Nature dropped her hammer.
Profile photography by Eduardo Schneider
Stay tuned to lmgfl.com part 2 of our August cover story.