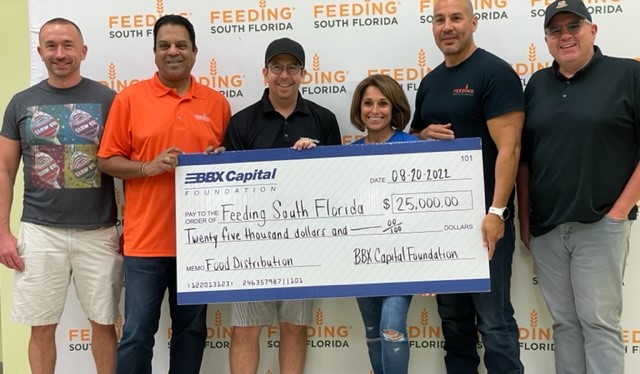 BBX Capital Foundation Donates $25,000 to Feeding South Florida
September will commemorate Hunger Action Month
The BBX Capital Foundation continued its ongoing commitment to support the South Florida community with a recent $25,000 donation to Feeding South Florida. The funds will help the nonprofit organization meet its mission to end hunger in South Florida by providing immediate access to nutritious food and enhancing poverty advocacy efforts, programming and education. The timely donation will help local families facing rising inflation costs for essential goods and back-to-school costs.
Seth Wise, Executive Vice President, BBX Capital, Inc., president, BBX Capital Real Estate and Co-Chief Executive Officer, The Altman Companies at BBX Capital; and Lois Marino, Executive Director of BBX Capital Foundation; presented the $25,000 check to Paco Vélez, president and CEO of Feeding South Florida.
Along with the financial donation, over 30 employees of BBX Capital and its affiliated companies, including Hoffman's Chocolates, IT'SUGAR and The Altman Companies, volunteered their time on Saturday, August 20. The volunteers helped sort and pack boxes of food at Feeding South Florida's Pembroke Park location, while other BBX Capital employees helped prep meals at the nonprofit's Boynton Beach facility. The food sorted by the volunteer team will be distributed throughout a network of 300 food pantry partners in Palm Beach, Broward, Miami Dade, and Monroe Counties.
"BBX Capital and the BBX Capital Foundation are so pleased to support Feeding South Florida and all that the nonprofit organization does to help those in need," Marino says. "At times like these, it makes us so proud that the employees from the BBX Capital companies came together to help make an impact in the communities where we live and work."