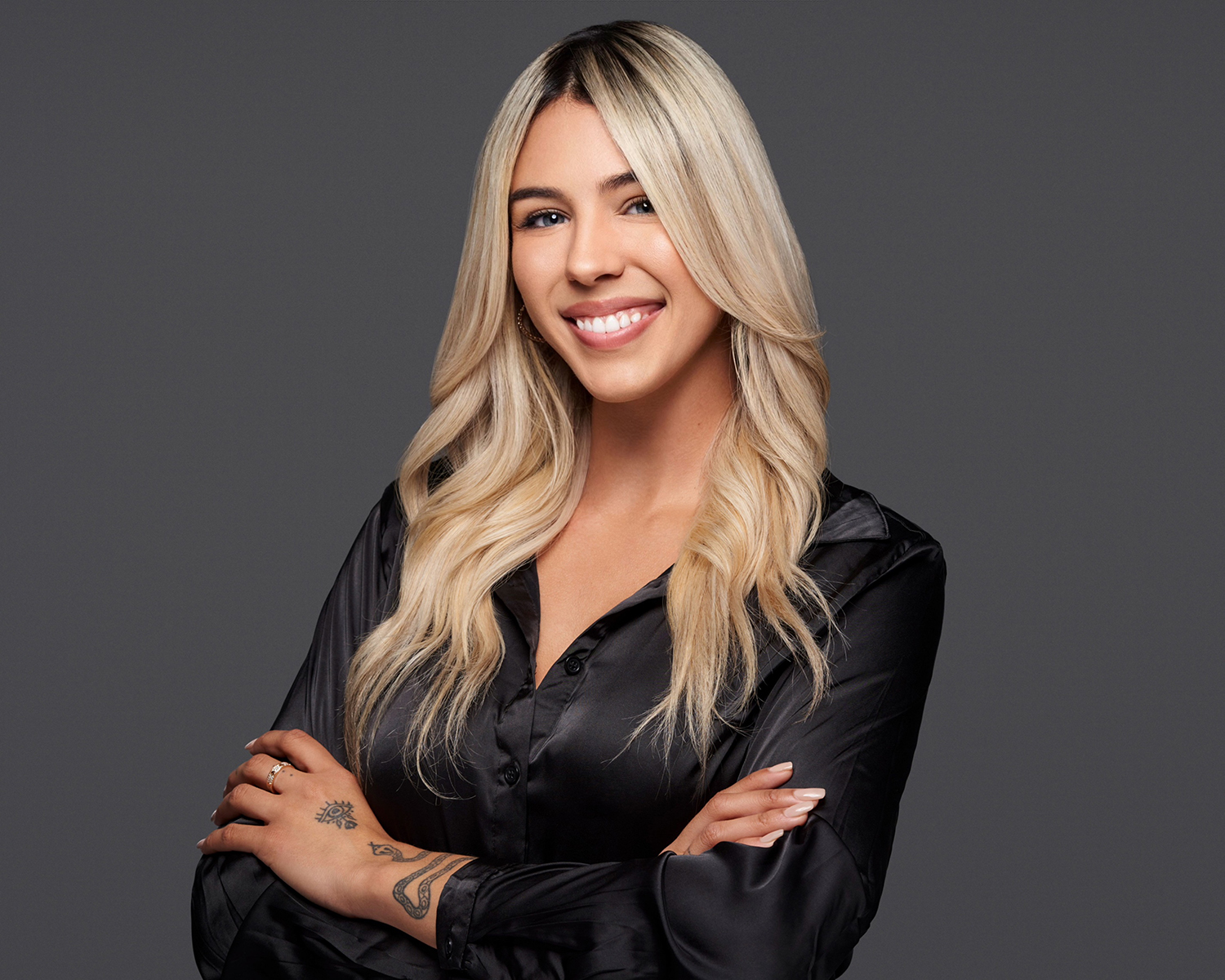 Blazing Her Own Trail
Brittany Farinas, CEO of House of One, bursts onto the interior scene in South Florida
In interior design, a professional's rise in the industry typically takes time. It can mean starting at the bottom of a company, gaining experience with clients, and finding and perfecting an aesthetic that resonates, all before even thinking about striking out on your own. Plus, in South Florida, where designers and firms abound, the competition is fierce.
But don't tell that to Miami native Brittany Farinas, who's charting a far-different course at an age when many of her contemporaries are still paying their dues.
Instead, the 25-year-old already is an entrepreneurial veteran, having launched her own company, House of One, in 2018. Along the way, she's not only put her stamp on luxury properties—like the two multimillion-dollar Modernist mansions in Miami Beach that she recently completed—but she's also checked the box on one of the ultimate measures of success for interior designers: her own products.
Farinas' collection of whimsical wallcoverings—designed alongside fellow Miami interior designer Candice Kaye—adorn the interiors of some of Magic City's trendiest restaurants. She also recently launched a bespoke collection of mirrored furnishings for the Miami-based company Precipice Glassworks.
When asked how clients and potential clients react when they discover her age, Farinas says it quickly becomes a non-issue.
"Confidence has been the biggest thing that has allowed my clients to gain respect and trust that I can handle their projects," she says. "I have a strong work ethic, and my clients see that. … I've heard people talk about their [negative] experiences with different design companies. I'm always listening to what people react poorly to, [in an effort to stay] on top of my game."
When Farinas was growing up in Miami Lakes, her mother worked at a furniture store; she says that the exposure to décor and furnishings at a young age helped to inspire her creativity.
"My mom always allowed me to use my bedroom as a canvas; I was the type of child who wanted a new bedspread or chair for my birthday, rather than toys," Farinas recalls.
After graduating from high school, she studied interior design at the University of Miami and Miami International University of Art & Design. While in school, Farinas also worked at a local commercial real estate firm. "I was assisting on luxury projects all over South Florida, and that's when I really developed a passion for this industry," she says. "Then, I had the opportunity to design my first residential project—the gut renovation of a 4,500-square-foot single-family home.
"It all snowballed from there."
That momentum shows no signs of slowing down. Since Farinas launched House of One, where she serves as CEO and creative director, she has focused her practice on creating truly personalized settings.
"The name stems from our design approach, which is centered on curating one-of-a-kind, experiential interiors for our clientele; we view interiors as art, so every design is just like a rare art piece: one of one," Farinas explains.
Therefore, when she embarks on a project, like the sweeping Sunset Islands residence (pictured) she designed, the goal is to make it as distinctive and customized as possible. "I like to incorporate as many tailor-made elements as possible, from millwork and furnishings, to custom pillows and décor," Farinas says.
At over 9,000-square-feet, the aforementioned abode features seven bedrooms and nine bathrooms with a courtyard in the heart of the property. Farinas collaborated with Domo Design and Architecture and Christopher Cawley Landscape Architecture to envision the overall design, which includes expansive indoor-outdoor living spaces.
"We wanted the home to reflect its lush surroundings and allow for a true blending of the interiors with the exterior domain," Farinas notes. "The clients have other homes in the Northeast, and they wanted this one to convey their elevated taste, but with a Miami flair."
Late last year, Farinas completed the styling of Anatomy Gym's newest outpost in Coconut Grove. She's currently envisioning the revamp of the beach club at Murano at Portofino, a high-end residential building in Miami Beach.
While working on such luxe projects is exciting for Farinas, she's just as eager to serve her community.
"Right now, I'm designing two spaces for the Lindsey Hopkins Technical College as a pro-bono project that will serve underprivileged teens, giving them the opportunity to 'shop' for prom outfits in a fitting room," Farinas says. "This will give them an opportunity that most, if not all of these kids, have never experienced before."
So, what's next for this trailblazer?
"I just want keep pushing the boundaries for design," she says. "In the next five years, I see myself expanding my furniture and textiles collection, while traveling the world in pursuit of new and exciting ventures."
By Mallory Evans Jacobson