No longer just a wildly popular ski town, Breckenridge has emerged as one of Colorado's more inviting summer destinations
Like so many other Rocky Mountain towns, Breckenridge owes its early notoriety to the discovery of gold in them there hills. Prospectors first found nuggets along the Blue River in 1859, putting this high-altitude (9,600 feet) outpost at the base of the Tenmile Range on the map. From a marketing standpoint, it didn't hurt that two lucky miners struck it rich in 1887—by unearthing a 13.5-pound chunk of gold just outside of town, a local record that never was broken.
It's also true—again, like most Colorado back stories—that Breckenridge experienced an identity crisis or two over the years. Its first one involved a simple spell check. Originally named after our 14th vice president, John Breckinridge, the city swapped out the "i" for an "e" because its pro-Union citizens took issue with the Democrat from Kentucky being a Southern sympathizer—and Confederate brigadier general during the Civil War. 
A century later, with mining a thing of the past and its population down to fewer than 400 people, Breckenridge began the process of reinvention by opening its first ski area. Today, Breckenridge ranks among the most popular snow resorts in the country, with more than 1.6 million ski visits per year.
Its identity, however, continues to evolve. According to a 2017 study published in the Journal of American Medical Association, residents of Breckenridge's home county (Summit) have the highest life expectancy in the United States (86.83 years). Part of the reason is that the town that locals affectionately call "Breck" is now a year-round playground, one that offers an entirely different outdoor menu once the slopes are clear of powder.
As an added bonus, especially for those of us looking to beat the heat in South Florida, Breckenridge is a breath of cool mountain air during the summer. Daily high temperatures from July to September often settle somewhere in the 60s; daily lows will dip into the 40s.
Between its mountain adventures and a delightfully vibrant scene along Main Street, Breckenridge offers a little something for everyone.
Going to the dogs: Though renowned for the past three decades as the go-to source for winter runs with pure-bred Siberian Huskies (eight-dog teams treated more than 16,000 visitors to such treks in 2018), Snow Caps Sled Dogs continues to draw its share of summer interest as well. This year marks the ninth season of abbreviated runs (the same dogs that run twice a day in winter, go out once every few days because of the heat, pulling guests in a golf cart along dirt paths). Careful breeding is done to replace retiring dogs (at age 8 or 9), giving guests a chance mingle with some of the puppies who are just getting their snow legs under them. More than anything, it's an opportunity to spend time with these beautiful animals and watch how the dedicated staff puts the more than 150 dogs at the kennel through their offseason paces in preparation for another winter.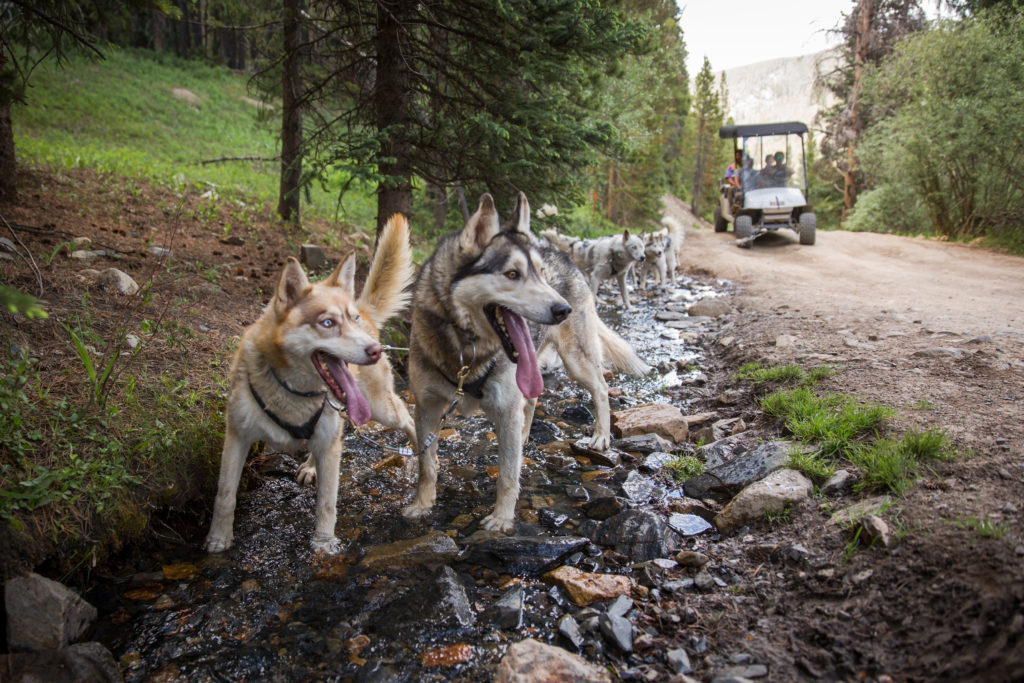 An Epic adventure: Thanks to the inspired vision of Vail Resorts, Breckenridge Ski Resort sports a theme-park-like experience at 10,000 feet that has redefined summer fun for thrill seekers and outdoor enthusiasts. The question at Epic Discovery, isn't what it offers—it's what doesn't it offer. At Peak 8 basecamp, there's an endless array of family fare—a ropes course and zip line for kids; mini golf; a bungee trampoline and giant bounce house; alpine slides that careen down courses that span 2,600 feet; and an exhilarating GoldRunner alpine coaster, down 2,500 feet of elevated track, that packs some serious speed through its twists and turns (that is, if you're bold enough to lay off the brake). Higher up at the Alpine Camp, the more adventurous can take half-day guided zip line tours (encompassing 10 towers and more than a mile of zip lines), test their skills on the Alpiner Course (with its 15 different challenges) or try to scale a 35-foot climbing wall (with 16 different routes).
Follow the trail: Breckenridge sports more than 50 miles of interconnected trails, perfect for the summer offerings at Breckenridge Ski Resort—like scenic guided hikes along the Horseshoe Bowl Trail or tours in open-air, safari-style 4×4 vehicles. Colorado Adventure Guides features its own roster of alpine lake hikes, mountain bike rides and summer mountain peak ascents.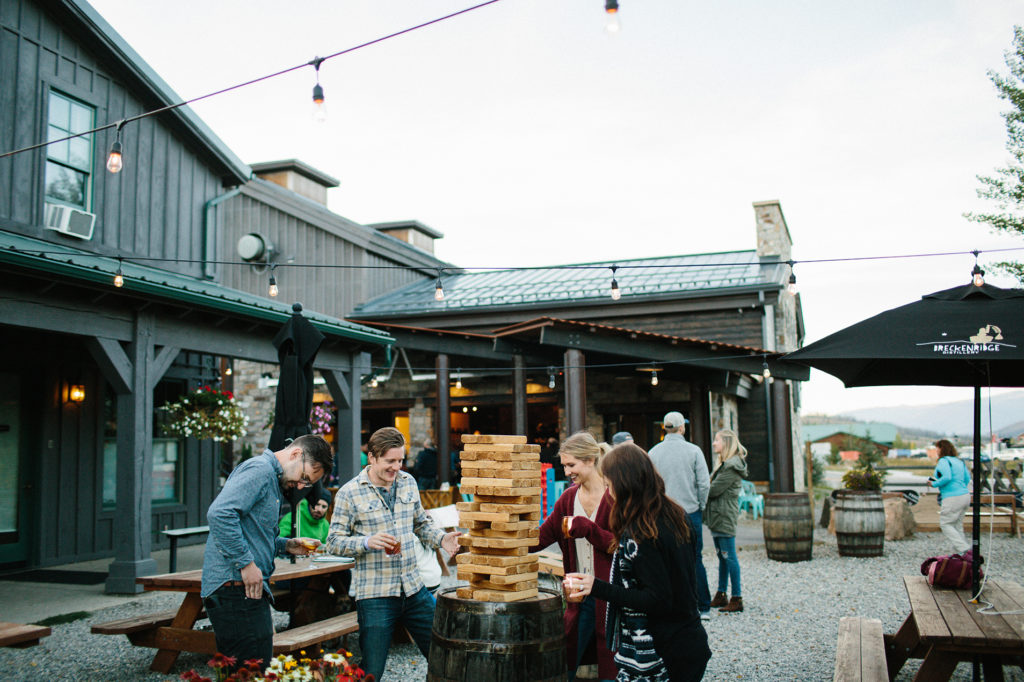 In the spirit: Touted as the world's highest distillery, Breckenridge Distillery offers more than barrel-aged bourbons, port cask-finished whiskey, spiced rum, its own bitters—and a host of other house-made spirits. It also boasts an exclusive "Dark Arts Society," where a framed painting of Ron Burgundy speaks to a setting that has less to do with black magic and more to do with enjoying the distillery's top-shelf offerings—perhaps some scotchy, scotch, scotch—in a casual, private setting. The likes of Lance Armstrong, Michael Strahan and Robert De Niro have purchased lockers here, giving them access to limited-release bottles. There's also after-hours VIP tours, tastings, "stretch and sip" yoga, live music, the occasional pig roast—and, since December 2016, a popular restaurant with modern American plates and plenty of beef (think maple pepper bacon, pork chops, burgers and prime porterhouse for two).
Walk down Main: Few small-town strolls are any better than an early evening spin along Main Street in Breckenridge. This road has everything—mom-and-pop retail stores, touristy T-shirt shops, an O2 oxygen bar, art galleries, a walking path that runs parallel to the river, Mountain Top Cookie Shop, Crown Coffeehouse, local jewelry makers, antique stores, restaurant after restaurant, old-school saloons, modern cocktail rooms, and a Riverwalk Center for live music.
Let's eat/let's drink: According to the city's tourism office, more than 20 restaurants have opened in Breckenridge since late 2016, ushering in a foodie era the likes of which this mountain town has never seen. That said, one of the longest lines on Main Street is the one leading to the outdoor stand for Crepes a la Cart (and for good reason, given the ridiculous amount of available toppings). Elsewhere, Broken Compass Brewery is the place to go for craft brews; Continental Divide Winery offers wine-blending classes; and not only does Rocky Mountain Underground feature top-of-the-line ski equipment and apparel, but it doubles as a hopping cocktail hang, with craft beers, wines and mixed drinks.
Let the festivities begin: Part of the off-snow-season allure of Breckenridge is that locals and travelers have so many events around which to plan. The spring/summer slate kicks off with WAVE: Light + Water + Sound (May 30-June 2), a four-day ode to interactive artworks, featured installations, workshops and artist talks, and live music (including pop-up concerts). Two weeks later, the city taps into its past by hosting the Gold Mining Championships (June 14-16), which gives competitors from all over the world (as well as amateur prospectors) the chance to pan for nuggets and enjoy the weekend's festivities. Fourth of July activities run from Thursday through Sunday this year and include everything from a 10K trail run and the Firecracker 50 mountain bike race to a parade down Main Street. Events celebrating suds, spirits and wine dominate the remainder of the schedule, starting with the annual Summer Beer Festival (July 13), followed by the Breckenridge Food & Wine Festival (July 26-28) and Breckenridge Hogfest (Aug. 23-25), where bacon and bourbon (as well as other meats and barrel-aged spirits) take center stage at tastings, a pairing dinner and a Sunday brunch. If you're in town for Labor Day weekend (Aug. 31-Sept. 2), don't be alarmed by the sea of yellow floating along the Blue River—it's just the Great Rubber Duck Race, a longtime Summit County tradition.