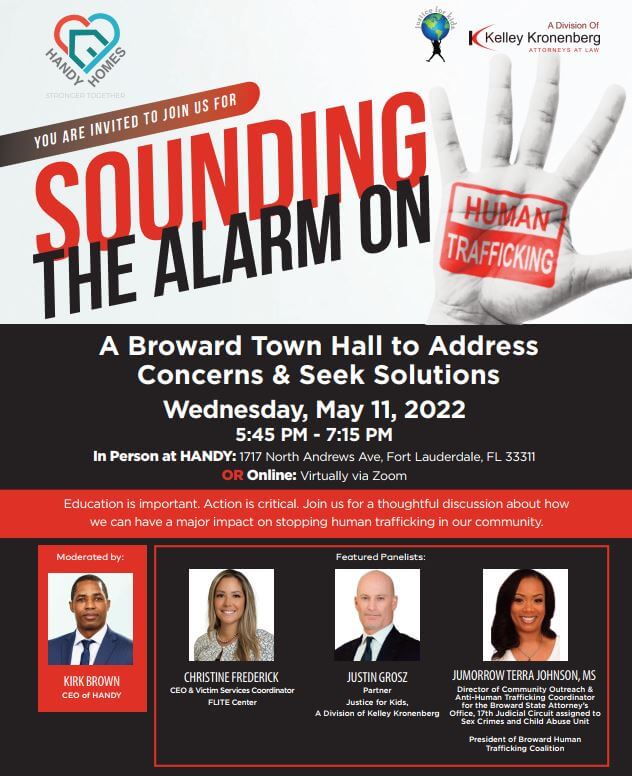 Broward Town Hall Meeting to Address Human Trafficking Concerns
The event is hosted by HANDY, H.O.M.E.S. INC. and Justice for Kids
Three nonprofit organizations are teaming up to host a public forum to generate thoughtful discussion on how the community can help stop human trafficking in South Florida. HANDY (Helping Abused Neglected Disadvantaged Youth), H.O.M.E.S. INC. and Justice for Kids, a division of Kelley Kronenberg, will host Sounding the Alarm on Human Trafficking, a Broward County Town Hall Meeting from 5:45 p.m. to 7:15 p.m. on Wednesday, May 11 at HANDY, 1717 N. Andrews Ave. in Fort Lauderdale.
The Town Hall Meeting is open to the public and will be moderated by Kirk Brown, HANDY CEO. Panelists include Christine Frederick, FLITE Center, CEO & ODON Victim Services Coordinator; Justin Grosz, Partner, Justice for Kids and Jumorrow Terra Johnson, Director of Community Outreach and Anti-Human Trafficking Coordinator for the Broward State Attorney's Office, 17th Judicial Circuit, assigned to Sex Crimes and Child Abuse Unit and President of Broward Human Trafficking Coalition.
The Town Hall will be in person and be available online. To register, please visit https://www.justiceforkids.com/sounding-the-alarm-on-human-trafficking-session-1/. Interested participants can also join via Zoom at https://us06web.zoom.us/j/85756773917?pwd=VEpRSTduWVpaRiswKzFQM01wWTdQdz09 with the passcode 382162.
For additional details or to learn more about sponsorship opportunities, please contact Kristen Nelson at [email protected].