Lifestyle continues to reach out to businesspeople all over South Florida to ask questions about the impact COVID-19 has had on their businesses—and what the future holds. Today, we check in with Guy Harvey, the celebrated marine artist and ocean conservationist, about how Guy Harvey Enterprises has continued operations.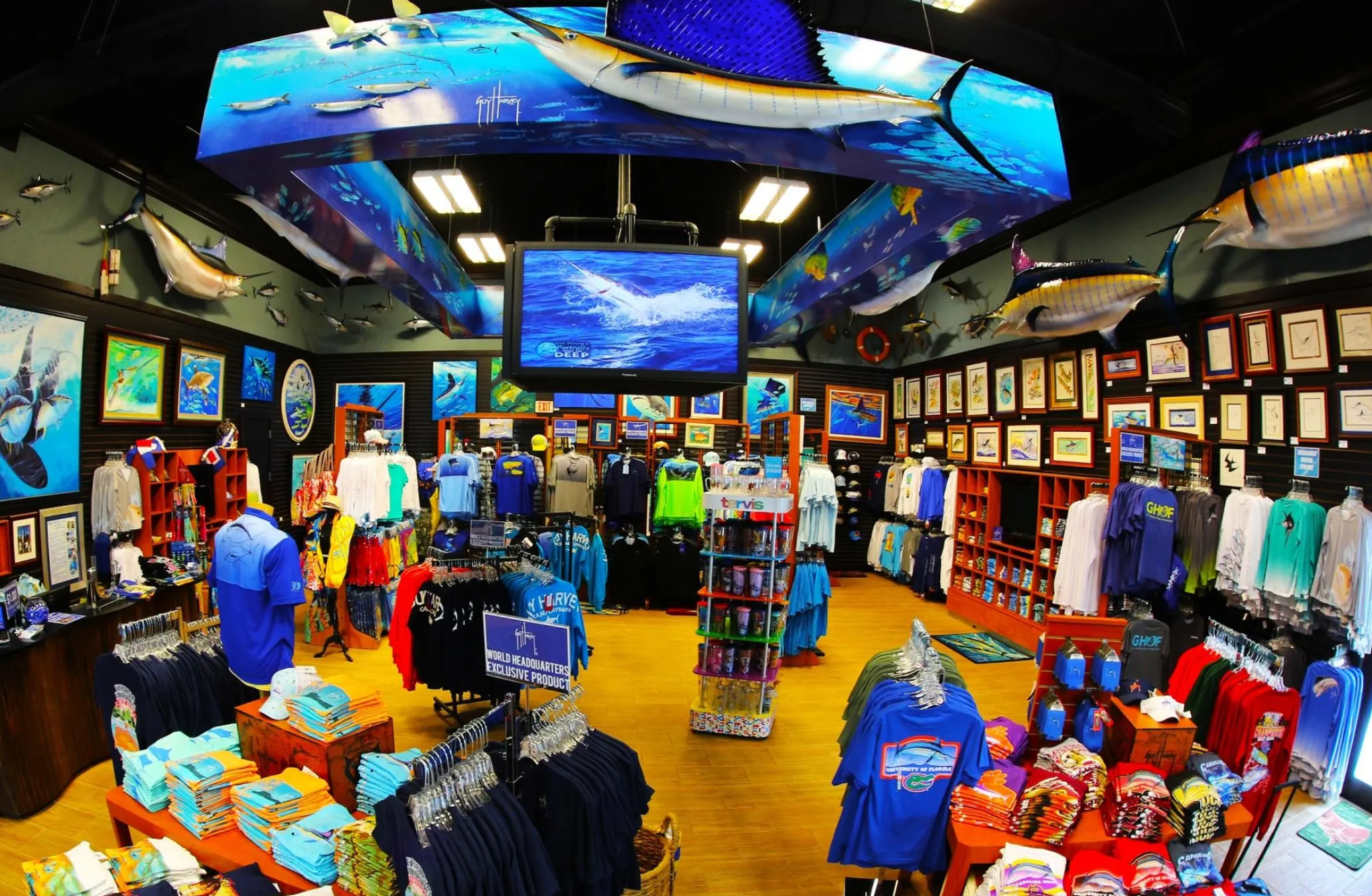 Business Background: Dr. Guy Harvey's marine wildlife art not only adorns the products sold through his lifestyle brand but also helps the wildlife he so vividly portrays. A portion of the proceeds from all Guy Harvey sales of accessories, footwear, apparel and more support the Guy Harvey Ocean Foundation, which funds scientific research and innovative educational programs. Also known as an authority on shark conservation, Harvey is familiar to South Floridians through the Guy Harvey Research Institute at Nova Southeastern University and the Guy Harvey Enterprises headquarters and store in Davie.
The impact: "As with most companies, Guy Harvey Enterprises adjusted the way we conduct business. Fortunately, most employees in our corporate headquarters [in Davie] have been able to work remotely and have adapted quite nicely. Everyone misses the personal interaction of being together but we are in constant communication via video conference as we coordinate upcoming launches of seasonal apparel and merchandise with our business partners. Since our retail operations shifted largely to e-commerce, a few employees have remained in the office to fulfill online orders and handle customer service. Thanks to having a strong online presence before the pandemic, adapting to this new way of doing business was relatively seamless for us. Out of precaution, we decided to keep our head office closed, even as COVID-19 rates begin to level off, and we will continue to operate remotely until we are sure we can safely return."
Staying on mission: "We continue the important mission of the Guy Harvey Ocean Foundation (GHOF) in several ways. Proceeds from sales of all Guy Harvey apparel and merchandise benefit the GHOF so we can conduct scientific research, host educational programs aimed at conserving the marine environment and fund affiliated researchers working to better understand our ocean ecosystem as well as educators helping to foster the next era of marine conservationists. The surge in online sales and engagement has supported these initiatives. In addition to our Facebook Live sessions and Jessica Harvey's Expedition Notebook educational videos, which are free and available online, we have continued to award scholarships to promote research and conservation efforts by students. We recently partnered with Discovery Education to develop online marine science courses that will be available to students globally, filling the gap in marine science and conservation education."
The future: "With such a strong online presence, we are always open, and we have seen a surge in sales and engagement. We will continue to push our e-commerce presence and strive for the latest features to keep our customers coming back for more. Our apparel is also widely available in retail locations throughout the U.S. so the closing of stores has affected that part of the business. However, we have taken this time to implement new data analytics and management strategies so that our brick and mortar retailers can hit the ground running with new products and partnerships as businesses continue to reopen. Our previously scheduled exhibitions and research excursions, important for research, are obviously on hold, although we are still receiving valuable data from some of our previously tagged species. We typically embark on a significant amount of travel, which also is important to our business. We spend time meeting with our partners or potential sponsors, leading research excursions and exhibitions and attending events to promote our brand, our merchandise and the Guy Harvey Ocean Foundation. The expectation is that we will proceed in the new normal, and when that happens, we will be ready, but until then—Zoom is our go-to for "face-to-face" meetings.
Moving forward, we will continue to promote our free educational videos at GuyHarvey.com as well as marine-inspired art instruction sessions my daughter Jessica and I do live on Facebook and Instagram where I share my art techniques, talk about where I draw my inspiration from and take questions from viewers. We also will soon be launching some exciting online educational initiatives designed for teachers and students globally."
What he's learned about himself: "I learned how much I really miss the opportunity to be out on the seas with our expedition team exploring and researching. The research we do is so vital to our ocean ecosystem. I miss traveling the country to share information about what we do, talking about the ocean and its inhabitants, our scientific research and why conservation matters. I love hearing the great stories from people I meet. I am proud of how we have been able to pivot to virtual offerings and at the same time credit my team for continuing to cultivate new and transformational partnerships that will benefit the GHOF for years to come."