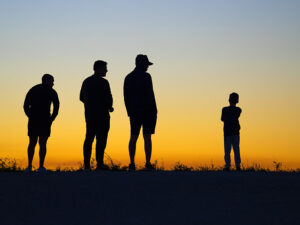 "The Holdout"
Image by: Jeff Olson
About the image: Olson captured this image last January at the Atlantic Trail entrance to the Conservation Levee Greenway in Broward County. "I was using my 70-200mm Sony lens set at 200mm to capture people in silhouette on top of the levee. Of course, I was struck by the lighting you get just after the sun drops below the horizon. But, in this case, I also was treated to this wonderful grouping of three adults and a young boy. I couldn't have arranged them any better to create this fanciful tableau."
About the photographer: The Coral Springs resident and longtime lawyer (he's now retired) has been serious about photography for the past two decades; his main pursuit, lately, has been street photography in and around Miami.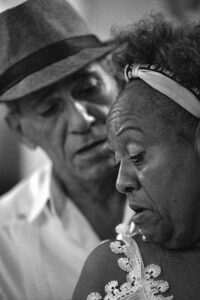 "This is Me"
"Let Your Eyes Do the Talking"
"Sweat the Note"
Images by: Alberto Sisso
About the images: These candid photos were snapped during a field trip with the Photographic Centre to Havana at the beginning of the year. Sisso says that the images, taken with a Nikon Z9 and Nikon Z7 ii, were inspired by the spirit of the Cuban people and their positive nature. "I'm attracted to the basic and fundamental concepts of human existence—such as life, death and love. Like the Existentialists, daily life prevails over abstract reasoning for me."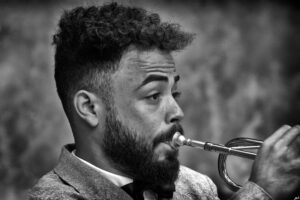 About the photographer: The Fort Lauderdale resident, a financial adviser at Raymond James by day, grew up in Caracas, Venezuela, assisting his father in the family photography business. By 13, Sisso had set up his own dark room in the back of his father's shop. "I vividly recall the first time I saw the image slowly appearing in my developing tray. That magic awakened my imagination then—and still does today." He would go on to study under renowned photography and filmmaker Joaquín Cortés and other masters in the field. Sisso's timeless work, collected during travels all over the world, has earned numerous awards.
PBPC Members Exhibition
Where: Palm Beach Photographic Centre, 415 Clematis St., West Palm Beach
When: Through Oct. 29
What: The 26th annual juried exhibition "provides a glimpse into the diverse work and the unique perspectives of [PBPC] members," according to the organization's CEO, Fatima NeJame. The show features photography by 36 members, including the images included in the October feature for Lifestyle. Craig Blacklock, one of the nation's top nature photographers, served as juror.
Contact: workshop.org; 561.253.2600