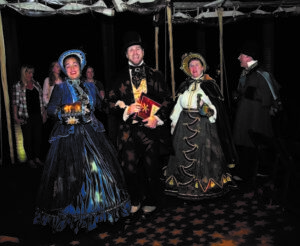 The Bonnet House Museum & Gardens will transform into a Holiday Wonderland as the historic 35-acre subtropical estate and historic house museum will be lit up with holiday lights on trees, wreaths and centerpieces throughout the house. The "Holiday Magic" begins Friday, Dec. 3 and will allow guests the rare opportunity to tour the grounds at night.
This year's holiday celebration will feature characters from the new book POMP, SNOW & CIRQUEumstance™, brought to life with Santa Claus also in attendance each of the five nights. Photo opportunities along with the fictional characters will be available.
Holiday Magic events include:
Holiday Magic Soirée:  Friday, Dec. 3, 2021, 7 p.m. to 10 p.m.
Holiday Magic Whimsical Wonderland: Saturday, Dec. 4, 2021 – 5:30 p.m. to 8 p.m.
Holiday Magic Evening Experiences:  Wednesday, Dec. 8 through Friday, December 10, 6 p.m. to 8 p.m.
Holiday Arrangement Classes with Victoria Park Flower Studio:  Wednesday, Dec. 8, and Thursday, Dec. 9, 2021, 5 p.m. to 6 p.m.
Tickets range from $5 to $125 and are available now at https://www.bonnethouse.org/events/ or by calling 954-703-2614.