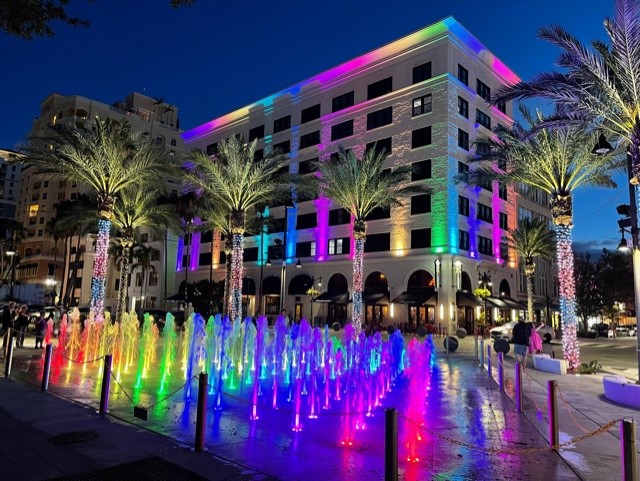 Centennial Fountain in West Palm Beach to Be Illuminated to Honor Pride Month
The month-long celebration will begin in June
To kick off Pride Month in June, which celebrates the local LGBTQIA+ community, PRIDE LIGHTS will adorn the Centennial Fountain at the Nancy M. Graham Centennial Park in downtown West Palm Beach. The multi-colored rainbow lights will be turned on during a ceremony at 8 p.m. on Jun. 1 at 150 N. Clematis Street. The free one-night event will feature a festive PRIDE Happy Hour from 6 p.m. to 8 p.m. at the Pistache French Bistro and performances by Cabaret Stars Rob Russell and Avery Sommers and musical ensembles from the Palm Beach Symphony and Young Singers of the Palm Beaches.
"Why are we doing this," asks Ellen Wedner, president of Creative Arts Enterprises, which is producing the event. "Because 'Light' banishes invisibility and this special one-night event gives public recognition to the Palm Beach LGBTQIA+ community at the start of Pride month."
In addition, Creative Arts Enterprises will be hosting the inaugural REEL PRIDE FILM FESTIVAL (Oct. 9 to 12), honoring LGBTQ History Month and National Coming Out Day on Oct. 11.
"At a time when gender confusion abounds, when LGBTQ-positive intersections are deliberately vandalized and when 'Don't Say Gay' is the official state policy, I invite everyone—straight or not, cisgender or not—to join us for this fun, positive, community event," Wedner says.