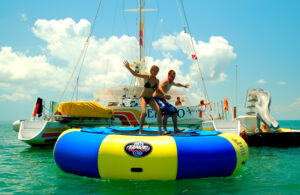 Looking to add something extra to your next getaway to Key West? Red Hospitality & Leisure has you covered. The purveyor of vertically integrated resort services and experiences, owns Sebago Watersports in Key West. And Sebago offers a detailed menu of tours and activities (pricing does not include tax):
            • Sailing and snorkeling: Includes an hour's sail on a 70-foot catamaran to the third-largest coral reef tract in the world—and complimentary beer and wine after your adventure. ($59.95 a person)
            • Island Ting eco tour: After sailing to the coral reef for snorkeling, this trip features a guided kayak tour around the mangrove islands. The six-hour package includes breakfast, lunch, beer, wine and more. ($119.95 a person)
            • Power Adventure: This six-hour trip caters to thrill-seekers with snorkeling at the reef, parasailing, jet skis, water trampoline, kayaks, paddleboards—and more. ($189.95 a person)
            • Sunset sail: The two-hour trip features live music and an open bar with cocktails and Champagne. ($79.95 a person)
            • Dolphin Watch and Sunset Sail: Your captain takes the group out to sea in the late afternoon/early evening to view dolphins in their natural habitat; includes Champagne, wine, beer and sangria. ($89.95 a person)
Visit keywestsebago.com for all of the company's aquatic offerings.