The word "dushi" is emblazoned on keychains and shirts in Curaçao; there's even an oversized sign with the word that's a photo attraction on the island. Not to be confused with a similar sounding bit of American slang, it's actually a term of endearment, along the lines of "sweetie" or "sweetheart," in the local Creole dialect of Papiamentu.
But like everything else about this Caribbean island, less than 40 miles from the coast of Venezuela, "dushi" is really more of a mixed bag. It also can be used to describe palate-pleasing cuisine or elements of the good life. Similarly, Papiamentu—one of a handful of languages spoken in Curaçao—is its own melting pot, a strange brew of Spanish, Dutch, Portuguese, French, English and Arawak Indian.
It speaks to the worst part of Curaçao's past as one of the largest depots during the trans-Atlantic slave trade. And one of its most heroic. Papiamentu was created as a way for slaves to talk without their masters knowing what they were saying. This was instrumental in organizing a slave rebellion in 1795, led by a man named Tula, who's memorialized in artwork and paintings all over the island—including monuments of fists with broken shackles.
Even in its present-day incarnation, Curaçao continues to march to a different, multifaceted beat compared to its more easily defined Caribbean neighbors. It's just outside of the hurricane zone, making it a haven for sailors. It has hills large enough that the Dutch called them mountains, and a climate arid enough that cacti flourish. Its European influence can be seen in names, architecture and food because of Curaçao's status as a Dutch territory (Dutch is the official language, though Spanish, French and Portuguese also are spoken, and English is taught in schools).
The island, nestled in what seems like an oxymoron ("Dutch Caribbean"), is known for its beaches with clear, sky-blue water, destination resorts, and a pastel-colored city center that looks like something straight out of a storybook. Yet, in addition to tourism, its open economy is supported by international trade and shipping, as well as the oil business.
There's also an annual jazz festival that draws A-list talent. And there's an ostrich farm.
It all makes for a fascinating adventure on an island where there really is something for everyone. Here are just a few of the highlights from a recent visit.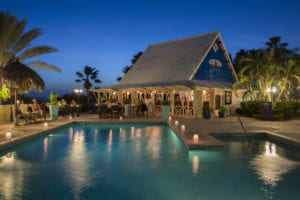 LionsDive Beach Resort
Don't let the bronze lions by the entrance and on the way to Hemingway Beach Bar & Restaurant, off the boardwalk and behind the rooms, intimidate you. LionsDive exudes Caribbean calm; indeed, a homey feeling washes over you the minute you enter the grounds of this Dutch-Caribbean-style complex.
The resort features accommodations from standard rooms and two-bedroom apartments to luxury suites that overlook the Caribbean Sea. Also overlooking the ocean: a 50-meter sports swimming pool, unique to the island.
Speaking of the beach, there's the clearest turquoise water you'll ever see, littered with small, mossy rocks under the surface. The surf is calm; the water is shallow, and it's unexpectedly cool considering the temperature outside. An on-property dive center (Ocean Encounters) offers introductory training, diving with dolphins and other sea life, deep diving, snorkel trips and much more.
The rooms are small but comfortable and have Keurig-like machines waiting with strong coffee and a full-sized refrigerator. Word of caution: LionsDive is an eco-hotel, so the air conditioning runs only in your room. Throughout the rest of the resort, fans are spinning away at maximum speed to keep everyone cool. You won't miss the A/C; the hotel is right on a beach and there's almost always a breeze passing through the lobby.
The breakfast buffet is a welcome surprise. Along with a sea of cold cuts, scrambled and soft-boiled eggs, bacon, fruit and yogurt, you'll also find banana pancakes. Around cocktail hour, make your way over to Hemingway, where you'll find the best mojito on the island.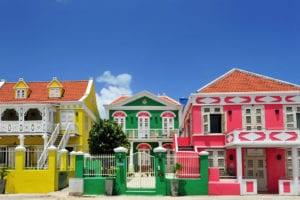 Dining
Zanzibar is the destination for dinner in Curaçao. It's like something off of a postcard: It's nestled on a beach with twinkle lights that turn on at dusk, and there's a platform in the distance that kids like to dive off of. Other than the twinkle lights and the lights from the bar, there's not a lot of light pollution, either. You actually may eat under the stars and, if you have the right app, might even be able to see Mars winking at you.
The food is a curious mixture of pizza, curries, seafood, chicken sate, and soups and salads, though it is known for its pizzas. For the appetizer, get the bread and dips: it's served with Turkish bread and three dips, one of which is an outstanding pesto you'll keep wanting to go back to. If you're feeling adventurous with your entrée, try the Lebanese pizza: it has lamb shawarma, mozzarella, bell pepper, mushroom, onion and Parmesan cheese.
Among the pastel-colored buildings of Pietermaai, a UNESCO World Heritage Site, you'll find the coffee shop Beans. It's painted red but somehow is still unassuming as it's tucked in with a lot of other restored houses on the street. It's small but air-conditioned inside, unlike a lot of restaurants. Expect an unusual choice for milk with your coffee: oatmeal milk. The coffee is strong and served with a small tube of sugar and an even smaller cookie.
This is something distinct about Curaçao's culture: Most coffee is served with a cookie and customers have been known to ask for (ahem, demand) it if they don't get one right away. The food is distinctive as well. The goat cheese poke bowl comes with a melding of perfectly matched flavors: a salad base, fig, roasted pumpkin seeds, walnut, thyme, carrot, red kale, edamame, sprouts and balsamic honey sauce. The goat cheese also is warmed before it's combined with the other ingredients, lifting the bowl to another level.
Gouvernor De Rouville, located in Otrabanda, sits right up against St. Anna Bay, giving you both a view and a breeze. Sandwiches are served on one piece of bread and piled high with toppings. The goat cheese sandwich is bliss on bread: an arugula blend topped with fresh papaya chutney and tamarind syrup. The potato chips on the side are light as a feather and the figurative cherry on top of the entrée. Ask for a sample of the Cuban spicy banana soup, and save room for some Blue Curaçao cheesecake.
The Cuban spicy banana soup is unexpectedly creamy and thick and manages not to be too sweet. The spice factor is also good; you know it's there, but it's not overwhelming. The cheesecake will surely dethrone whatever you're picturing as the best cheesecake in your head: There's a mint leaf, a layer of Blue Curaçao gel on the top, a lighter blue cheesecake layer in the middle, and then Biscoff-style cookies crumbled up for the crust. It all adds up to unbelievable layers of flavor. 
Curaçao North Sea Jazz Festival
For music lovers planning their next vacation, keep Curaçao in mind. The Curaçao North Sea Jazz Festival at the World Trade Center at Piscadera Bay—coming off a year that featured Jason DeRulo, Patti LaBelle, Sting with Shaggy, and Christina Aguilera—has another three-day extravaganza planned for Aug. 29-31, with Maroon 5 already booked for the closing night. Tickets are $195 a day; make sure you have cash to get tokens for food and drinks.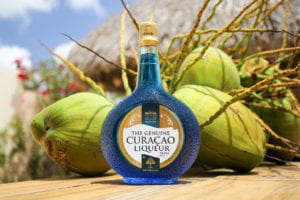 Landhuis Chobolobo
There's a lot of Blue Curaçao-style liqueur out there, but only one that uses orange peels from the native Laraha citrus (bitter orange) and comes up with the clear, not blue, final product (they only started adding colors in the 1960s). And that is Senior and Co., whose product is recognized as the genuine Blue Curaçao. Here's how to tell if it's the genuine article: Look for a Laraha tree on the bottle, part of the Senior & Co. logo, a cork cap, a short neck and circular shape. As good as the flagship orange tastes, do yourself a favor and try the tamarind and the coffee offerings.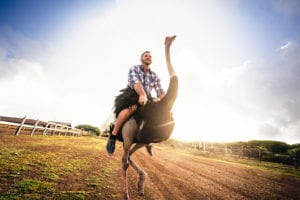 Curaçao Ostrich Farm
Walking into the farm, there are two peacocks wandering around the front entrance. If you follow them, you'll discover a whole muster. They're surprisingly heavy birds, and they make a thunk! sound every time they jump to the ground.
The ostrich farm is one of the largest such breeding farms outside Africa, and as you go along on the tour, you learn it also has emus and an assortment of other animals. The biggest attractions of the farm are that you can ride the ostriches and feed them.
Feeding them can be nerve-racking. You stand with your back to the pen and hold the bowl up and to your side. A group of three ostriches comes over and pecks down so forcefully it's almost scary, but it's worth it for the experience.
Of course, being that this is a farm, it's not all fun and games for these birds. Indeed, ostrich is served at the restaurant that's inside the farm. It doesn't taste like chicken, but it does taste like an almost-smoky, more deeply flavored roast beef, which, when paired with the guava juice served, is a great counterpoint.
Shete Boka National Park
Whether you're a fitness enthusiast or just like exploring new places, you need to go to this park. It goes from flat to inclined quickly, so make sure you wear the proper footwear. This also is one of the few beaches you can't swim on because the currents are consistently too rough.
The thing that stands out most here is a cave located in a corner of the park. Going into the entrance feels forbidden: It's dark, cooler, you have to be extremely cautious walking down the stone steps, and you can hear the waves crashing high and fast against the rocks inside. In fact, people weren't allowed inside before wave breakers and a wooden platform were put in. It allows you to appreciate both the beauty and fury of nature safely, something that's not easy to find.
Like much of the trip, it's a slice of Curaçao that will stay with you—and one last sample from a mixed bag that stands out as one of the most intriguing in all of the Caribbean.